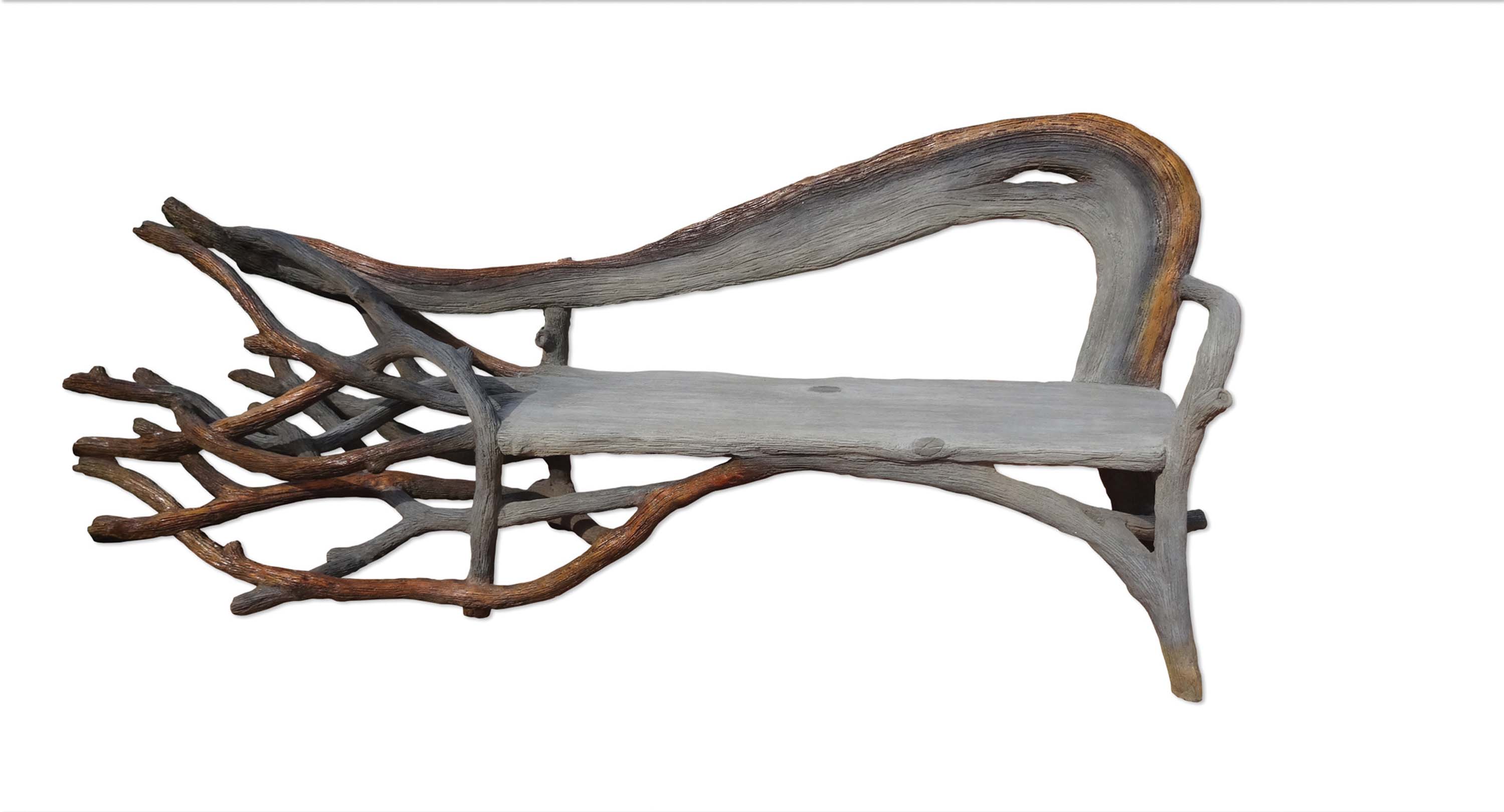 "Flaming Past Bench" | Hand Sculpted Concrete Faux Bois | 41 x 100 inches
01 Feb

Ones to Watch: Frank Marquette
---
Frank Marquette brings an element of sculpture to his fine finish faux bois furniture by incorporating a technique using "ferrocement" that enables him to layer cement onto an armature and then sculpt into the surface of the piece. The results look like wood but stand the test of time like concrete.
"This process allowed me to create an organic sense of sculpture made of cement," Marquette says. "The outer layer is as fine as clay so it can hold the smallest detail. When I started playing around with it, I knew I could make a mixture that would create a fine rendering that is almost pure cement."
Unlike other furniture makers inspired by nature, Marquette does not cast his pieces, but instead builds them up, bending the basic shape in metal then layering cement in various viscosities. The challenge is working within the parameters of the medium. The nature of cement is that during the curing process crystals grow and bind it together, hardening it and making it stronger with time.
"The cement in the Roman Colosseum is still curing," Marquette says. "Our cement today is a lower quality than the Romans used, but we make up for it with technology. So for me, when I'm making my renderings I'm aware that I'm working with an active substance. It's like living geology. You take it from a fluid state and feel it wanting to become something. Whatever it becomes it will stay that way for hundreds of years."
The strength of his pieces and his passion for his work comes across in all Marquette's pieces, from the twining branches of a bench to a chair that feels like it's grown from its surroundings. Marquette's furniture seems to contain a little stardust and a touch of alchemy. As if he's freezing the vines into place, stopping the branches as they reach their pinnacle, like a Midas of the wild.
Because he works as the cement is drying, Marquette has a small window to create the design in his head.
"As I bring in more details, working it down to the finest textures, I'm really aware of the fact that my time is limited because it's getting harder," he says. "Usually within six hours it's beyond the point of doing anything more to it. I have to be very clear about what I'm doing. If I try to improvise too much, it won't work. I find that quite challenging. It inspires me to have my head straight and my heart open to maximize my session. You can't go back to it. Tomorrow it's no longer clay."
Although Marquette shows his pieces at a gallery, most of his work is done through commissions.
"I'm finding — and this has been a big surprise — how much I enjoy working with people," he says. "I try to create something that reflects my skills as well as a little bit about my clients. To add value to their lives is very fulfilling."
Before he even knew about faux bois, the French word for false wood, he was living in Sedona, Arizona, walking through a juniper forest, and encountered the deadwood.
"They're twisted; you can tell they had intense lives. They're still there even though the tree is dead and you can feel the life it had in it," he says. "That inspired my first concept of creating these powerful juniper chairs."
The concept of incorporating the legacy of the tree's life with a person's legacy became the driving force of his work.
"That was enough for me to start thinking creatively to make art from that premise," he says. "Now when I am sculpting, it is a meditation, no distractions, just me and my medium. And the cement is a bit like consciousness. It starts off fluid and then you form it and then it hardens. It's determined to become something and I think consciousness is made to express itself in the same way. I'm just helping to reveal this expression, creating something enduring that has value."
Marquette is represented by the Goldenstein Gallery in Sedona, Arizona.