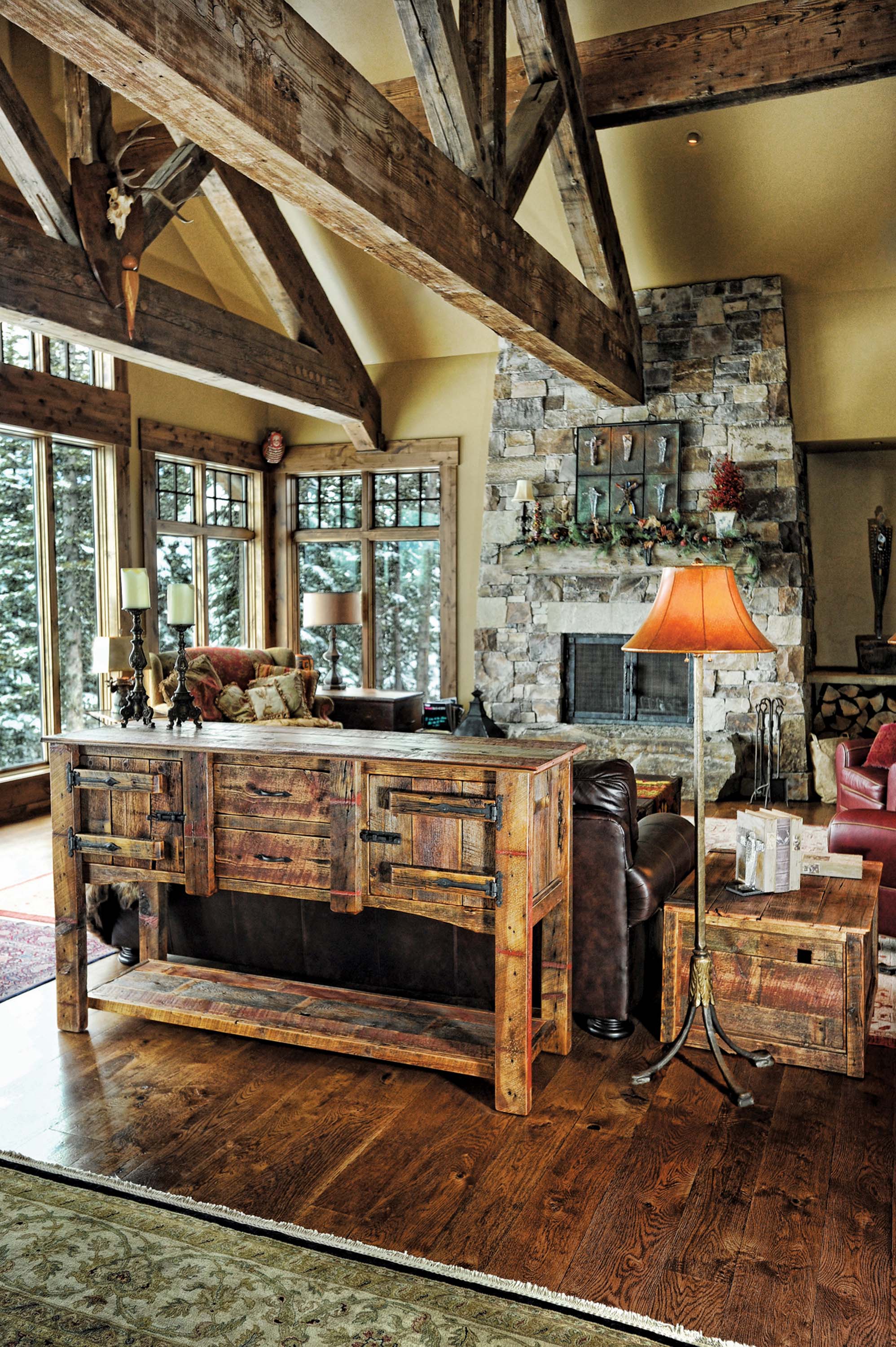 This sideboard hutch was built using red lap siding reclaimed from a Montana barn and hand-forged, oil-blackened hardware.
01 Dec

Ones to Watch: Rory Egelus
---
Rory Egelus has always been interested in woodworking, from peeling logs part-time to scouring the countryside for reclaimed wood. Finally, four years ago he started Rory's Rustic Furniture and it all came together.
"Ideas for furniture come to me at the weirdest times," Egelus says. "I could wake up and have an idea. Or I'm out hiking or running and I'll think of a design in my head."
Initially, the notion of using reclaimed wood was the best way to get affordable material, but it also happened to coincide with a trend for reusable resources. Not only does the client get a unique one-of-a-kind piece of furniture, but they also get the history of the piece along with it.
"The history aspect is very unique," Egelus says. "It's all from Montana. And when we reclaim the wood we also have a lot of reclamation photos. Each piece has a history that can be tracked back to a farm, ranch or old building in Montana."
One piece in his studio is made from old railroad cars Egelus found just outside Great Falls.
"The property owner contacted me and asked if I was interested in the cars," he says. "They were just going to burn them to the ground. I drove up there and got as much as I could from them. They were bolted together and rusted over. It was one of the hardest reclamations we've done."
It's not only the wood that gets repurposed.
"If I can, I'll use other reclaimed materials, especially some of the metals," he says. "Sometimes it's hard to make it functional. One of the pieces I used from the railroad cars was the sliding door hardware. I was able to reclaim two assemblies. I'm hoping to integrate them into a functioning set of sliding doors. It will take some labor and grease to get them going again."
Many times Egelus will see something out in a field or along a road and make a call, or he might get someone who wants to get rid of an eyesore.
"I've worked a lot of handshake deals with farmers and ranchers around the state and started stockpiling materials for the future," he says. "I'm always keeping my eyes out for more reclaimed wood opportunities. Even though it was the cheapest way to start, I pride myself on using reclaimed materials."
Egelus' work includes indoor as well as outdoor furniture and accent pieces such as fireplace mantels and kitchen cabinetry.
"We're very busy with custom work," he says. "I do all the custom designing in-house, on a consulting basis. Clients come in with a layout and the function — storage or an artistic centerpiece — and I'll draw up the design and use a computer program to show the piece in three-dimensions."
With that software, clients can see exactly how the piece will look finished and installed in the room.
"It helps people to visualize what they want," he says. "A lot of clients don't live here all year-round, so I can send them images of the design and this way they end up with exactly what they were expecting. It helps us build the piece, too."
Egelus plans to open a showroom just outside Bozeman, Montana, in June 2015.
"It will feature my pieces and other artists from around the state, including some potters and metal-smiths," he says. The showroom, Homestead 89, will be named as a tribute to the year Montana was established, 1889.