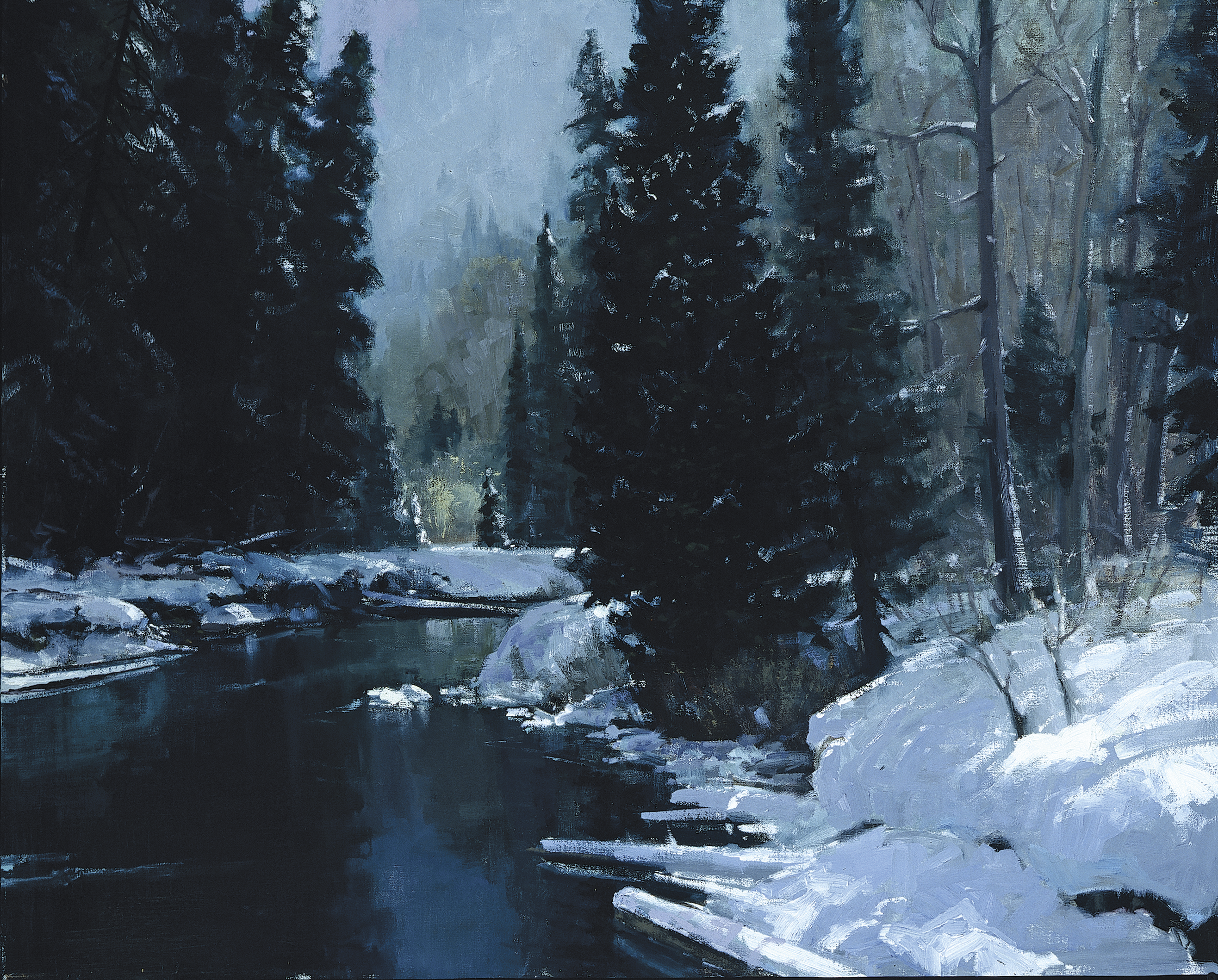 "Headwaters of the Lochsa" | Oil | 32 x 40 inches
09 Jun

Ones to Watch: Geoff Parker

Recently, Geoff Parker's camper and pickup truck serve as his studio. It's an ideal setup for someone whose work is closely tied to an experience of the land.

"I just move around and paint these days," Parker says from Taos, New Mexico, where he spent most of the winter.

As a representational plein air painter, Parker's soft brush strokes demonstrate an exceptional understanding of color in natural settings. He's able to accurately depict the muted greens of a fallen sycamore or the soft sienna of sandstone by painting on site and capturing a tone and light visible only at certain times of day. Subtly, he renders the receding shadows of a tree stretched over a meandering creek or the soft light of early summer.

"I just want to convey in my paintings the beauty of the landscape, how ethereal it is," he says. "From day to day, you never have the same thing twice. And the only way to get good color is to go out there and look at it. If you are painting in a wind storm, you've got to paint the wind, and to understand it, you have to be out in the elements."

Born and raised in Wyoming, Parker studied art at California's Academy of Fine Art in San Francisco. In the early '70s, with the invention of better plein air equipment and inspired by his contemporaries, Parker began taking pack trips and painting outdoors. At age 61, he has painted for most of his adult life.

Today, almost every one of Parker's paintings starts outdoors. Initially, he looks for dark and light patterns to form his composition and then he looks for color, considering how it might change with the atmosphere.

"I'm always looking for a painting, and sometimes one just shows up," he said.

Parker's work includes a series of paintings based on Lewis and Clark's expedition west. Along with his colleague, T. Allen Lawson, Parker followed their trail, stopping to paint the landscape as it appears in the 21st century. He covered the entire route, including the 150-mile float down the Missouri River. The project took the pair of artists three years to complete and was featured on the 200-year anniversary of Lewis and Clark's expedition in St. Louis.

Parker is represented by the Simpson Gallagher Gallery in Cody, Wyoming. The gallery will feature new works by Parker in Recent Observations: Paintings by Geoff Parker, which runs June 14-28. He is also represented by the Bozeman Trail Gallery in Sheridan, Wyoming; and the Bishop Gallery with locations in Scottsdale, Arizona, and Allenspark, Colorado. — C.M.R.