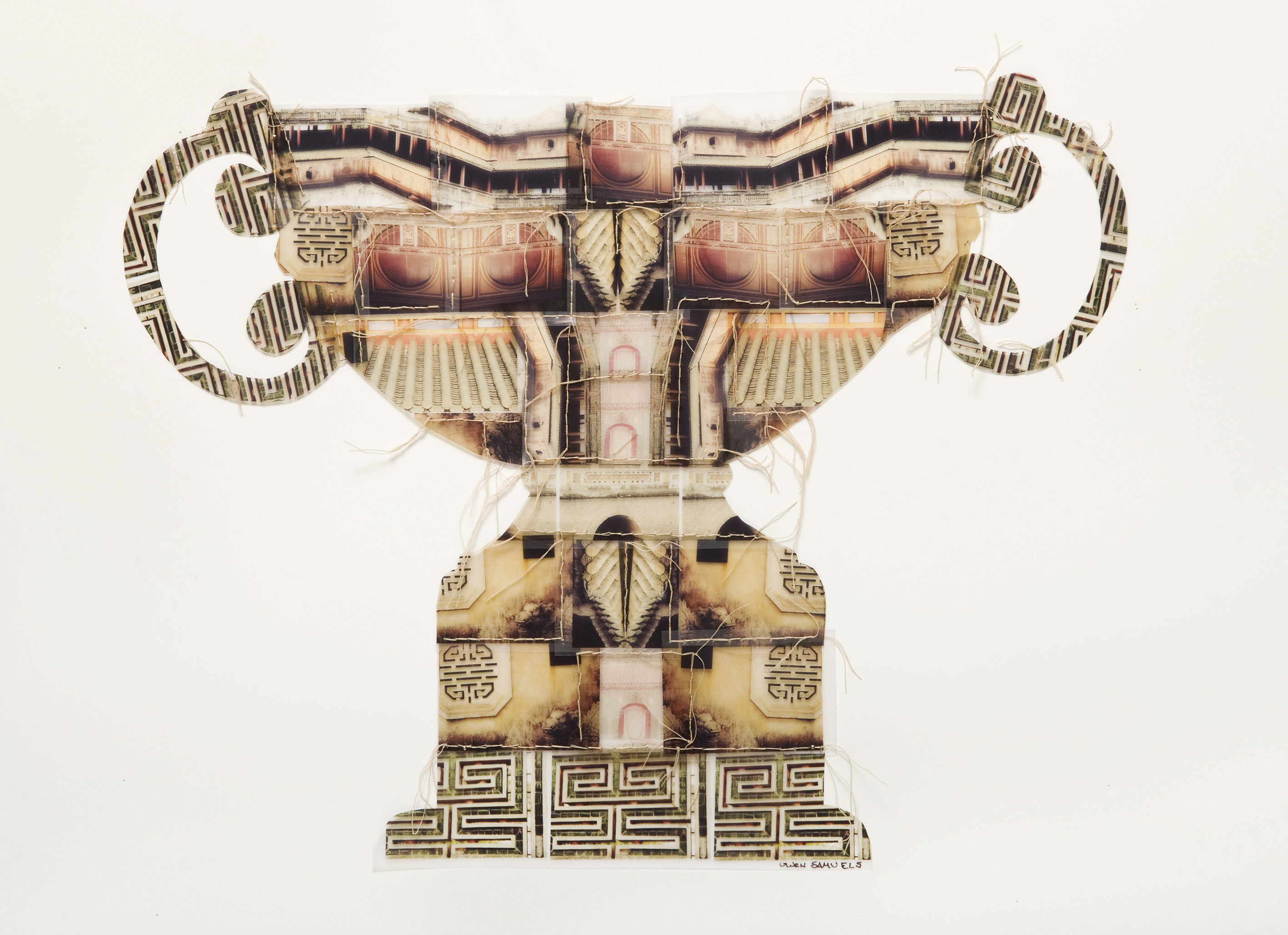 "Asian Influence" | Digital Images Printed on Transparency, Hand-stitched | 13 x 16.5 inches | 2011
09 Jun

Ones to Watch: Gwen Samuels

Mixed-media artist Gwen Samuels creates a new language with her work. By piecing together her own photographic images on plastic sheets and sculpting them into "dress" shapes, she superimposes existing conceptions of architecture with cultural symbols of our society. Using found objects, like tea bags, dryer sheets, tape and wire, Samuels creates these intentionally imperfect iconic forms.

"My biggest interest is the dress shape," she says. "There's a commonality of fashion and architecture. Both protect and shelter, as well as refer to the body, while providing a means to express identity."

She keeps the threads that bind the individual plastic transparencies on which the images are developed, frayed and loose, as if they've just come from the sewing machine. It also keeps the images raw and powerful.

"I feel like stitches are the first female language," she says. "And I like that handmade quality and the fact that plastic is very techno. The hand-stitching juxtaposes the handmade with the slick."

Because of the photographic quality of her work and the medium she uses, light becomes another aspect of her finished pieces.

"I hang the work 1/16th of an inch off the wall with pins so there's an interaction of the light and a vibration with the shadows," she explains. "And I don't frame my work, so the pins make sense to me. They have the feel of specimens. Our visual vocabulary tells us these have to be negative, but they're not, so they don't need back lighting."

For Samuels, the material itself is exciting.

"It has memory. It's very sturdy. I always encourage people to touch it; it's not fragile but it has the look of fragility," she says. Her work continually evolves. Beginning with the idea of quilts, she turned to dressmaking. By using the light and shadow aspects, she is turning more to three-dimensional work. "I'm always making discoveries."

Samuels' work is represented by Voila Gallery in Los Angeles, California, and Fresh Paint Art Consultants in Culver City, California.