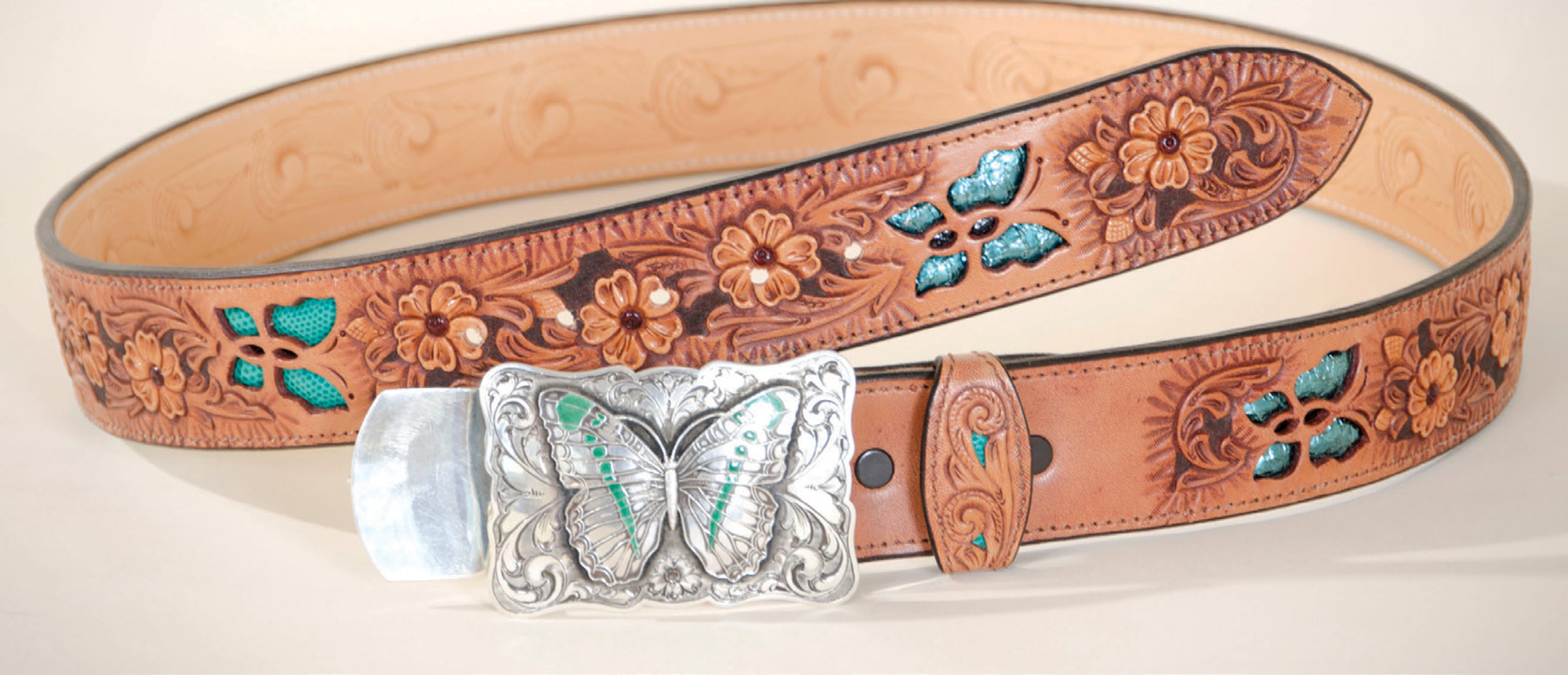 "Butterfly Belt" | Hand-tooled leather with reposse style butterflies in blue and green cobra skin 34 inches long and 1.5 inches wide
11 Nov

Ones to Watch: Howard Knight
---
Master leather craftsman Howard Knight, owner of Rocking K Custom Leather, started his life-long love of hand-tooled leather at the age of 10, in 4-H, but he didn't fully commit to it until fate took a hand.
Although Knight worked on small custom jobs, he worked full time as an electrician. Then a work-related accident forced him to take a few years off with two dislocated shoulders and a fractured skull.
"During that time, the leather work was my rehabilitation," Knight says. "I suffered from daily migraines and also had to spend time in the burn unit in San Francisco. It was a saving grace to have something artistic to do and take my mind off the rehab."
Luckily he had people who invested in some interesting projects, including an 11-foot stereo cabinet covered in tooled and filigreed leather that took him eight months to finish.
"That was a wild project," he says. "I also did a sofa that had belonged to my client's grandmother. It was in bad shape, but I worked with her upholsterer and made some tooled leather inlays for the arms and the front of the piece."
During that time he started working on high-dollar cowboy boots with a couple of different bootmakers. One pair sold for $106,000. And what happens when someone has a $50,000 belt buckle? "That's when you start making $7,000 belts," Knight says. "I just finished the leather panels for a pair of Converse-style sneakers that sell for $12,000 a pair. This is a shoemaker who makes shoes for celebrities like Elton John. I don't get that price," he says.
Knight is very particular about the leather he uses. It's tanned in St. Louis, Missouri, and of the highest quality. It's important that the surface is consistent, harboring no scars or bug bites. He imports his own crocodile skin from Zimbabwe.
The process starts when a client comes to Knight with an idea, like a belt buckle in need of a belt. He'll pick some elements out from the design on the buckle and create a design.
"Then I'll sit down and tool it," he says. "I use a variety of fashioned tools made from old nails or bolts that are filed and shaped." Knight makes a majority of his own implements. "Then I'll sketch it into the material and use a swivel knife that cuts it into the leather, using several tools to bring it to life, giving the design shape and dimension."
From there he'll dye the product. He may inlay some snakeskin or crocodile into the background. Finally, he lines his belts and hand-scrolls a design on the back, all freehand, using his swivel knife.
"Normally, I'll write a little story on the back that's burnished in," he says. "Sometimes it'll be about what inspired the design, sometimes what I was thinking while I was making it. That's my work of art, a little extra attention to detail that people really like."
Knight loves to get unusual projects, and a few years ago he was part of the People's Choice Award for two bikes in the Harley-Davidson Museum Rally, chosen out of more than 500 bikes on display. For the last six years he's been working with Harley-Davidson, tooling leather accessories for their show bikes.
"I just really love what I do," he says. "I've been doing this for 15 years, as a business, and nearly my whole life for the fun of it."