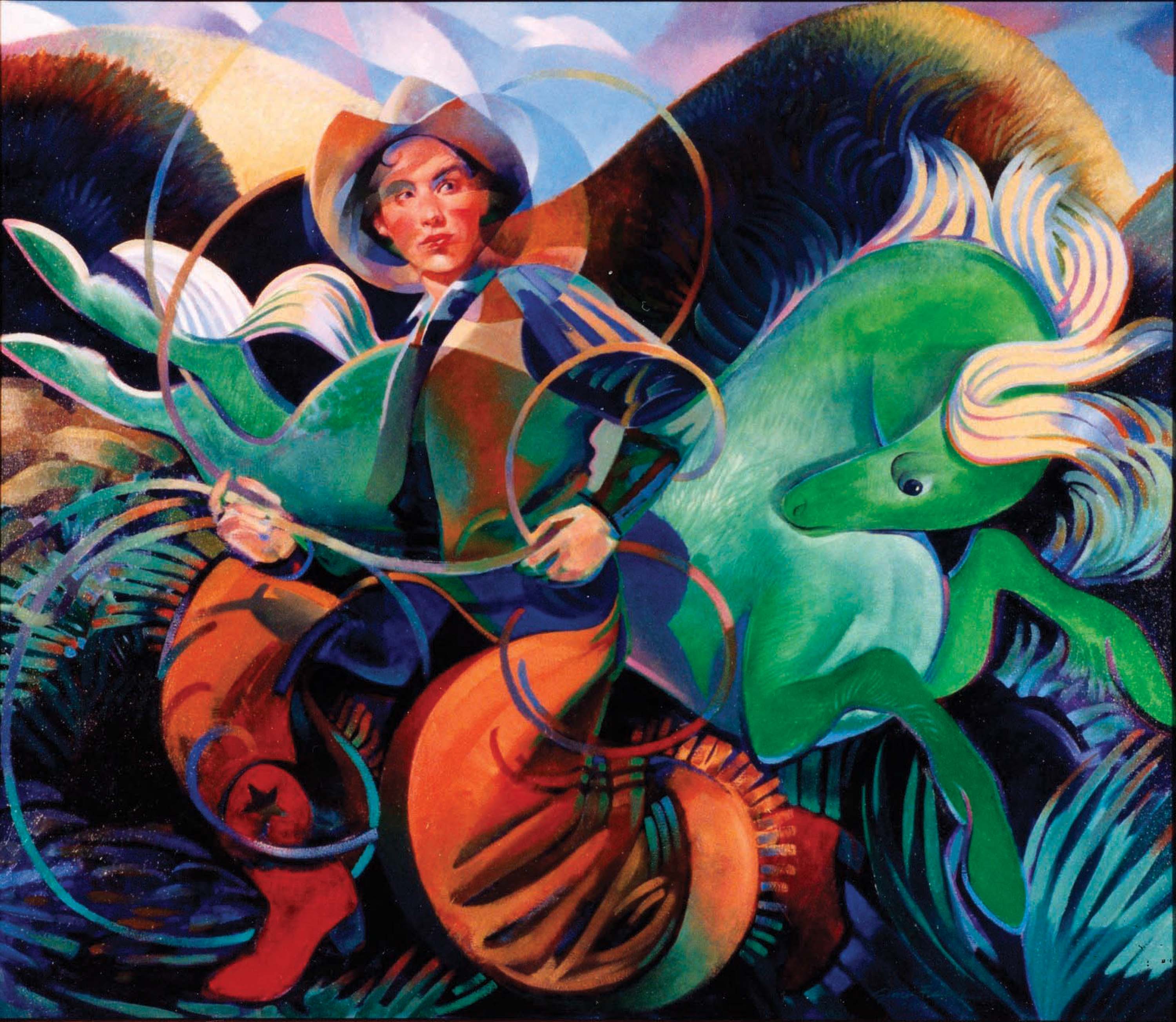 "Red Boots and Green Horses" | Oil Painting on Canvas | 56 x 60 inches
04 Apr

Ones to Watch: James F. Jackson
---
The art of James F. Jackson spans multiple worlds and media — Old West and New, cowboys and Indians, leatherwork and painting — and is born of the world he inhabits, a traditional West of ranchers and rodeo cowboys and Crow Indians, near his hometown of Sheridan, Wyoming. Sheridan is the site of the West's most famous saddle shop, King's, a living museum filled with antiques and memorabilia of the cowboy lifestyle, and as resident saddlemaker at King's, Jackson is immersed in Old West history. But Jackson's work is not nostalgic, nor is it mired in the past. Fresh and current, Jackson's work presents a vital take on his living West.
Jackson grew up learning leatherwork from his father, also a saddlemaker, and studied fine art at the University of Wyoming, where he received both a BFA and an MFA and spent two additional years as curator of the university's art museum. While his leatherwork is rooted in the Sheridan Style, characterized by complex yet free-flowing designs and featuring flowers nestled in intricate swirls of leaves and tendrils, his art, mostly depicting Crow Indian maidens, ranges from Impressionistic to Cubist-influenced.
Jackson has completed work for presidents Reagan and Clinton, for Supreme Court Justice Clarence Thomas, and for many celebrities, including Anthony Hopkins, Ted Turner, David Letterman and Robert Redford. A frequent lecturer and teacher, he has taught workshops in such far-flung locales as Australia and Japan. Jackson has been the subject of many one-man shows, including the Kyle Belding Gallery and the Ucross Foundation, and his work has been featured in three solo exhibitions at the Bradford Brinton Museum as well as many other galleries, shows and museums. His leatherwork can be seen at King's Saddlery and the Bradford Brinton Gallery in Bighorn, Wyoming.