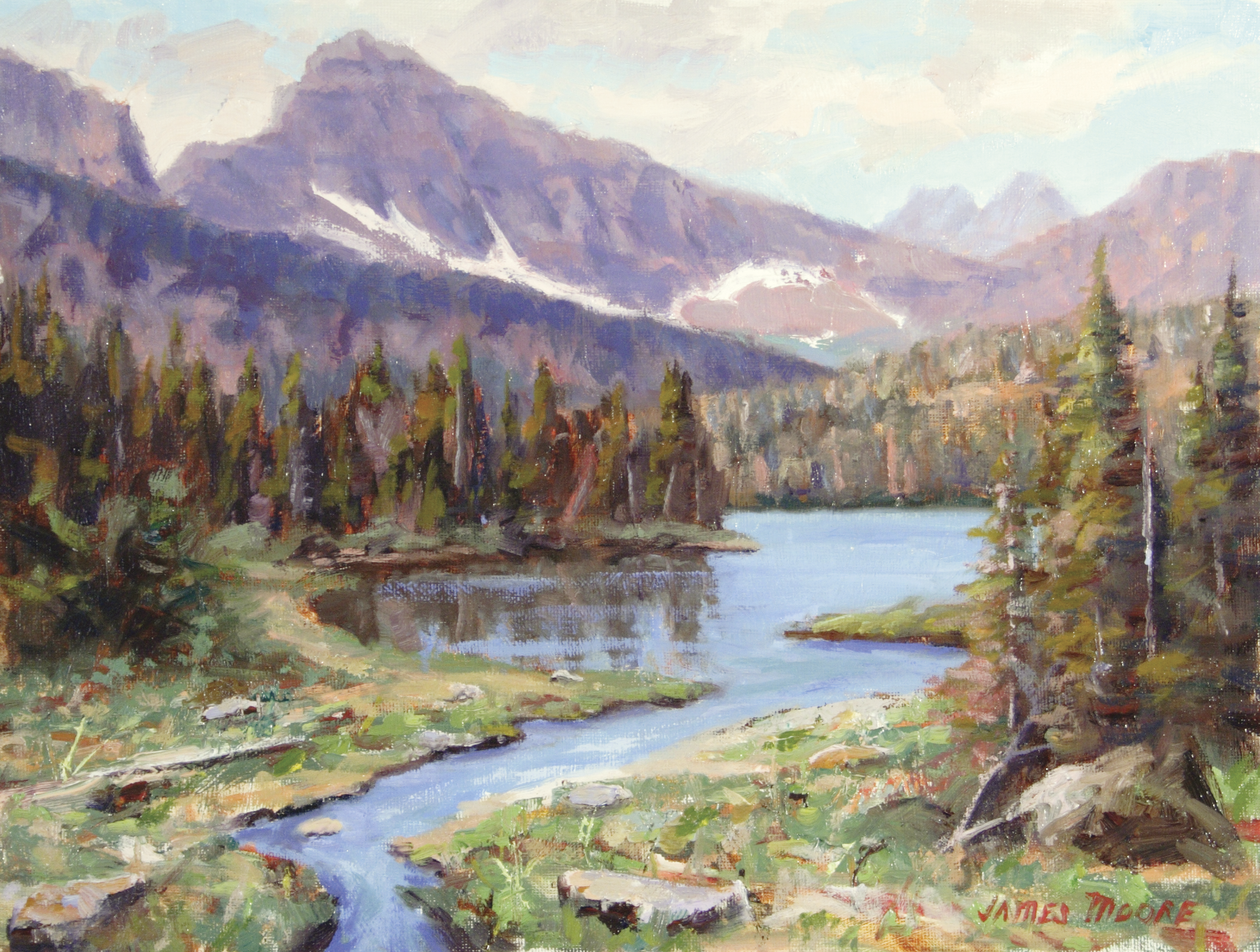 "Glacier in Summer" | Oil on Linen | 12 x 16 inches
01 Sep

Ones to Watch: James Moore

Like the individual notes of a finely composed symphony, each of painter James Moore's "color notes" comes together in a unified expression of beauty. Impressionistic in style, his paintings skillfully capture the essentials — the forms, the colors, even textures — of the beauty that inspires him. He is committed to interpreting only those aspects of a landscape — a figure, a seascape or a still life — that move him. As such, his paintings are a scrupulously whittled mosaic of brushwork, each stroke counting and holding weight equal to the others. It's up to the viewer to fill in the rest, calling on his or her own eyes, emotions and memories to complete the painting.

Numerous shows have featured Moore's work, including the current James Moore's Centennial Salute to Glacier at Glacier Gallery, Kalispell, Montana. The show runs through October 2010. His work also has appeared in shows at the Museum of Northwest Art, La Conner, Washington; CM Russell Auction of Original Western Art, Great Falls, Montana; Treasure State Art Show, Hamilton, Montana; Yellowstone Art Museum, Billings, Montana, and others.

Moore's paintings hang in private collections from Washington state to Washington, D.C. Collectors include Eve Parrish, Jim Reeves, Coromega CEO Frank Morley, Don and Mary Scott, Fred Beringer of Beringer Wines, and Boeing CEO W. James McNerney Jr.

He is represented by Crow Valley Pottery, Orcas Island, Washington; Gallery San Juan, Friday Harbor, Washington; Glacier Gallery, Kalispell, Montana; Insights Gallery, Anacortes, Washington; and the Pacific NorthWest Art School, Coupeville, Washington.