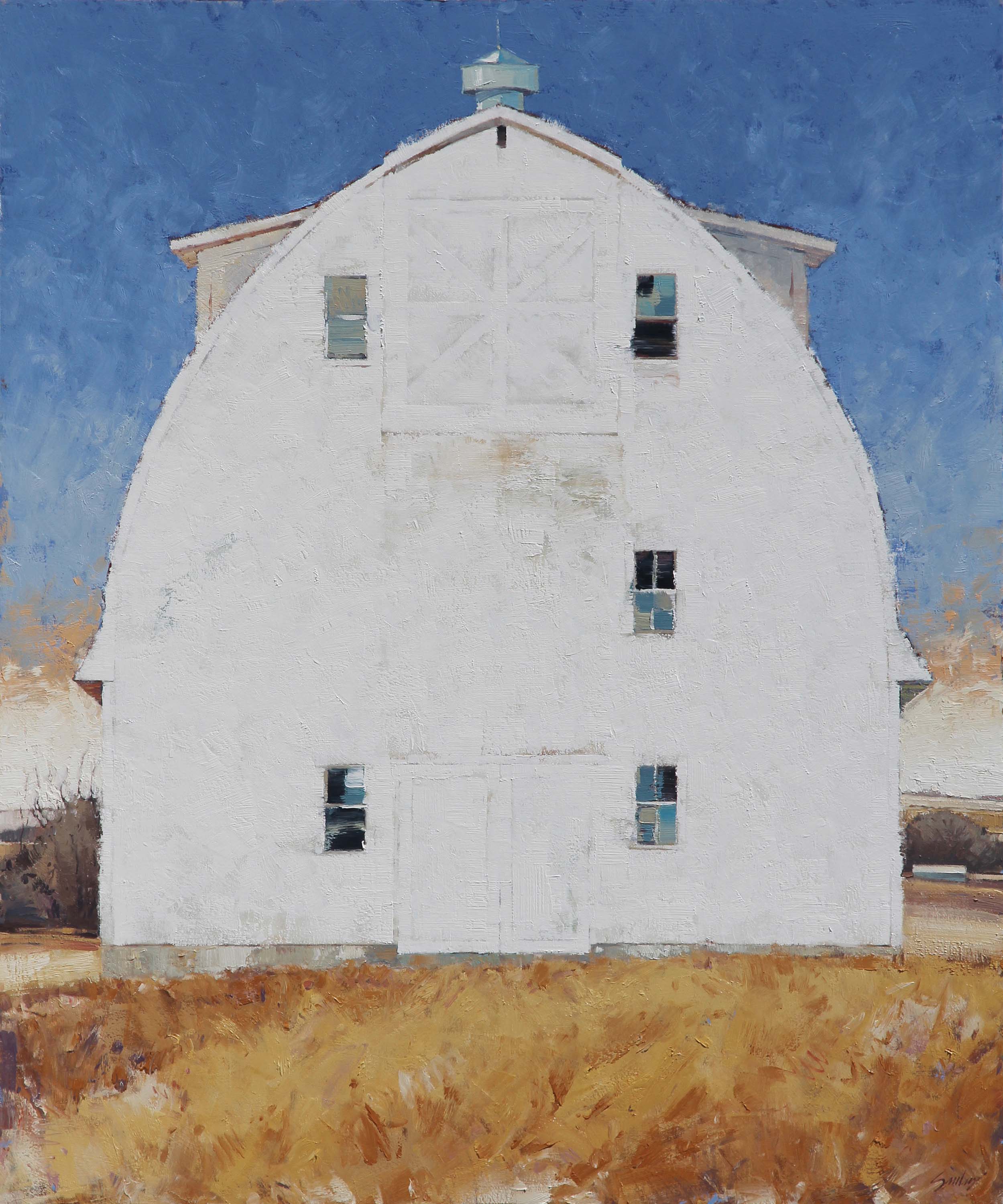 "Five Windows" | Oil | 60 x 72 inches
01 Feb

Ones to Watch: Jared Sanders
---
For Jared Sanders a barn becomes something other than a barn, a cow, something other than a cow. Because he is looking for the abstract quality in substantive objects, what you see is often brought into question.
"I'm always looking for the more abstract elements of the landscape or structure," Sanders says. "I'm always trying to become more abstract — trying to change and improve, to accentuate the abstract I see in the landscape and buildings."
He finds a lot of abstract qualities in the barns, especially those older ones, with peeling paint.
"The people that put up the barns built them purely for functional uses," Sanders says. "They weren't trying to accentuate the aesthetic. It was all about function, and so much of that is appealing to me. Where they place the windows, where the doors are, where they've repainted it — there are a lot of abstract qualities there."
Sanders places those barns and buildings center stage. The large blue skies come down on the roofs and open up the composition. And yet, you are staring at the side wall, a small solitary window. The straight lines of the barns, a square or a rectangle against the softer shapes of the landscape, creates a dialogue between the structural manmade influences and the more natural curves of the land.
"I choose subjects other people might overlook," Sanders says. "So when I put it into the square of the canvas it becomes something else. It takes on a life of its own."
In his series of cows, black against the snow-white land, the seemingly simple composition is quite complex. "My work is graphic," he says. "The overlapping of the cows and the contrast of the snow becomes very abstract, and the way they overlap creates other forms." In his landscape pieces, he lays the fence lines or the cottonwood borders low on the canvas. He pushes the composition to apogee.
"It's a different way of looking at it," he says. "I find when you put the horizon line low with a lot of sky, it makes the overall feeling of the painting become calm and restful. But it's also full of tension because it's an extreme composition."
Sanders is represented by Altamira Fine Art, Jackson, Wyoming, and Montgomery Lee, Park City, Utah.