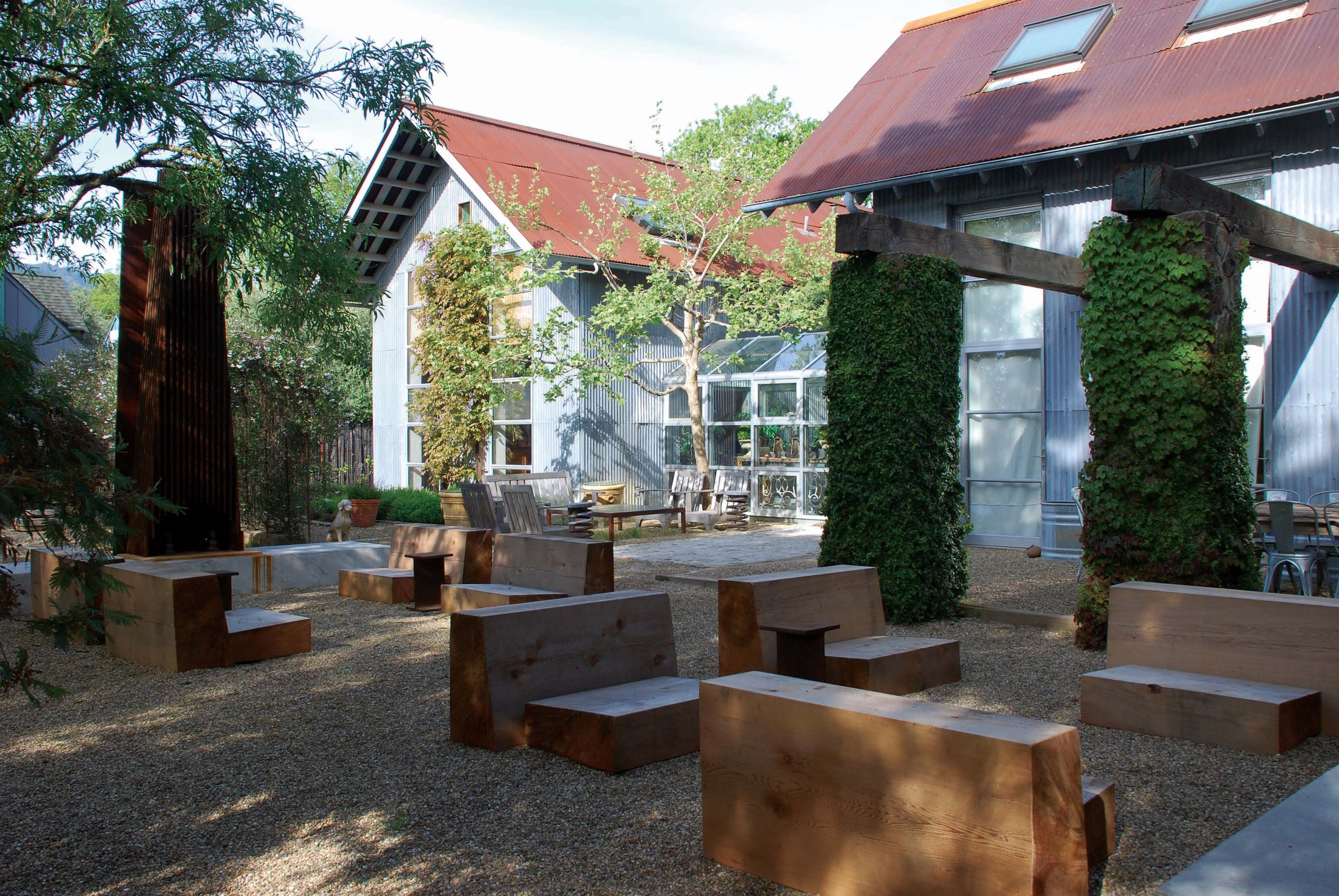 Napa Valley native Josh Chandler is a chef, winemaker, designer and landscape architect. His use of galvanized steel and reclaimed wood is well suited to these outdoor living spaces.
01 Feb

Ones to Watch: Josh Chandler
---
Growing up under the tutelage of a father who was a landscape architect and sculptor, and a mother who was an interior designer and chef, it is no surprise that Josh Chandler turned out to be a multifaceted creative force: designer-builder, landscape designer, contractor, winemaker, beekeeper and gourmet chef. Born and raised in the California wine country, Chandler was a licensed landscape architect by age 21, trained for two years in the kitchen of L'Auberge de Soleil and more recently was owner-winemaker of Lazy Creek Vineyards, a winery in the Anderson Valley with a cultlike following. Through the years he has renovated historic structures, designed and built new residences, conceptualized commercial wineries and even relocated and rebuilt a 1909 timber-frame barn from Iowa.
Chandler is a master at siting; he carefully considers each building's approach and orientation and takes into account the effects of light, wind, views and existing vegetation. His timeless style combines minimalism with forms appropriate to the region's rural setting and its utilitarian yet beautiful architecture. He is emphatic about the importance of having an overall vision for a project prior to commencing work. "I'm interested in the whole canvas, from the conception to the implementation," Chandler says. "The strength of the project is equal to the strength of vision." Fortunately the breadth of his expertise means that he can build the house, design the landscaping, suggest indoor and outdoor accoutrements — even fill the wine cellar.
A recent Napa Valley project for a client who wanted a home suitable for frequent visits from children and grandchildren celebrates Chandler's love of local stone, glass, galvanized steel and recycled timbers. (He says he likes to let the surfaces, textures and age create the story.) Built in three phases, the home makes as much of its exterior spaces — the project has several outdoor "rooms" — as its indoor spaces.
Chandler's understanding of space and proportion, combined with his intuitive handling of light, lend a quiet beauty even to unfurnished rooms. He says he wants his structures to withstand the test of time in their construction as well as with their composition, and that any structure and its environment should age together. As for that critical zone where the indoors meets outdoors, this Napa Valley native was born to make the most of it.