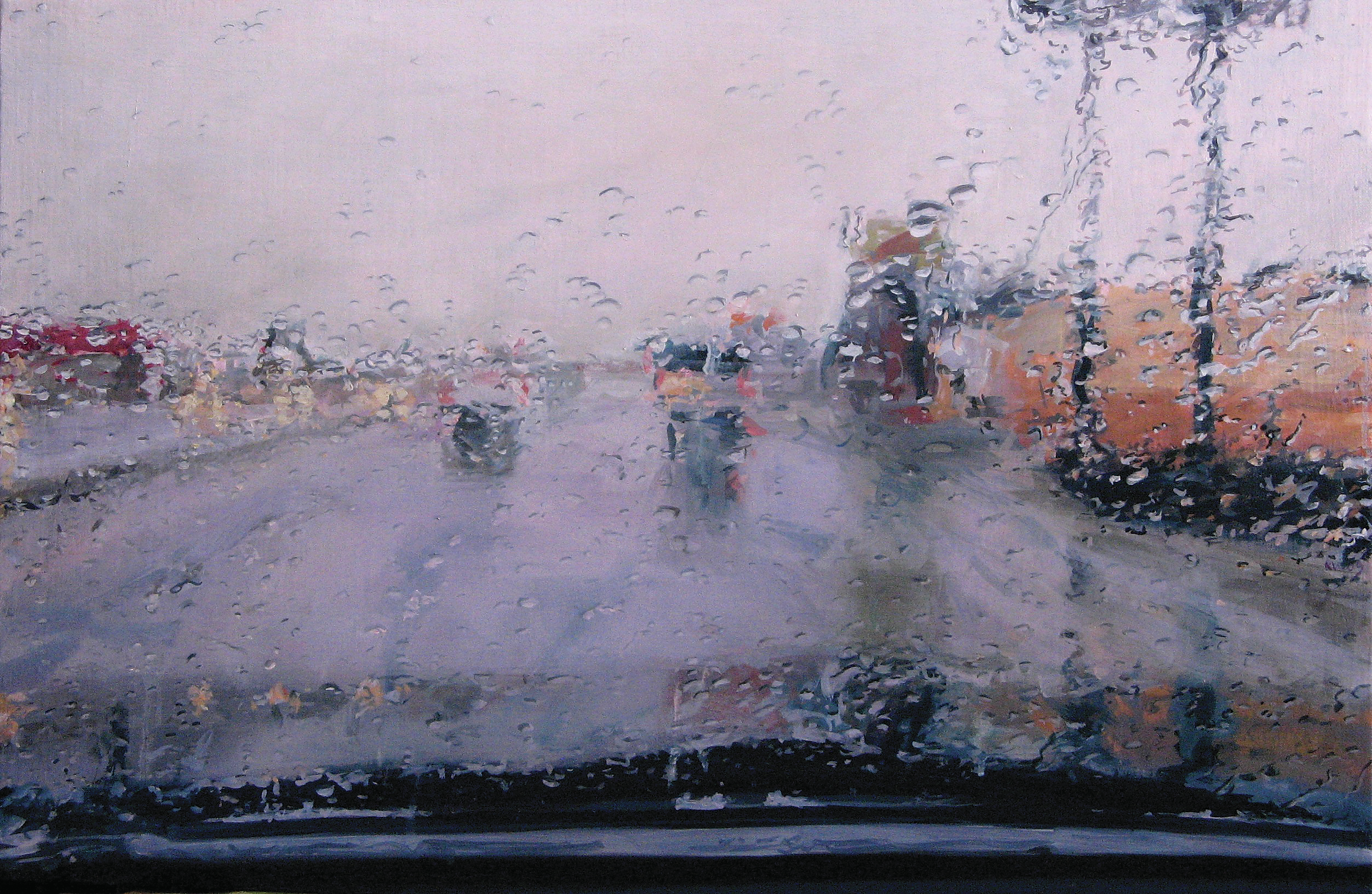 "Everything There" | Oil on Linen | 18 x 27 inches | 2009
24 Jul

Ones to Watch: Karen Woods

Karen Woods offers a unique and private perspective on the landscape through her recent series that makes use of the windshield and rain. Woods looks at the world via a speckled window of a car. She captures not only the space between life and death, the movement of people in the world at unnatural speeds, but the separation between each of us, caught in our own emotional weight. The near-perfect water drops cry at our self-imposed isolation.

Not only does she posit the partition between the individual and the world through glass, but she also reminds us of the always-present natural world, even in the guise of a cityscape. Skewed by refraction, the lights, red glare of brakes and bright white of electricity, Woods carries us forward, toward the light.

Commissions include Quintessential Boise, an Architectural Journey, Charles Hummel et al, Boise State University, College of Social Sciences and Public Affairs, publisher; and as a piece of public artwork by Traffic Control Box Cover Design, Capitol & Main Streets, Boise, Idaho. She has shown at the Boise Art Museum, Boise Idaho; at Art Chicago, Chicago, Illinois; the FADA Los Angeles Art Show, Los Angeles, California. A solo exhibition of her work, Inside Looking Out, showed at the Stewart Gallery, Boise, Idaho.

Karen Woods is collected by Gary Bettis, Boise, Idaho; the City of Boise, Idaho; The Art Museum of Eastern Idaho; Cedar Rapids Museum of Art, Cedar Rapids, Iowa; Boise Art Museum, Boise, Idaho; Mario Venzago, Music Director, Indianapolis Symphony Orchestra.

She is represented by the Stewart Gallery, Boise, Idaho.