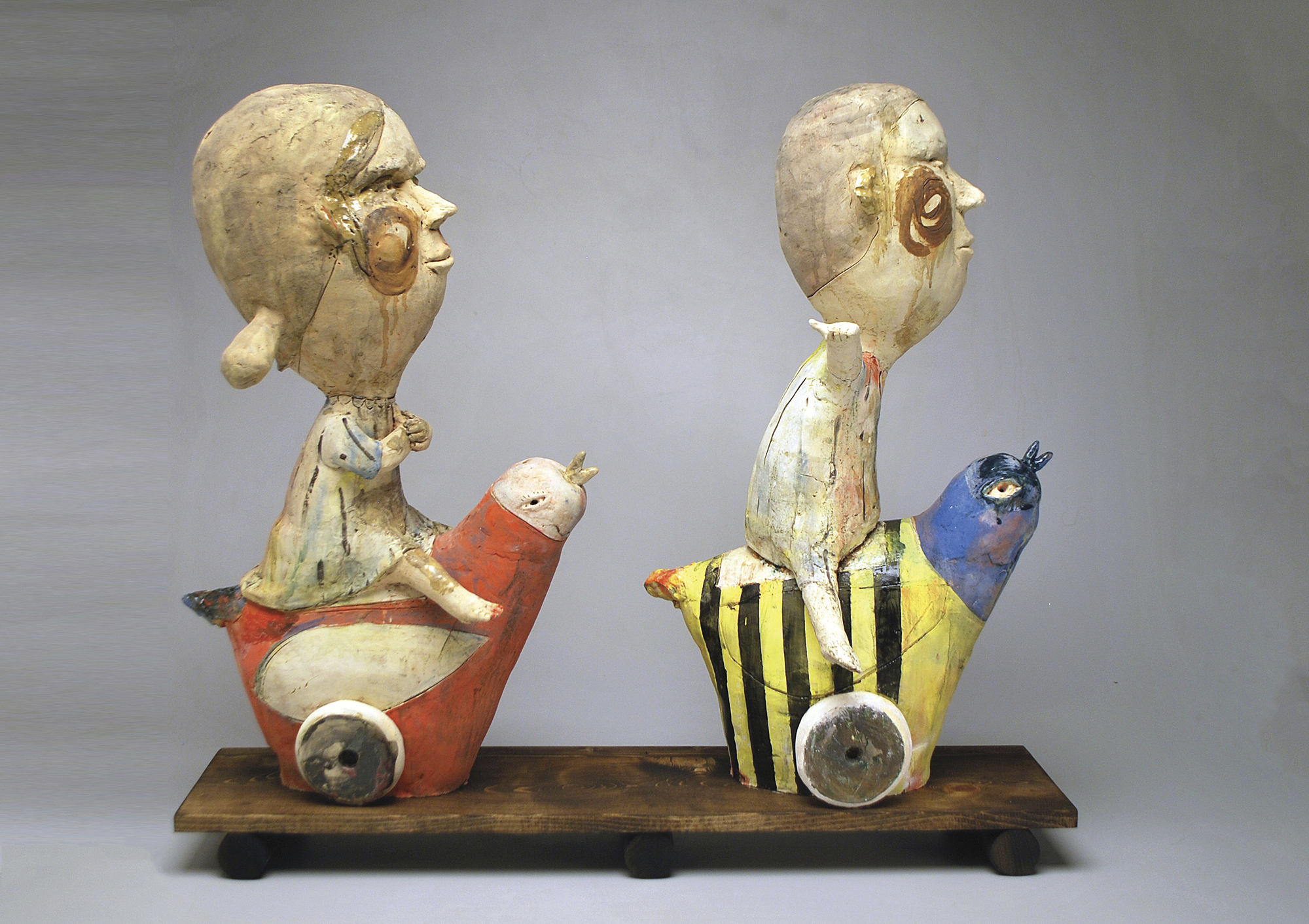 "To the North" | Ceramic, Wood, Stain | 29 x 35.5 x 15 inches | 2011
01 Sep

Ones to Watch: Kensuke Yamada

Kensuke Yamada's ceramic figures embody a kind of enchantment, perhaps because of the impishness of their expressions, or the single emotion emitted from each one. Yamada wants us to think about "the moment, not the movement of time," and this surgical cutting away of complexity leaves the viewer with an otherworldly innocence not truly experienced in daily living. His glazes convey a sense of history, so even the newest pieces seem timeless.

In Hand Full, the small woman of an underdetermined age offers up two ice cream cones. The simple act of generosity is imbued with our natural suspicions, complicating a simple act with our own mores and emotional baggage. Yamada says, "If my audience slows down to appreciate the perceived interaction with my figurative sculpture, then they will be sharing in a common perception staged in a space to show the human experience."

Yamada's recent shows include I and Love and You, Catherine Person Gallery, Seattle, Washington; Empathetic, Gallery of Visual Arts, University of Montana, Missoula, Montana; Composing the Modern, Lilstreet Art Center, Chicago, Illinois; Contemporary Figurative Ceramics, The Emerson Center for the Arts & Culture, Bozeman, Montana; Bray Collaboration: Then and Now, Holter Museum of Art, Helena, Montana; Figurines, Santa Fe Clay, Santa Fe, New Mexico; NCECA Tampa Florida with Archie Bray Foundation, Tampa, Florida.

His residencies have included Joe Batt Invites Artists, Watershed Center for the Ceramic Arts, Maine; and the Archie Bray Foundation long-term resident, Helena, Montana as a MJD Fellowship.

Yamada's work is collected privately and publicly by the Missoula Art Museum, Missoula, Montana; Safeco Insurance, Seattle, Washington; Bellevue Club, Bellevue, Washington; Inn at the Market, Seattle, Washington; and the Archie Bray Foundation, Helena, Montana.

He is represented by the Catherine Person Gallery, Seattle, Washington.