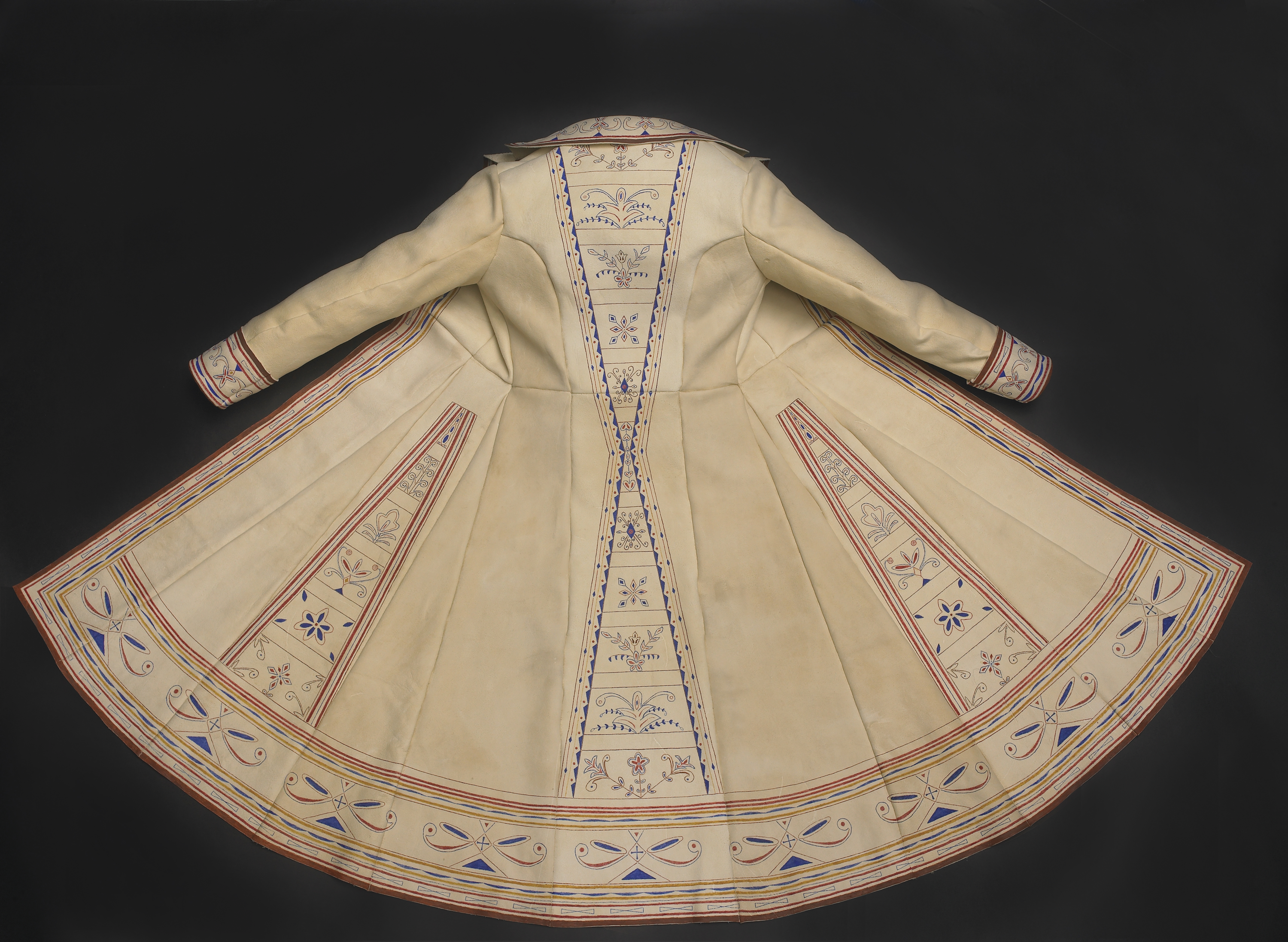 Naskapi Hand Painted Frock Hunting Coat. A modern interpretation using authentic methods and materials—patterned after the hunting coats of the Naskapi, Montagnais and Eastern Cree Indians.
29 Dec

Ones to Watch: Keri DeWitt

Keri DeWitt was in the fourth grade when she developed an affinity for legendary frontier figures including Jim Bridger, Davy Crockett and Wild Bill Hickok. She begged her parents for a buckskin shirt for Christmas, but when it never materialized, the enterprising little girl set about making her own. She accumulated deer hides from local hunters around her family's Missouri farm and meticulously researched traditional methods of tanning. She worked the hides by hand with homemade lye and Ivory soap, and by the seventh grade finally had enough material for her long-coveted buckskin shirt.

Over the next three decades, DeWitt's passion for leather tanning and traditional Native decorative art forms — including quilling, beading and painting — never waned. Her knowledge of primitive materials, as well as her ability to craft them, is utterly encyclopedic. Today, DeWitt creates stunning and sophisticated contemporary clothing and accessories using entirely traditional methods and materials including brain-tanned leather from buffalo, antelope, deer and elk. Her hand-beading and painting methods — utilizing earth elements applied by sharpened sticks and bones — are an homage to specific Native American tribes and different eras throughout history.

By creating her own palette and materials, and combining them with contemporary designs, DeWitt interprets historical garments with unmatched style. When DeWitt pairs brain-tanned, hand-scraped bison hide (traditionally used to make tipis) with the decidedly modern cut of a messenger bag, for example, she is redefining what we have come to expect from Western style.

As evidence of her unparalleled talent, DeWitt was awarded an Honorable Mention in the Art to Wear category at the 2010 Western Design Conference for her pedestal outfit that centered around an 18th-century reproduction of a painted, brain-tanned, frock hunting coat of the Naskapi Indians. Her work is sold exclusively online through Wind River Trading Company at www.windrivertrading.com.
A traditionally tanned bison reversible vest. Created using the same methods that the Native Americans used for thousands of years, brain-tanned bison fur has its own rich character unlike any other furs.
The fringe flap, strap, and lace on this parfleche purse are all brain-tanned deer skin. Antique trade beads are sewn with real elk sinew. The fringe is wrapped with dyed porcupine quills.