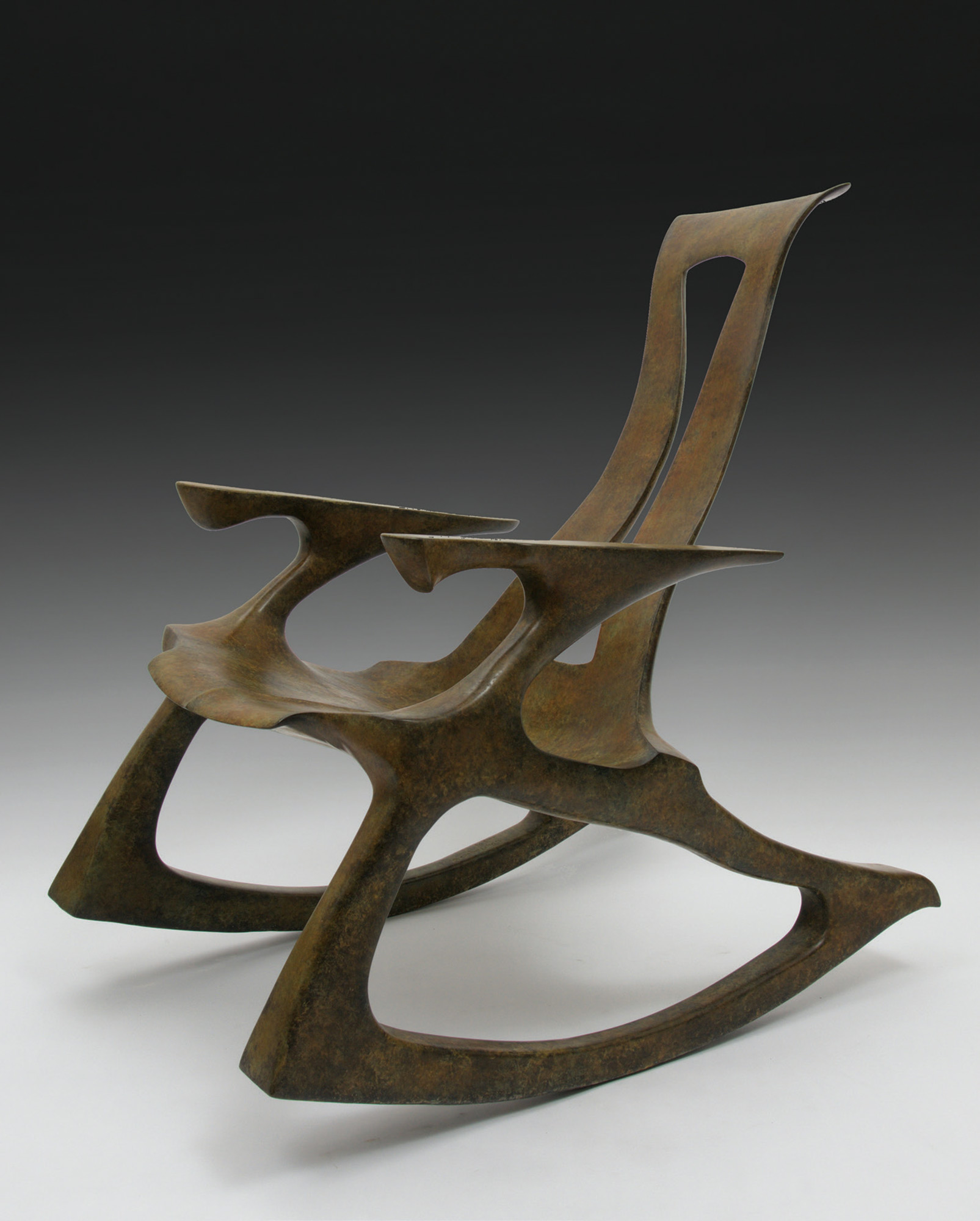 "Resurrection Rocker" | Cast Bronze | 41 x 27 x 36 inches | Photos: Paul Boyer
10 Mar

Ones to Watch: Kevin DesPlanques
---
As a woodshop teacher for 13 years, Kevin DesPlanques approaches his craft with a lot of experience. Combine those years in the classroom with his background in sculpture, and one begins to understand the thoughtfulness behind his chosen lines and unique compositions.
DesPlanques creates rough forms from stack lamination, a technique of gluing different woodcuts together to achieve a shape. From there, he grinds and sculpts the wood into chairs, ottomans and tables.
"All the pieces are freeform sculpting," DesPlanques says. "I don't use any mass machinery. It's all one-of-a-kind pieces. Typically I just feel my way through them, but when I'm designing a piece for a client, I do sketch them out. That points me in the right direction."
DesPlanques often collects outstanding pieces of wood and holds onto them until it "tells me what it wants to be," he says. He uses a variety of wood from North America as well as exotic woods from all over the world, including African rosewood, bubinga and mahogany. "I really like zebra wood, a very highly striped wood," he says. "Some of these have gotten incredibly expensive. I've made pieces that cost close to $3,000 just for the wood. On the other hand, bamboo is easy to work with and creates a nice product and is not very expensive."
DesPlanques says he's always been passionate about making furniture, but it took courage to walk away from teaching to pursue his creativity full time six years ago. "It was right when the economy was terrible," he says. "It was hard, and I struggled for a few years until I found my groove. Last year was my best year ever."
When working with clients, DesPlanques is happy to collaborate to create pieces together, but it's important that what he creates appeals to his own artistic sense. Recently, his clients inspired his work to take another form, and he began casting furniture in limited edition bronze. "I got to thinking that, for the right clientele, someone might like a chair they could put outside. And if I made it out of bronze, and left it outdoors, it would get a great patina."
DesPlanques' furniture has garnered awards around the country at high-end art shows, including the Cherry Creek Arts Festival in Denver, Colorado, and the Coconut Grove Arts Festival in Miami, Florida. His work is represented by Luca Décor in Santa Fe, New Mexico; Open Shutter Gallery in Durango, Colorado, and on his website, www.sublimerockers.com.