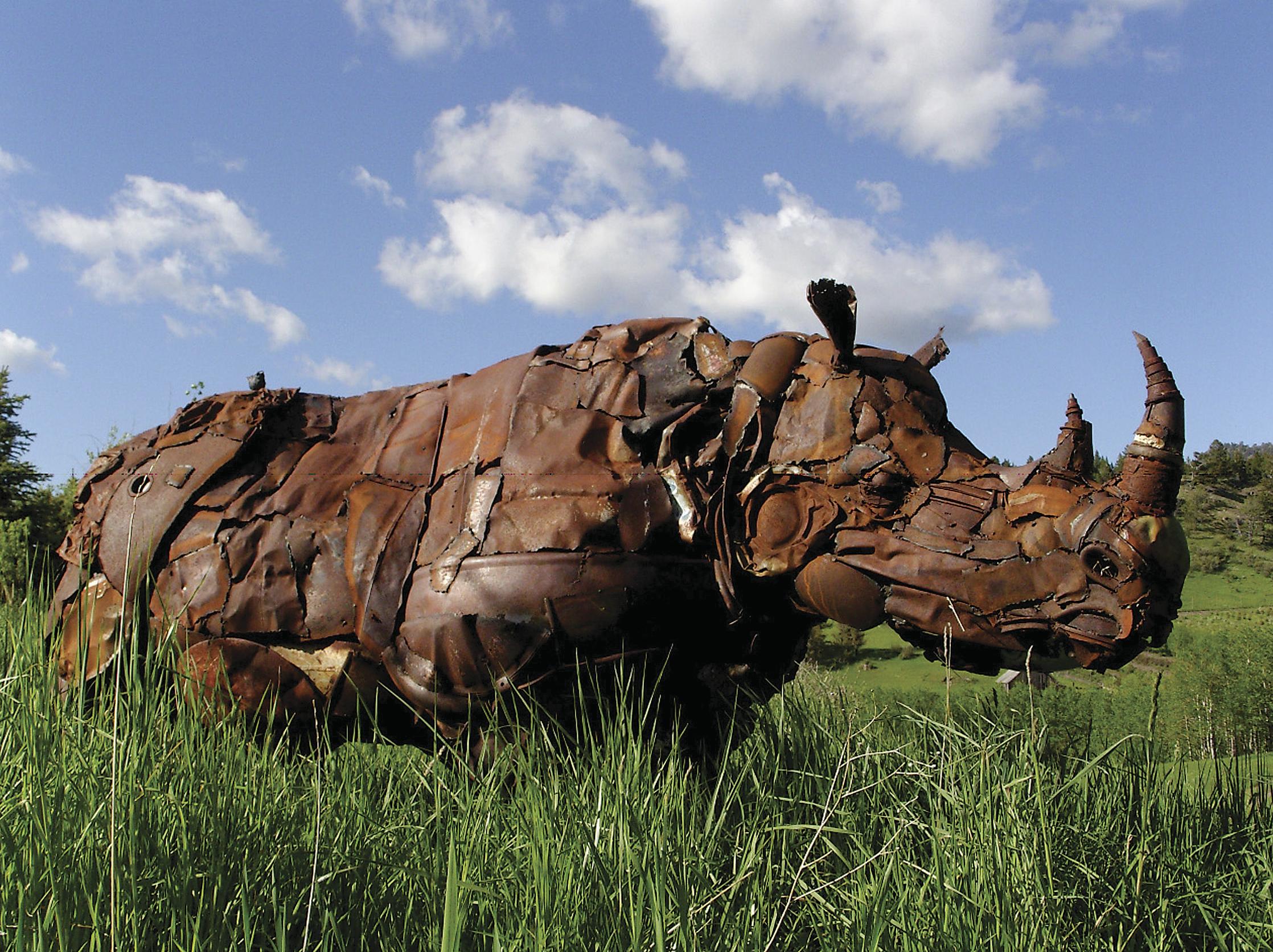 "Stewart" | 13 x 6 x 5 feet
29 Dec

Ones to Watch: Kirsten Kainz

Kirsten Kainz's work repurposes industrial objects into sculptures embodying both substance and whimsy. The found bits of this and that not only conform to Kainz's inner vision, they also bring their own historical significance to each piece.

Using materials salvaged from scrap yards — an old steering wheel, gears, gauges with the needles still attached, lids and casings, steel fringes of old brushes, metal edges both wide and narrow — Kainz speaks to our throwaway culture while creating lasting installations.

Her recent gallery shows include Visions West in Bozeman and Livingston, Montana; Stowe Craft Gallery in Stowe, Vermont; Sweet Pea Art Show in Bozeman, Montana; Peligro Metal Gallery in Twisp, Washington; and the Mayor's Council Annual Art Show in Gillette, Wyoming.

Kainz's work is collected privately by the Baden Ranch, Gallatin Gateway, Montana; the Perry Residence, Barrington, Illinois; the Fishman Residence, Waterbury, Vermont; the Barrett Residence, Hanover, New Hampshire; and the Scammell Residence, Lake Placid, New York. Her work appears in the public collections of the City of Helena, Montana; the Bozeman Public Library, Gallatin Art Crossing, Bozeman, Montana; the Cupola Clock Tower, Morrisville, Vermont; Copley Manor Hospital, Morrisville, Vermont; and The Stowe Craft Galley & Design Center, Stowe, Vermont.

Her sculptures have garnered numerous awards including the People's Choice Award, Sweet Pea Art Show, Bozeman, Montana; Award of Merit in Sculpture, Stowe, Vermont; A Study Grant, Johnson Studio Center, Johnson, Vermont; and Honorable Mention, S.I.U. Group Show, Carbondale, Illinois.

She is represented by Visions West Gallery, Bozeman and Livingston, Montana, and Denver, Colorado.