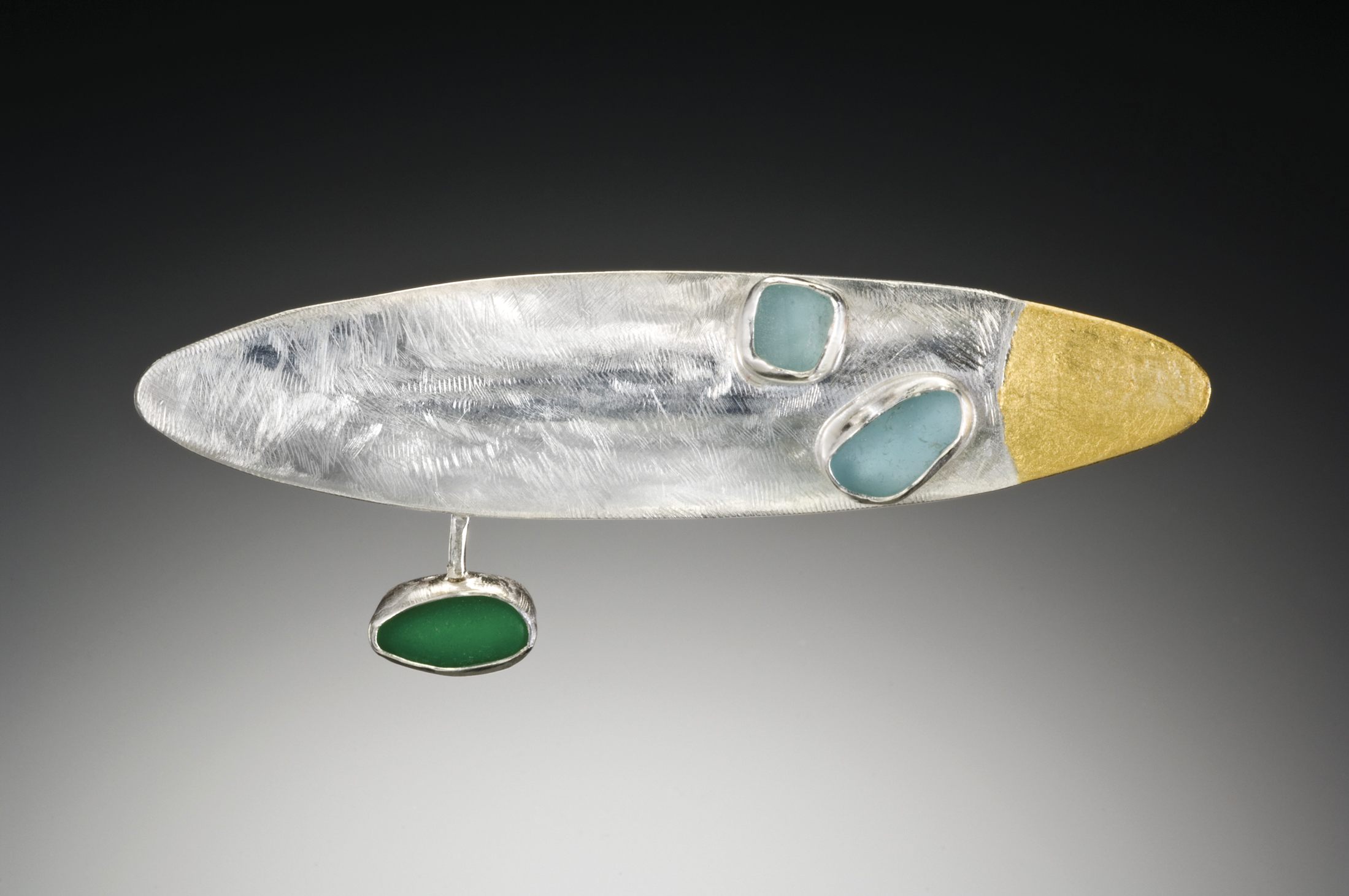 "Orbit (pin)" | Sterling Silver, 23K Gold, Beach Glass | 2.5 inches x 1 inch
01 Dec

Ones to Watch: Lisa Ronay

Metalsmith Lisa Ronay connects the mystic feeling of the ocean with the beauty of tide-rocked glass as well as the treasure-like quality of found objects. Incorporating the softness of seaglass with hand-hammered silver and gold, Ronay's pieces speak to our innocence as well as our worldliness.

There's an intimacy in jewelry. We wear it close to our hearts, on our arms. We hang it from bodies like signs showing the world who we are, what we love and daring others to do the same. Lisa Ronay's work helps us to uncover ourselves, to put it out there for all the world to see. I am soft and I am beautiful. I shine. I am the restless current struggling to find the shore.

"I went through a period of time when I wondered about jewelry's role in society," she says. "We've always adorned ourselves as people. That makes me pleased to enter into that conversation with people. Jewelry has a permanence to it. When I look at jewelry from thousands of years ago, it's still glorious and beautiful and you can weave your own story into it. Metal lives on over time."

As do gems and glass.

Ronay started collecting the glass she uses in her jewelry when she was on Bainbridge Island, which was settled in 1800 by the timber barons of the Pacific Northwest. "The glass was so soft and beautiful," she says. "Then I found another beach in California. Every pocket of the beach has its own personality. I had to climb down cliffs with a rope and harness to get the glass."

Ronay feels the distinctive shapes lend themselves to their own design. "It's the organic shape of it that is really appealing to me and the color," she says. "Often the piece of glass will inform me what it should be. If I find a dark aqua, I want to make a special pendant that honors it. I find the work really exciting in that way. I never know what I'll find and in that, the discovery of what the pieces will become. I never cut them, I use the shapes [as] I find them. It's a natural happenstance."

Each fragment of beach glass washes up new ideas. "I've always loved jewelry and I've always loved found objects. It's part of the fabric of who I am. There's a preciousness and a reverence that intrigues me."

Recently, Ronay has drawn inspiration from the potency and innocence of her children's drawings, using the line to inform her projects. "I like to get away from the perfectionism; it's good in technique but not in design," she says. "I saved some of my sons' drawings — they were very involved in storytelling on paper. I just made a pin of a minnow, inspired by a drawing from my son when he was 3 years old."

Lisa Ronay's work is represented by ACCI in Berkeley, California; White Bird Gallery in Cannon Beach, Oregon; Gallatin River Gallery in Big Sky, Montana; Chambers Gallery in Cambria, California; and Marin Jewelers Guild in San Rafael, California.