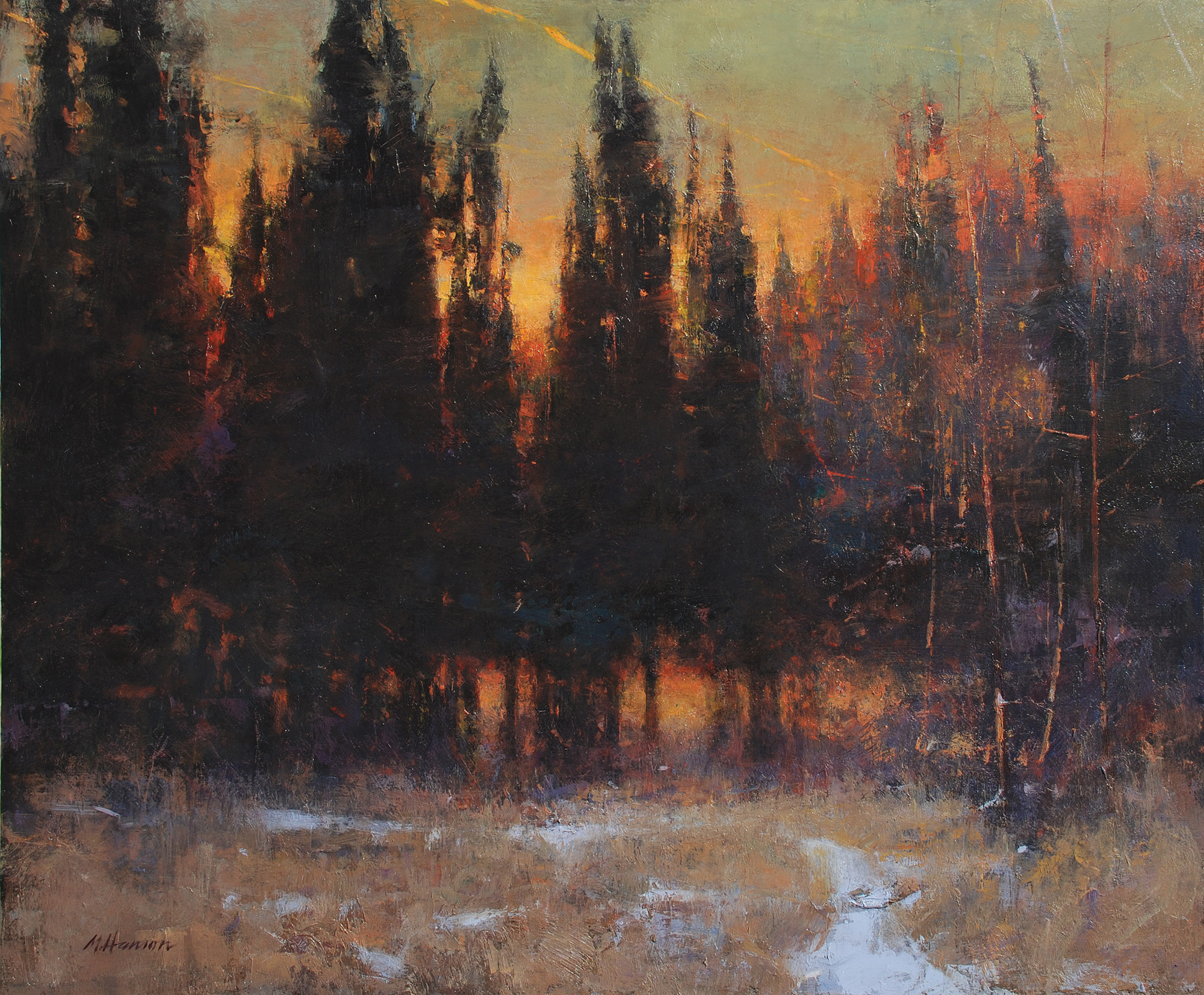 "Winter's Last Sign" | Oil on Board | 20 x 24 inches
04 Aug

Ones to Watch: Marc Hanson
---
Marc Hanson paints the quiet, the stillness. Portraying nature in the most intimate of ways, each of his canvases represents a connection with the small creek, the fire-blazed sunrise, the pink-glazed snow on a mountainside. And, most likely, he will paint these moments while standing in the midst of the scene, no matter the heat, his frozen toes or his anxious race with light.
"I connect more to the emotional side of the landscape. I grew up as a painter in the upper Midwest, a place that did not have grandeur; it had beauty," Hanson says. "I enjoy the nooks and crannies and the small parts of nature. I paint the things that other people walk by. Things slightly less obvious."
But it's not the little things in themselves that drives Hanson to paint these vignettes. It's what he feels for them, and this comes across in his work. He doesn't leave his house with his oils and brushes because he's decided to paint a particular mountain. Instead, he hikes, he wanders, he drives, until the emotional pull of a landscape calls him to paint it.
"My paintings are based on plein air work, if not entirely," he says. "Painters used to paint outside more; these days a lot of painters take photographs and go back to the studio. I want to get back to the outdoor painting, when the entire piece is done outside."
Hanson began college as a biology major, but he soon applied to and was accepted into the Art Center College of Design in Pasadena, California, majoring in illustration. Hanson was a professional illustrator for many years working with various naturalist publications, including National Geographic's Field Guide to the Birds of North America. "I painted birds for 20 years. I wanted to be an ornithologist but realized it was the painting, not the birds, that attracted me," he says, noting that the "discipline of illustration" helps his work now.
Hanson also conducts painting workshops across the country. His advice to students is first and foremost to let go of fear. "I tell them to make some mistakes. When people come to plein air painting, that's very important. The idea is to come with an open mind and take chances."
For Hanson, the potential for paintings lives in everything: a wintered road disappearing into a white horizon or the back of a dilapidated barn, slats bent with age. "It's more getting my mindset in a place where I can see what's all around me. I live in Colorado where there's material all over — paintings everywhere. It's funny, but I don't paint the mountains very much."
Hanson is always on the lookout for something that contains meaning for him. Color, softness, patterns, backlit subjects, those are the things he seeks. "It's usually a contrast of light and dark, value or color, some sort of thing we describe as 'mood,' or even an artistic principle in nature that catches my eye," he says. "I'm looking out my door, and there are dandelions going to seed. It's warm and the sun is hazy and I see how the fuzz breaks up into atmosphere."
This year, Hanson was granted the Master Signature Membership by the Oil Painters of America, a prestigious lifetime award. He also has work in the permanent collection at the Leigh Yawkey Woodson Art Museum in Wausau, Wisconsin.
He is represented by Addison Art Gallery in Orleans, Massachusetts; Elizabeth Pollie Fine Art in Harbor Springs, Michigan; Horton Hayes Fine Art in Charleston, South Carolina; Hudson Fine Art and Framing Company in Hudson, Ohio; Mary Williams Fine Arts in Boulder, Colorado; OA Gallery in Kirkwood, Missouri; Ponderosa Art Gallery in Hamilton, Montana; The Mission Gallery in St. George, Utah; and Wild Horse Gallery in Steamboat Springs, Colorado.