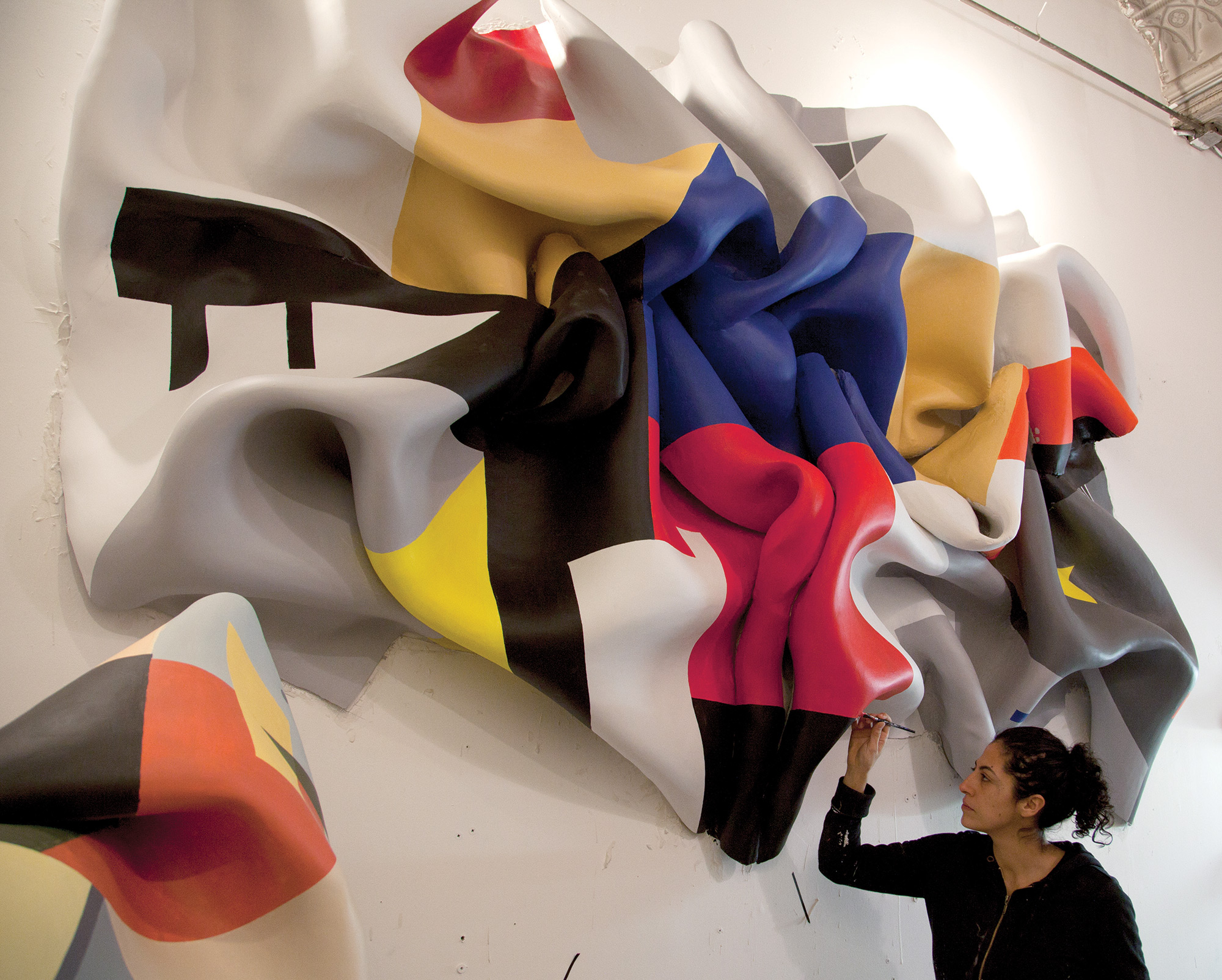 Zacarías working on Manhattan, part of "Supple Beat," her solo show at the Brooklyn Museum. Photo: Pierce Jackson
04 Aug

Ones to Watch: Marela Zacarías
---
Artist Marela Zacarías combines painting and sculpture to create works that are unexpected and exciting, undulating and intuitive. Using vibrant colors inspired by traditional multicultural fabrics, her work falls into two categories: site specific and exploratory studio work.
"I'm very interested in ancient textiles and the relationship of color abstraction and color theory as put forth by Josef Albers," she says. "I also look at pre-colonial architecture and textiles; they all come together in my sculptures."
Her background in mural painting connects the wide expression of place with an interest in history, objects and current events. Wanting to bring the flat surface of a wall into a three-dimensional space, Zacarías creates shapes using window screening covered in joint compound. She then paints over the surface, creating sculptures that interact with architecture, as though a mural was brought to life.
"In my site specific work, I get invited into a space and do research in that area," says Zacarías who was born in Mexico City and splits her time between there, Brooklyn, New York, and Bozeman, Montana. "In my 10 years of mural work, I'm used to going into a place, finding out about it and then making something that's relatable to the community. That process is still part of my work. I like to learn and find out new things about a place."
For her recent commission, Mannahatta, a 20-by-25-foot permanent installation in a hotel, The William Vale, in Williamsburg, Brooklyn, she examined the history of the area all the way back to the Native Americans who lived there. For an exhibit at the Brooklyn Museum of Art, she chose to reference the first abstract murals painted by the Works Progress Administration in the 1930s. "Those murals were painted for the workers," she says. "Then they got covered by paint and were rediscovered in the 1990s. To me, it was a story of the resilience of those objects. I look for the stories behind the places and try to respond to that."
For an upcoming series, Zacarías traces her own lineage, influenced by the textiles of the Middle East, Greece and Morocco. The work incorporates both meaning and color in the patterns and design, while paying homage to the women who wove the textiles hundreds of years ago. "I like making a connection to them. Being an artist in a small community, their work was very valued," she says. "The complexity, patterns and the color relationships they chose to use are integral to their cultures."
In a similar manner, a permanent installation at the American Embassy in Monterrey, Mexico, explores the story of women who sewed designs representing their cultural history into their clothing. Because these symbols were woven into their clothes, colonizers didn't demand them to be throw away. "These women were telling stories through textiles so they could be passed down from mother to daughter — it was subversive," she says. "I like the ability to tell a story through abstraction. There are more layers to it. The artwork has its own experience, but it's what I think about when I'm making it."
Zacarías spends her summers working from a studio in Bozeman, Montana. She has been featured on PBS's documentary series "Art 21" and is represented by Praxis Gallery in Chelsea, New York.