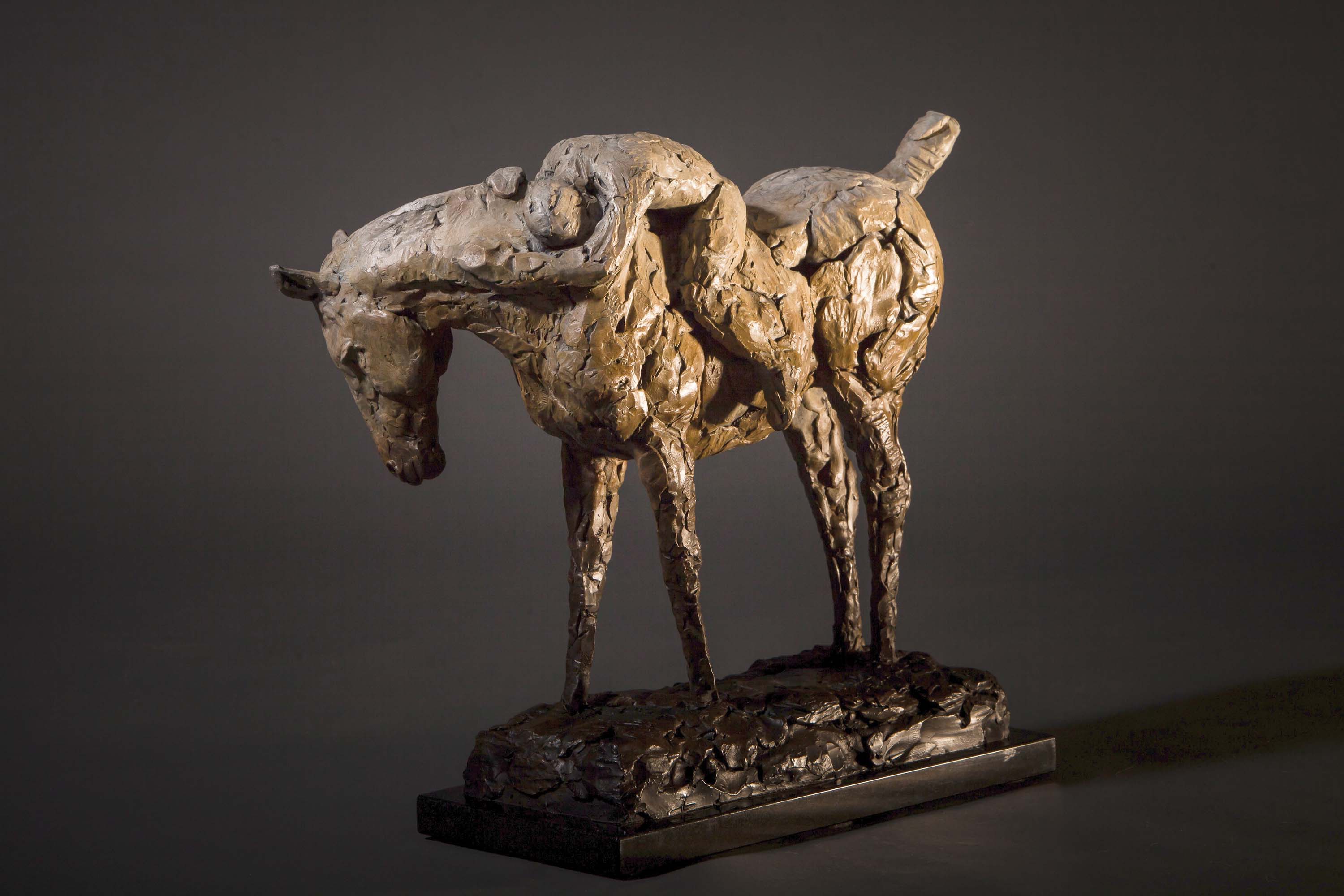 "Soulmates" | Bronze | 16 x 6 x 14 inches | 2012 | Edition of 18
01 Feb

Ones to Watch: Mark Edward Adams
---
Mark Edward Adams imbues his bronzes with a pulse of their own. Each small addition of clay adds a layer of life to the inert medium. His rough-hewn, powerful and perceptively engaging pieces, in turn, pull the breath from your chest.
"I see art as a way to portray a single emotion," Adams says. "It's not about capturing what I see in front of me but expressing a specific feeling." Adams didn't start out thinking about a career in art. But after a series of unfortunate events, he ended up in Italy where the art seeped into his soul.
"I knew sculpting was what I wanted to do," he says. "I traveled back to the U.S. and I started e-mailing some of the best sculptors around, surprisingly some emailed back. And I've been working every single day for the last nine years. I never took a day off."
Some of that work included workshops and mentorships, including one in Florence, Italy, where he studied classical sculpture.
It is with that kind of eye toward the figure that he approaches the horse.
"Everything changed when I started sculpting animals," Adams says. "I sought out some of the big animal sculptors. They inspired me to go after the essence of the horse, which is part of my life from childhood. I see the horse as a way to express human emotions."
What sets Adams apart from other wildlife sculptors is the combination of his approach to the figure and his expressionist feel for the clay. He waits for the pose that will embody the inspiration for the piece. Once he discovers that, he's off and running.
"I volunteer with a therapeutic horse-riding program and I see how much the kids adore the horses, it becomes a part of them. I observe this powerful emotion and I try to capture that feeling of bonding between the horse and the child."
To that end, he'll make dozens of tiny sketches in clay and wax, two or three a day, until he finds the perfect gesture. Once he finds that, he goes into the field with his portable sculpture stand and spends weeks with a horse, using it as a reference.
"I'm not trying to capture exactly what I see," he says. "While my pieces still look like a horse, they're really about the initial inspiration, the idea."
The heart.
Adams' work is represented by American Fine Art, Dallas, Texas; Capital Fine Art, Austin, Texas; Ecce Fine Art Gallery, Bozeman, Montana; Galeria 19 Fine Art, Fredericksburg, Texas; McLarry Modern, Santa Fe, New Mexico; and Paul Scott Gallery, Scottsdale, Arizona.