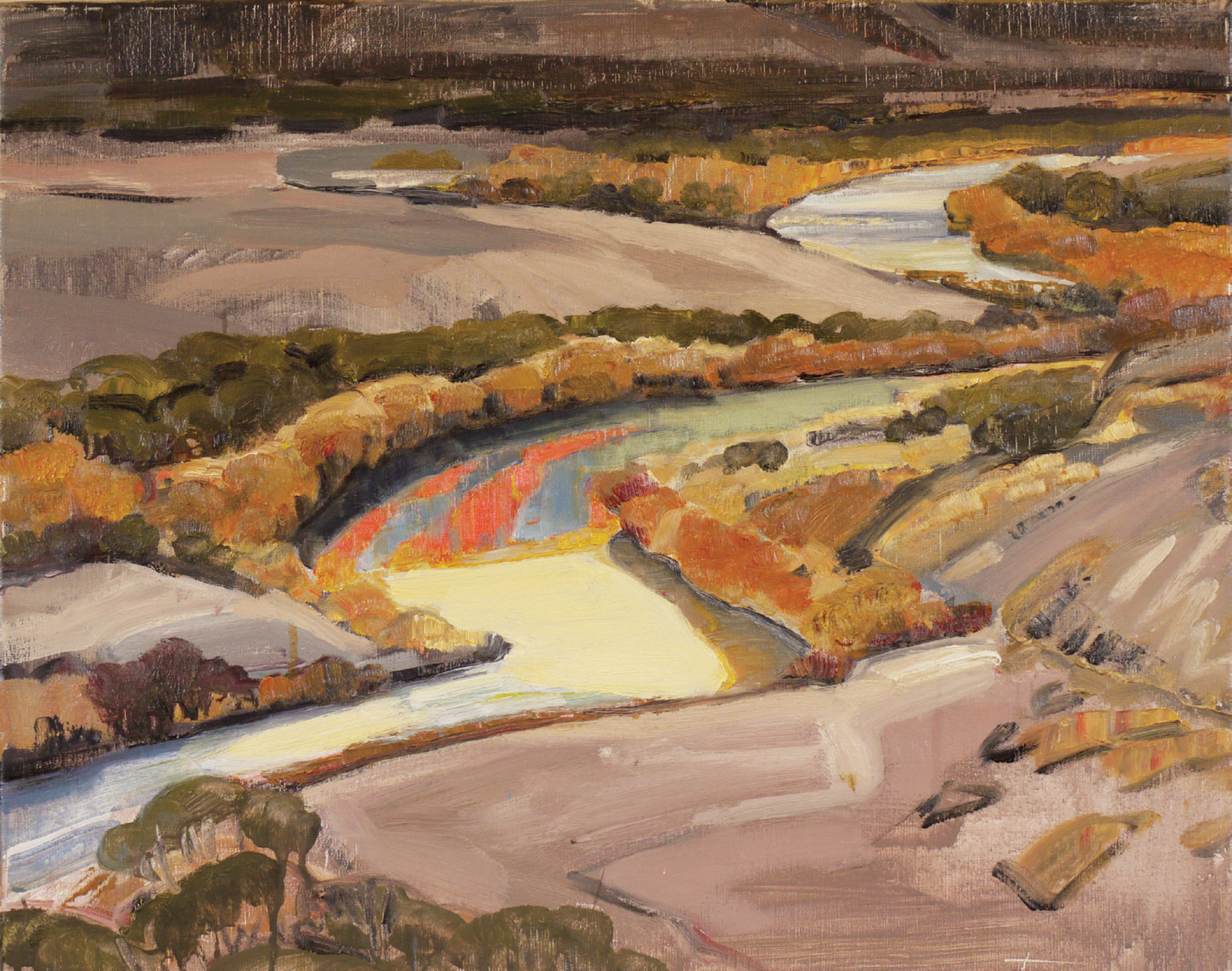 "Early Light Reflecting" | Oil on Ceconite | 20 x 24 inches | 2015
10 Mar

Ones to Watch: Mary Baxter
---
The enormous stillness of a vast horizon, the running quiet of canyons, the shadows of dry gulches, the slow and steady trails marked by cows and carved by sporadic rains — these are the subjects Mary Baxter chases, immersing herself in the arid land of Big Bend in West Texas.
"With my work I'm trying to portray my area in a rather loose, non-detailed way," she says. "It comes down to documenting a moment and a place. It's so odd the way humans have a desire to record what we see. When I'm out looking for a painting, I have these sudden moments that what I'm seeing needs to be a painting."
Having trained herself to sketch instead of take photos, to notice and capture the colors of the everchanging light, she sets up her oils as soon as she finds herself in one of those moments. What comes across in her work is complete engagement with the landscape. Perhaps it's because she paints in remote locations, generally camping out for four or five days to capture them. "With that kind of time, I can see the same thing in different lighting situations," Baxter says. "After the first day, I see what I need to paint and then the next day I'll see even more, so four or five days works really well for me."
She compares these trips in the field to fishing, some days struggling to find inspiration, while other days the fish are "jumping in my boat and I just can't sketch fast enough." Baxter emphasizes the importance of these small field studies, but sometimes the light changes so fast that even a quick sketch will not allow her enough time to get what she needs. In those instances, she takes notes. Baxter's smaller paintings are completed en plein air, while her larger works are finished in the studio, where her notes and sketches become instrumental points of reference. In the field, she figures out the value and composition. In her studio, she takes these ideas and adds more shape and color. Starting with loose washes, she builds the painting from there, using as few brushstrokes as possible. "The idea is to retain the freshness," she says. "The quicker it happens, the more the freshness is contained."
Baxter's paintings reside in corporate and private collections, including the Blue Bonnet Electric Cooperative, Data Foundry, McDonald Observatory and the Marfa National Bank. Her work is represented by William Reaves Fine Art in Houston, Texas; Lee Small Fine Art Gallery, in Fort Worth, Texas; and the Hunt Gallery in San Antonio, Texas.