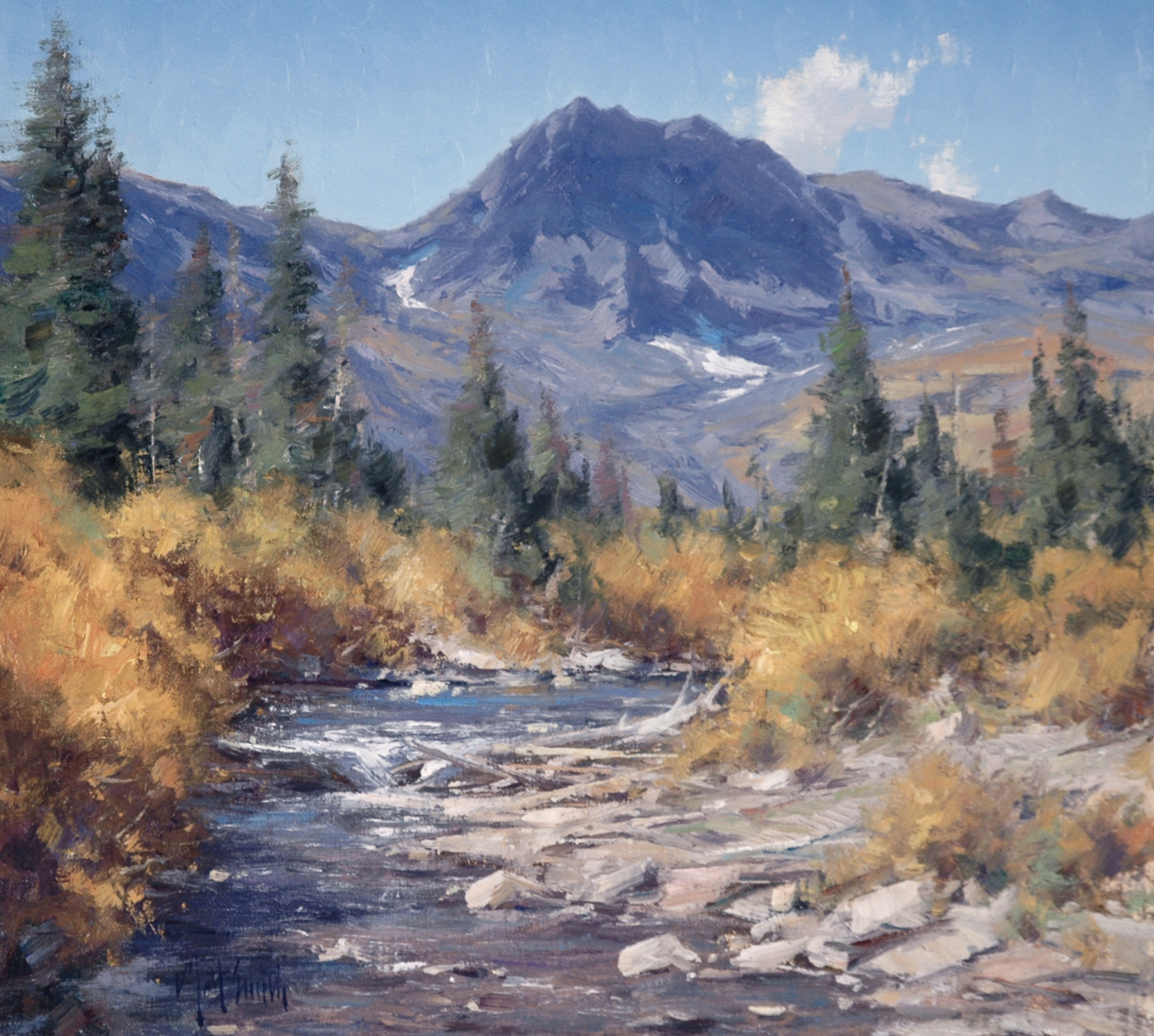 "Imogene Creek" | Oil | 16 x 17 inches | 2015
10 Mar

Ones to Watch: Matt Smith
---
Matt Smith's paintings evoke memory, time stretched across the land and etched into permanence. Whether it's the dried, fallen leaves tucked under the vast roots of a sycamore, a humming stream slowly sharpening the smooth sides of a riverbank, or the suspension of day against slipping honeyed light, his work balances a mood and a place in time.
To get to that place, Smith spends many of his days painting outside in the Arizona desert. Although he's been called a plein air painter, he considers himself a landscape painter who appreciates the "freedom to roam."
"I'll spend blocks of time painting outdoors, and I'll amass a number of field paintings. Then I'll bring them into the studio and decide what to do with them — blow them up as they were originally or use them as a springboard for other ideas," he says, noting that all of his field studies are done a la prima, wet-on-wet, in one sitting.
"With this whole plein air movement a lot of painters have discounted the studio," Smith says. "What's important to keep in mind is the studio allows you to think about what you're doing."
In the studio, he can cherry pick compositions from one image to combine with another, and he can use photos for reference and select colors from his on-site paintings. "You don't have the benefit of time when you're working outdoors. The lighting changes, the shadows change. In the studio you have all the time in the world to slow down and respond more intellectually as opposed to the emotional responses of painting outdoors."
Some themes reappear in his work from time to time, motifs that capture his interest or scenes that are familiar and important. "I grew up hiking desert washes, so I paint a lot of them because it goes back to my childhood, it's something I enjoy revisiting," he says.
But Smith finds when he ventures out and keeps an open mind he'll end up with a broader body of work. "When I go out with a preconceived idea, I'll hike all day looking for it," he says. "So I learned not to do that long ago."
Matt Smith earned the artists' choice Robert Lougheed Memorial Award at the Prix de West as well as the Merit Award and Best of Show at the Western Rendezvous of Art. His work is represented by Trailside Gallery in Scottsdale, Arizona, and Jackson Hole, Wyoming; Claggett/Rey Gallery in Vail, Colorado; Del Monte Fine Art in Carmel, California; Gallery 1261 in Denver, Colorado; Gerald Peters Gallery in Santa Fe, New Mexico; Simpson Gallagher Gallery in Cody, Wyoming; Waterhouse Gallery in Santa Barbara, California; and the Whistle Pik Gallery in Fredericksburg, Texas.