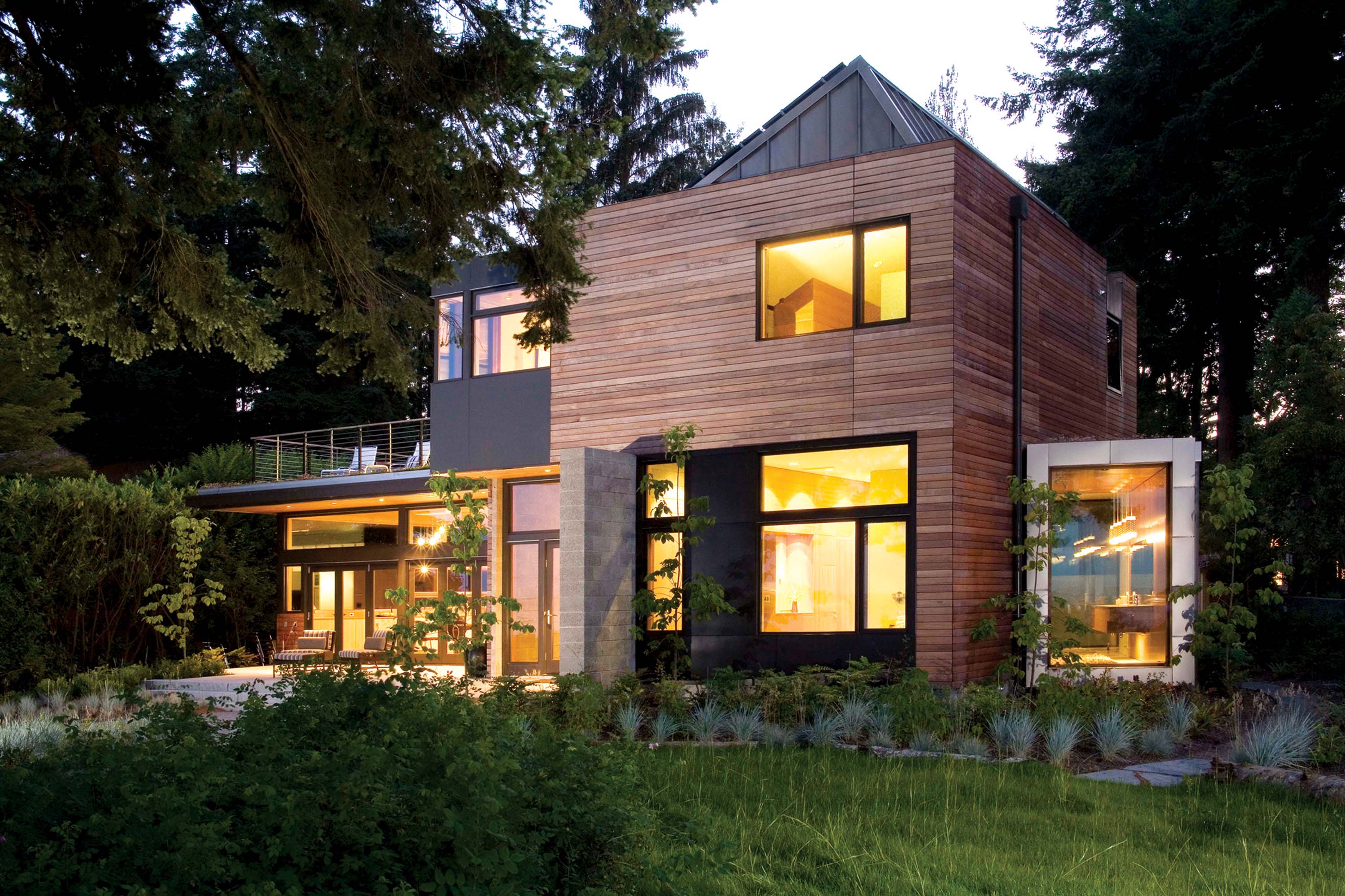 Sometimes people don't want to look at a solar panel or rain barrels on the side of their house, so it definitely was one of the design challenges, to find way to integrate the sustainable technology and feature it so it wasn't visually intrusive," Matthew Coates said, explaining that the home's orientation takes advantage of solar energy gain with its slanted upper roof that maximizes sun exposure, while keeping the panels discreet. There are also 3,000-gallon tanks for collecting rainwater buried under the driveway.
04 Aug

Ones to Watch: Architect Matthew Coates
---
Architect Matthew Coates grew up in a small town in northern Michigan, a place he described as ecologically pristine, with freshwater lakes acting as his childhood playground. "I was so strongly influenced by nature as a child, and to witness over my lifetime — which is relatively short compared to the planet — the quality of the water really degrade from being crystal clear with the ability to see 30 to 40 feet down, and clear enough to drink from, to water that's still beautiful … but the shores have shrunk and there's now algae on the bottom and I would never drink the water," he said. "It's just changed so much. All these people loved the lake, but there was a lack of understanding of how to be in harmony with it. We were destroying it."
This realization affected Coates' understanding of the world and ignited his passion for being a conscious steward of the planet. His strong environmental ethic shaped his career path, which began at age 14 running blueprints at a local architecture firm. Coates earned international acclaim by winning the 2005 Cradle to Cradle competition, that challenged its 800 global entrants to design the most sustainable home of the future.
His architecture firm, Coates Design, located in Bainbridge Island, Washington, is founded on the principle of "Responsible Architecture." The firm seeks to create buildings that decrease environmental harm and have a positive impact on the planet and on the people who use them. The Ellis residence defines the firm's principles, Coates said. Completed in 2009, the 2,555-square-foot home earned the first LEED Platinum certification outside of Seattle, and it achieved the coveted status without sacrificing style.
The home is artful, elegant and modern. Its cutting-edge renewable-energy technology isn't noticeable, yet when compared to an average home in North America, the Ellis residence consumes 70 percent less energy. It incorporates geothermal heating, photovoltaic energy collection, solar-heated hot water and heat-recovery technologies. South-facing windows and skylights warm the thermal mass walls and floors. Additional key features include rainwater collection cisterns under the driveway, radiant floor heating, triple-glaze windows and a vegetated roof. The home was built with minimal impact on the site; the single fir tree that was removed was site-milled and integrated into the home as stairs, benches and trim. The project was conceived with durability, aging in place and recyclability in mind.
Owners Ed and Joanne Ellis envisioned a home that raised the bar for energy producing housing without sacrificing aesthetics and livability. To show other homeowners that they could follow suit, the Ellises opened their home to more than 8,000 visitors who walked through to understand this marriage of technology and modern beauty.
Creating space that has multiple functions means an overall smaller footprint. The bathroom also serves as a dressing room, closet area and laundry room. "All of those functions are hidden and integrated into the design, so what you see is a bathroom, but what you get are all those other things too," Coates said. "That's good design. That's the difference."
Perched on Yeomalt Bluff, the Ellis residence enjoys a commanding 180 degree view of Puget Sound and Seattle.