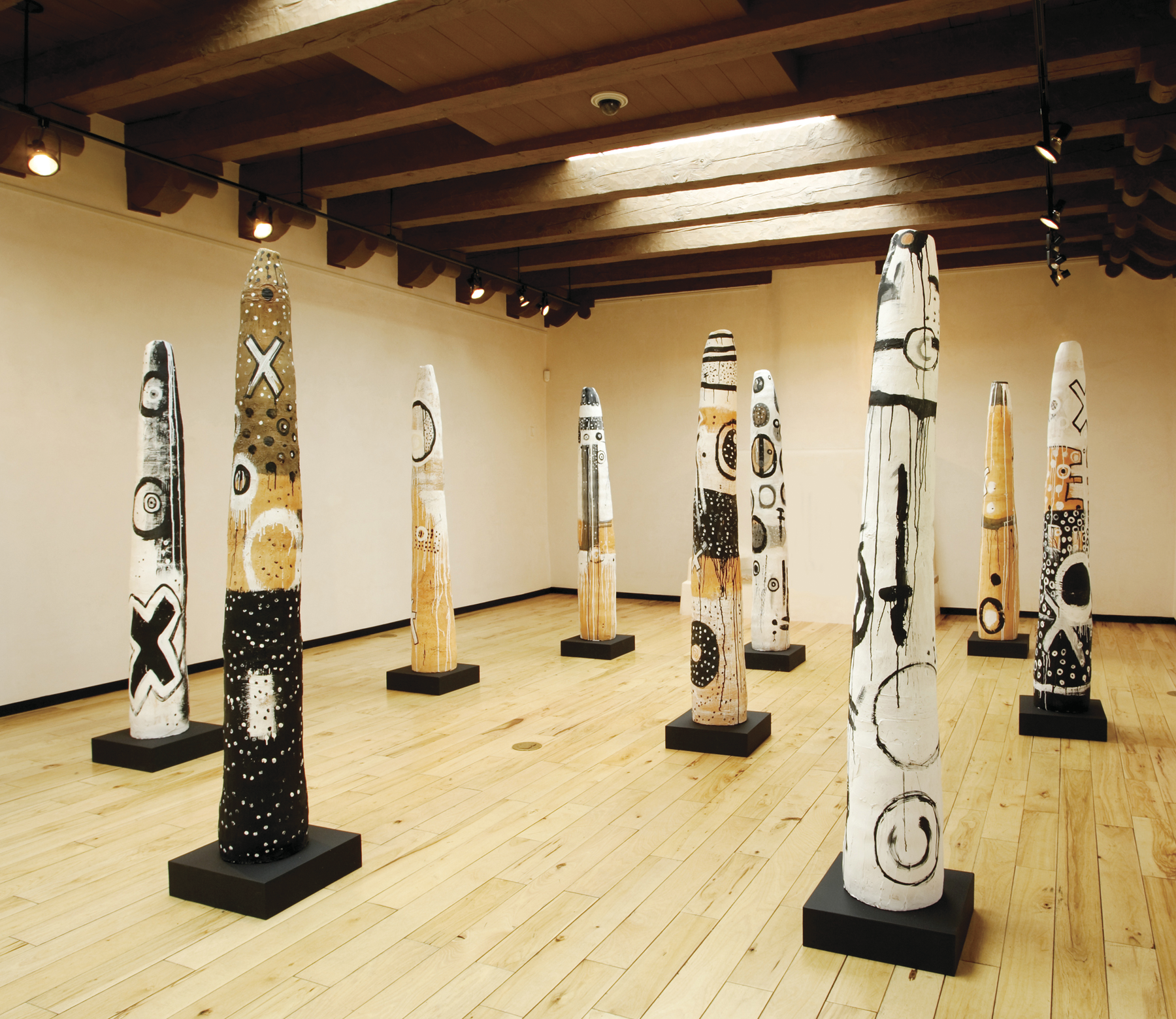 "Black and White and Brown of it All" | Clay | (each) 73 x 11 x 11 inches
30 May

Ones to Watch: Nora Naranjo-Morse

Sculptor Nora Naranjo-Morse extrapolates her Native background in clay with an intuitive sense of her changing environment and place in the world. Folding the culture of traditional totems and images into Contemporary Expressionism, Naranjo-Morse breaks away from the boundaries of the Pueblo while cementing her ties to the land and her community even more closely.

Her conceptual installations and satirical figures combine her powerful relationship with the clay itself, the earth, her spiritual connections drawn from nature and her innate storytelling. But underneath each of her pieces, whether larger than life or smaller, the honoring of her own creative process is inculcated with a trust in that process — leaving the world to wait for her next project.

Naranjo-Morse has exhibited her work internationally at the El Tajin Arts and Music Festival, El Tajin, Mexico; The Akiyoshidai International Art Village, Yamaguchi, Japan; Mothers & Daughters: Stories in Clay, where she was the featured artist, Heard Museum, Phoenix, Arizona; Site Santa Fe Biannual, Santa Fe, New Mexico; Always Becoming sculpture, Smithsonian National Museum of the American Indian, Washington, D.C.

Her sculptures have garnered many awards and honors including the 2010 Venice Biennial Applicant, sponsored by the Institute of the American Indian Arts, Santa Fe, New Mexico; 2009 Artist of the Year, Rotary Club, Santa Fe, New Mexico; Honorary Ph.D., Skidmore College, Saratoga Springs, New York; and an Eiteljorg Fellowship, Eiteljorg Museum, Indianapolis, Indiana.

Her work is part of many private and public collections including the Smithsonian National Museum of the American Indian, Washington, D.C.; The Albuquerque Museum, Albuquerque, New Mexico; The Heard Museum, Phoenix, Arizona; Minneapolis Institute of Art, Minneapolis, Minnesota; and the Museum of Northern Arizona, Flagstaff, Arizona.

Her work is represented by the Figarelli Galleries in Scottsdale, Arizona.