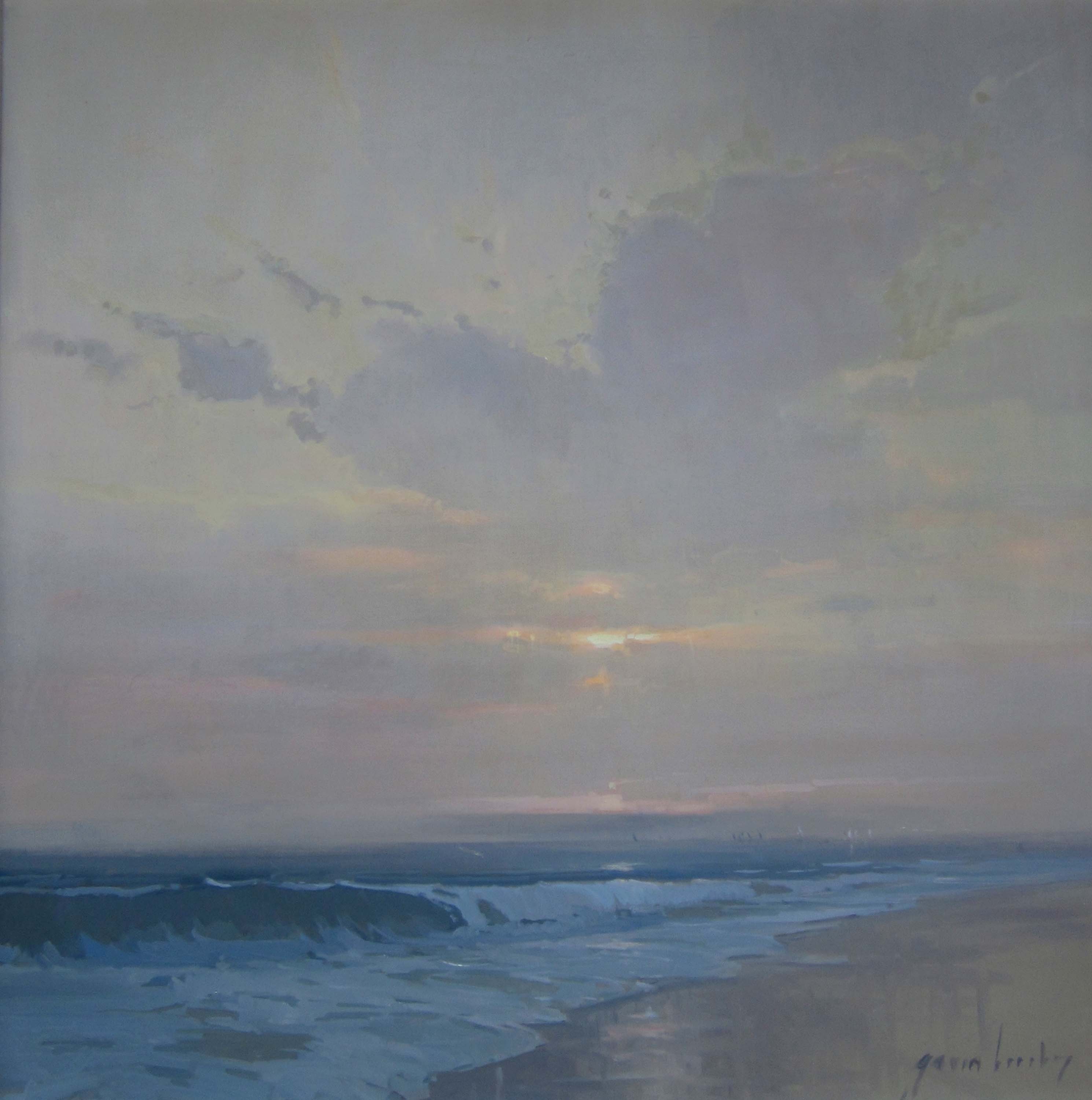 "Evening Regatta" | Oil on Canvas | 48 x 48 inches
01 Feb

Ones to Watch: Painter Brianne Janes
---
With an unhesitating spontaneity painter Brianne Janes captures the spellbinding effects of light, color and movement, tying the elements to emotional states of mind. Once she con- nected with the experiential nature of plein air painting, she found the missing piece of her artistic expression.
"I realized if I don't finish the piece right in front of me when I'm painting outside, the feeling of the piece is com- pletely different," Janes says. "I found that only with plein air painting can I capture the emotions of that day."
The immediacy of her paintings is palpable. By using both hands, a knife in one and a brush in the other, she can get the paint on the canvas as quickly as possible. This comes through in her brushstrokes and the textures of the paint. The impression is that you are in the painting, wallowing in color, swept up by hues.
"I'll go out and chase the clouds," she says. "Driving around in my Jeep, I'll strap the canvas to the steering wheel, put all my paints on the passenger seat and paint right there."
Growing up on a farm in Nebraska, Janes began painting with an artist neighbor when she was 9. From then on, Janes says, painting has been an integral part of who she is, not only as an artist but as a person.
"I realized when I don't pay attention to what's in front in me — what I see — and document it in some way, it leaves a hole in my life," Janes says. "It really affects what's happening to my soul."
In addition to gallery representation, Janes works for land- owners to document their property before it changes hands, whether because of development or time.
"They tell me stories and show me around," she says. "I wait for the right time and the right feeling and then paint it right there. Then the landowner has that painting, that memory, no matter what happens to their land. I really love these kinds of jobs. It's a way of giving back to the people."
Her work generally falls into two categories: trucks and trees, light and land. "The land and light paintings are where my soul connects the most," she says. "A lot of those hap- pened in my Jeep. I get really emotional about it. The feeling of the day and the way the clouds move in a certain light will bring me to tears. It's important to express that, even if it's just a feeling of one particular place. When it does happen,
I feel like it's happening outside of me; it almost feels like I didn't do it. And that's when I know it's an expression that comes from deep within."
Brianne Janes is represented by Kristin Johnson Fine Arts in Santa Fe, New Mexico.