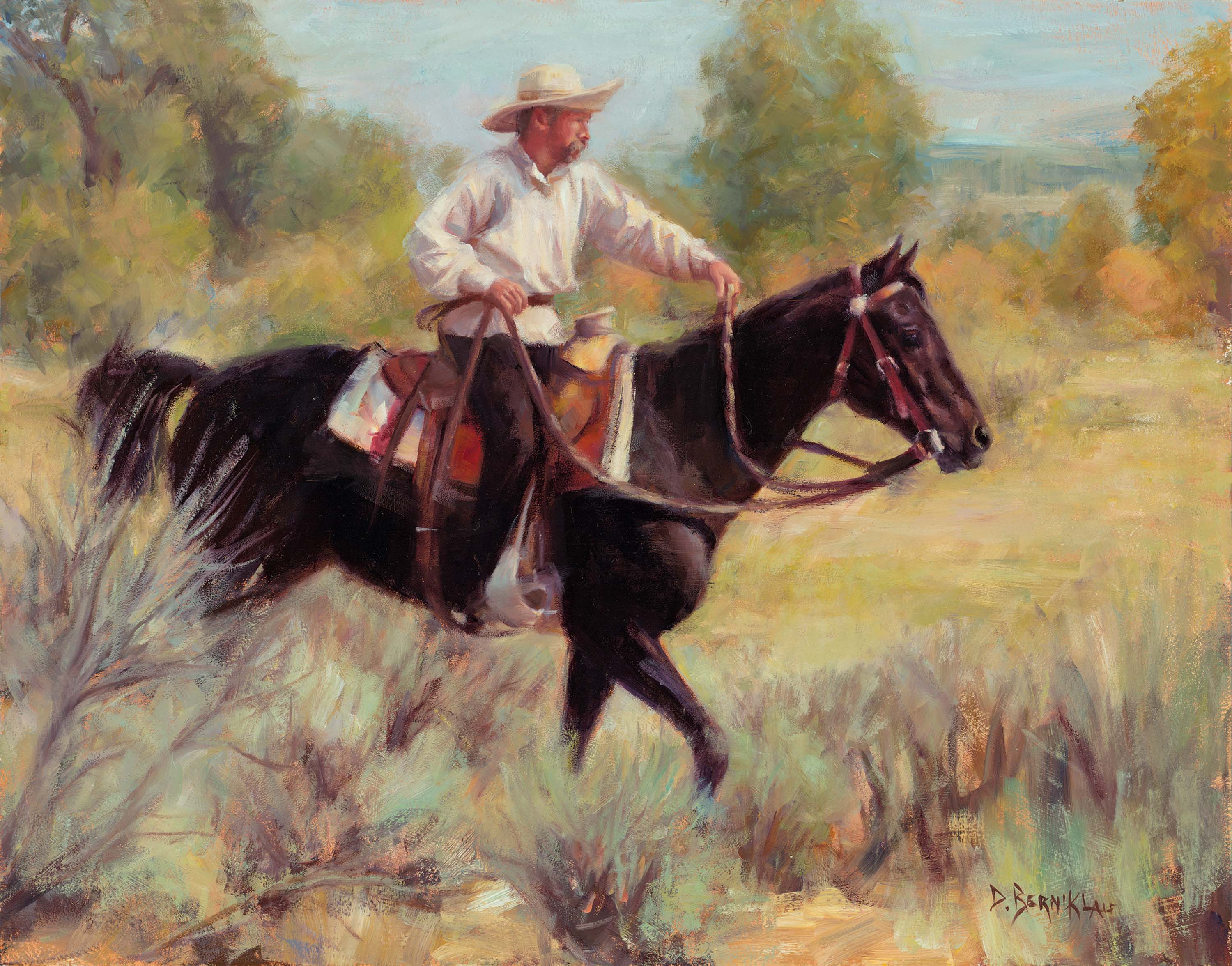 "I'll Get 'em" | Oil | 11 x 14 inches
01 Dec

Ones to Watch: Deborah Berniklau
---
Oil painter Deborah Berniklau's work revolves around the relationship between people and horses. "There's that unique connection," she says. "I try to bring that about through the daily activities people have with horses, the closeness that grows from that. What helps me is to have my own horse. I close my eyes and think about the structure of the horse."
But she doesn't just paint from her own personal experiences. She works with clients to bring about their personal experiences by gathering all their best and most intimate horse stories and puts those into the painting as well.
"They say that the eyes of the human tell the story," she says. "It's the same way with a horse and I try to emphasize that. The romance of the horse and their connection to people is still alive and well. It's the connection that's been in existence for thousands of years I'm striving to capture."
When she's working on commissions, she has people bring her their most treasured photographs.
"What's helped me is that I'm able to take different photos and incorporate various parts to make a complete picture and tell the story that brought them to me," Berniklau says. "Their horse, their childhood, maybe they want something that's current. Sometimes I'll go and take my own photos on their property. The more pictures, the better; and I find the strength in each picture. Then I move forward into color and go from there."
After college, with years of classical art training, she worked as an illustrator for Disney, Warner Brothers, some ad agencies and even NASA's jet propulsion lab. But she always circles back to the horses she loved as a child.
"I have a strong background in storytelling and that's what I try to do with my paintings," she says. When a person has brought in their unique relationship with a horse to her studio, Berniklau somehow translates that into line, color and composition. "It's great when they come to see the painting and they start crying."
In 2009, she became a member of the Oil Painters of America and won the Gold Medal for the Western Regional Show. After that she began to study with master painters such as Burne Hogarth. She continued to develop her craft by studying with Huihan Liu, Carolyn Anderson, Daniel Gerhartz and Jeffrey Watts.
"The award got me back into my painting," she says. "It was the first major art exhibition and I won the whole thing. People are starting to notice my work. I was accepted into Western Masters last year and I'll be in it again this year."
She has also been accepted into the 2015 C.M. Russell show in Great Falls, Montana.
Getting to the point where she is today hasn't been easy. Berniklau suffers from a genetic cornea disease that left her blind.
"I had some surgeries and experimental procedures," she says. "There's no cure. But they can stabilize my corneas with contact lenses."
Using these very specific contact lenses, Berniklau has gotten her vision back. More than that, the experience has given her a new perspective.
"I really appreciate what's in front me," she says. "I spend more time looking at edges and the shapes of things."
Her work is represented by Evergreen Fine Art in Evergreen, Colorado.