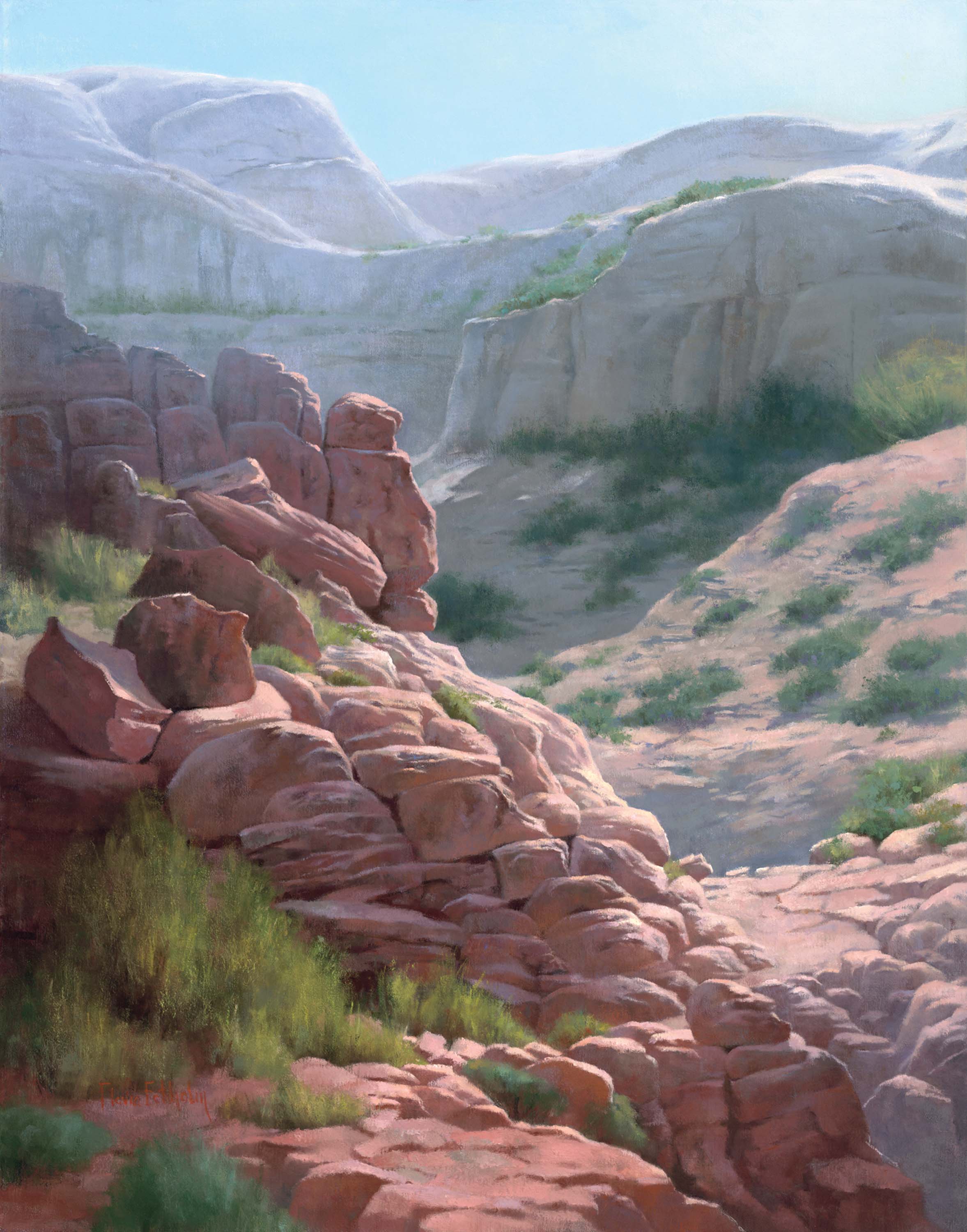 "Canyon Trail" | Oil | 30 x 40 inches
04 Aug

Ones to Watch: Painter Flavia Eckholm
---
Flavia Eckholm's paintings conjure the essence of solitude coupled with the feeling of discovery. Through her quiet contemplations of nature, we end up with meditations on ourselves.
"I start out with an idea," she says. "What I'm working on now is how life is so transitory. I look for images that fit into that premise. There are experiences you have that you don't appreciate until you look back on them. I'm looking for those precious moments and let all the rest fall away."
There is a sense of nostalgia in her work, of remembering, that is brought about by her careful attention to the play of light on water as well as the relationship between leaf and bark, rock and sky.
"I like to experience my surroundings," she says. "I like to travel by myself — I'm dyslexic — so it's a personal challenge as well. My father was an RV dealer so I grew up traveling, but I was never in control; I was the passenger."
Once she took over that control and learned to depend on herself, she began to deal with her disability.
"Being dyslexic, having to travel by myself was paralyzing," she says. "I started by taking little trips. I can't read the street signs quickly — the letters get reversed. So overcoming that fear was liberating."
This liberation is evident in her paintings. The joy and release is apparent in every piece.
"Now I get to live the experience, feel the wind, really listen to things," she says. "When you're traveling with people it's difficult to feel that. Learning to travel alone changed my experience of the landscape."
In order to get that sense of place, which Eckholm feels is critical for her, she does a lot of field research.
"There are so many beautiful places that don't particularly fit my criteria," she says. "I want color compositions and quality of light. I'm big fan of backlighting, distance and perspective, those things that will tell the story of a place. They aren't necessarily going to be your tourist shots, but rather an experience I'm looking for."
Each painting is the result of a thousand small decisions, so that she is constantly honing the painting down to what she wants to say.
"When I get back to the studio I have fresh impressions, notes, field sketches and I use the photographs to keep me grounded in the structural reality of what I remember," she says. "Sometimes your memories change things, so I have to go back and reevaluate things all the time."
Eckholm's work is widely collected and is represented by the Creighton Block Gallery in Big Sky, Montana; and the White Buffalo Gallery in Glen Rose, Texas. She also shows every year at the Western Masters Art Show in Great Falls, Montana.