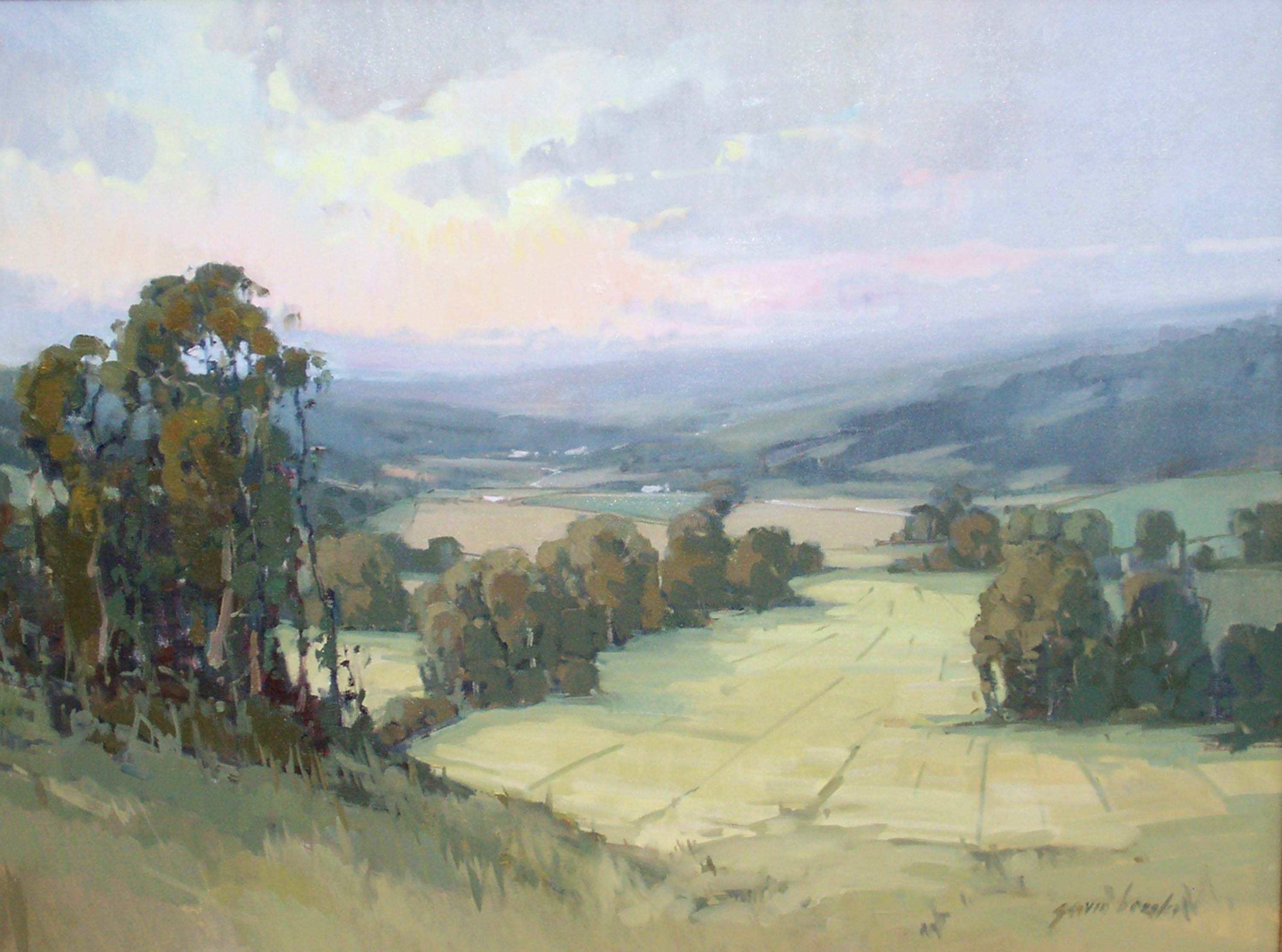 "Valley Fields" | Oil on Canvas | 30 x 40 inches
01 Feb

Ones to Watch: Painter Gavin Brooks
---
Combining an ethereal touch with earthly inspirations, Gavin Brooks' landscape oil paintings instill a meditative awe, like the flutter of an angel's wing. Brooks focuses on the unobstructed Western skies, unhindered vistas of mountains and the seemingly endless horizons at the ocean's edge.
"The kind of landscapes I'm intrigued by are open space and undisturbed American landscapes," Brooks says. "They have a spiritual, or moodlike feeling and I try to capture that in my paintings."
Putting into perspective the enormity of the landscape in comparison to a single human being, Brooks emphasizes our symbiotic relationship to nature.
"People are looking for that kind of connection and the paintings are about that human connection to land," she says. "A lot of my paintings won't have a structure or any kind of infrastructure, although they may have a small person, but that's it."
This gives her paintings not only a feeling of reverence, but a sense of space.
"I really studied the sky, the anatomy of the clouds lighting the sky, and how they stack toward the horizon in a specific order and how, when the light changes, shapes change, all kinds of things change," Brooks says. "The sky is what a lot of people notice when they move to the West; the sky is part of their daily life. For me, it's an anchor."
When she's outdoors, she may not be actually painting, but she is always a student of the natural environment.
"To make a piece look like it's got air you have to study what that's like; you have to look at everything," she says. "If I'm hiking I'm not just thinking about the trail or where I'm going. I'm thinking about the difference between the clouds overhead and those on the horizon. I'm like an engineer trying to figure why they look the way they do. I've figured out a lot of things by thinking and walking."
Leaning more toward an abstract landscape rather than a replica of what she sees, Brooks relies on what she feels when she's in a place.
"When you paint the landscape, you have to decide if it's narrative or more of a mood or poetic painting," she says. "It's sort of intangible. By taking a lot of things out, I can isolate certain feelings. I'll edit it to suit the painting, which ultimately makes it more successful. It's not mapped the way people would think."
She tries to connect our common humanity to beauty.
"Art is a product of our evolution, a deep seated human connection to natural beauty that's more in our DNA than in our eyes," Brooks says. "So when I paint I try to think of that feeling, rather than each element. I may get my inspiration from a certain place but then I'll let go of the references and just paint the inspiration."
Brooks' work is collected privately and publicly by the Academy Art Museum in Easton, Maryland, among others. She is represented by Waterhouse Gallery in Santa Barbara, California, and the Debra Huse Gallery in Newport, California.