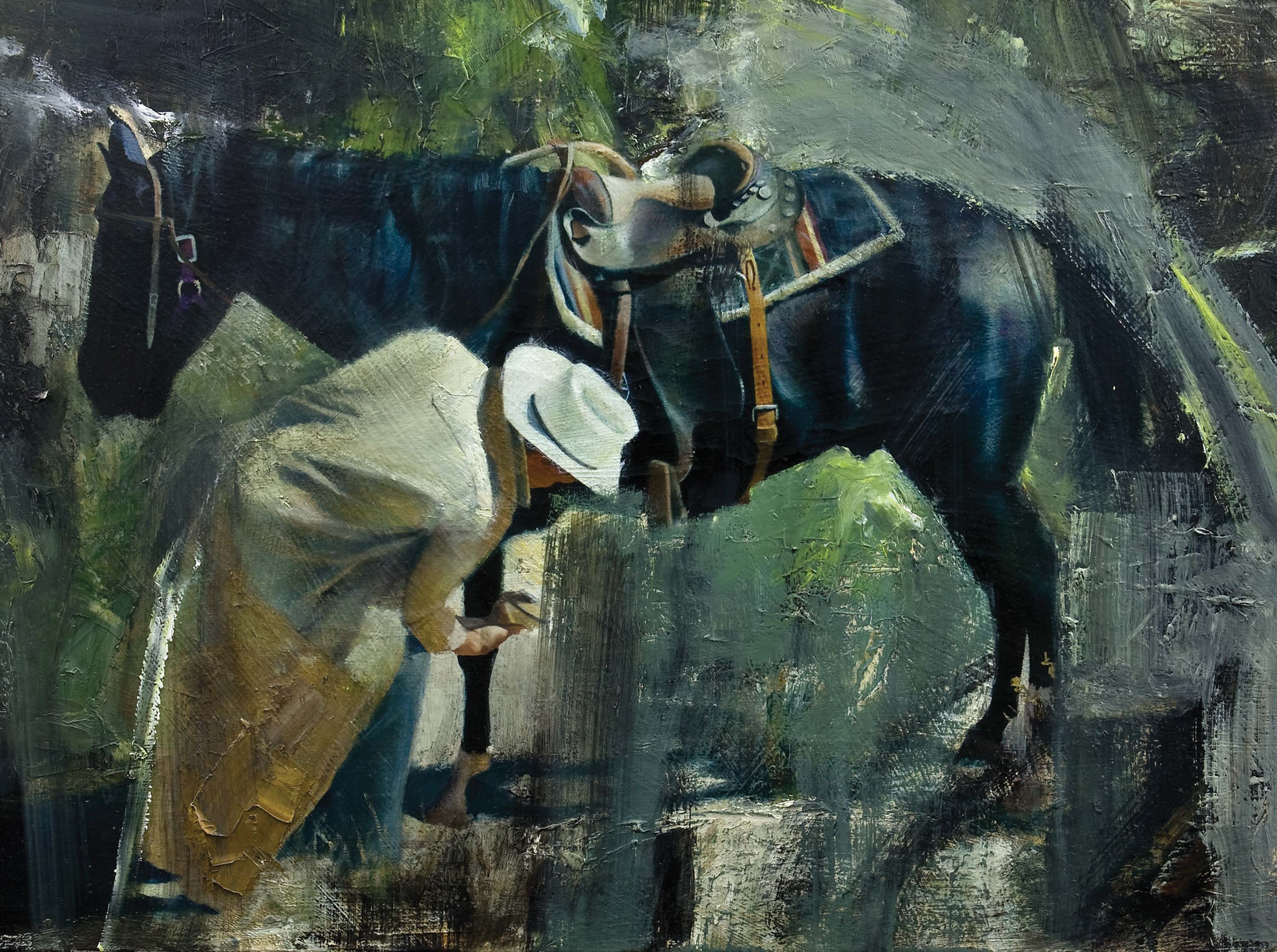 "Time Out" | Oil on Canvas | 40 x 30 inches
04 Aug

Ones to Watch: Painter Luke Stavrowsky
---
Painter Luke Stavrowsky's work centers on design.
"My approach to painting is mostly visual," he says. "The story and the subject matter are not as important to me. I know people love a story, so I probably will consider it more in the future, but design for me is the most exciting thing I can think of."
Although he works mainly from photographs, Stavrowsky's pieces all include some aspect of abstraction. A swath of sky or a swipe of landscape all configure into his work.
"I start by breaking up space with lines, and compose shapes that interest me on blank paper," he says. "Then I access my copy and begin to design compositions that conform to these shapes."
If nothing is speaking to him, he'll put it away and go outside and shoot something else that will get him headed in the right direction.
"I then draw up the piece with a mix of dioxazine purple and burnt umber paint," he says. "I do three or four compositions focusing just on space relationships and variations of the basic composition I'm interested in. I also apply an overall tonal plan for the piece."
After Stavrowsky establishes what he doesn't like, he can begin to define what he does like. Then the painting can begin.
"After all the problem solving is mostly done, I attack the painting," he says. "I paint pretty fast, and just let it happen. In every piece, there are areas where I have to slow down and study what the light is doing on the form, and what that shape really is, but then I move quickly again."
When the painting is mostly done, he'll put it aside and look at it days later to get a better idea of what's working. At that point he'll fine tune it, and set it aside again.
"I am not as interested in illustration and simply doing it well and being satisfied with that," he says. "For me, the real interest lies in the consideration of design, all the relationships and how they affect one another."
Stavrowsky painted with oils for 20 years, but finally decided he couldn't deal with the fumes and the turpentine, so he turned to acrylics and hasn't looked back.
"I love them," he says. "Now I paint exclusively in acrylics."
Growing up with his father, prominent painter Oleg Stavrowsky, he trained from an early age.
"I spent most of my life looking at his work," he says. "As well as other artists we both admire."
Naturally, it is easy to see the influences of his father.
"Painting for me is a gift, and I truly appreciate getting the chance to do it every day," he says. "I get to paint every day for hours and hours. I'm on an endless journey of discovery."
His work is represented by the Concetta D. Gallery in Albuquerque, New Mexico.