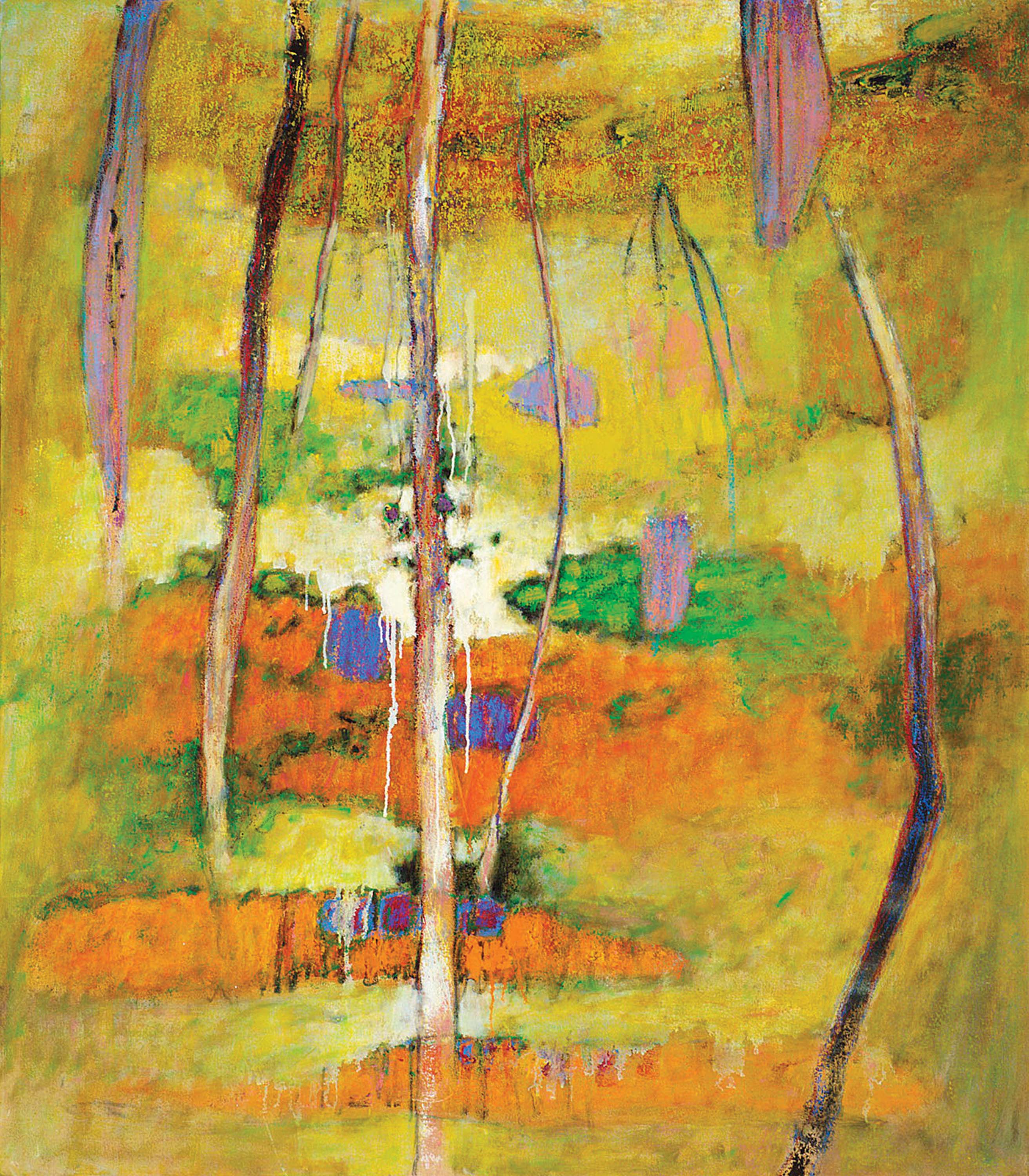 "Paradise Lost" | Oil on Canvas | 55 x 48 inches | 2013
09 Jun

Ones to Watch: Painter Rick Stevens
---
Rick Stevens' paintings reach beyond the surface, delving into the spaces between. His vibrantly lush palette vines and seeps into the canvas. Based in the natural world, his work explores the graphic abstract relevance of nature. As viewers, we are privy to the discovery process.
"One of the things that inspires me is quantum physics," Stevens says. "The way we're no longer abiding by the laws of Newtonian physics. There was a mechanistic point of view, but [when] the quantum physics theorists began to measure smaller and smaller particles … bizarre things happened."
The idea that everything, from atoms to quarks, were found to contain more and more interesting and unexpected things leads Stevens to look at his own work in a similar way.
"One thing that amazed me is that they found out the scientist is no longer merely the observer, but part of the subject he's studying," Stevens says. "A lot of Eastern philosophy parallels this new science. All of it stimulates my consciousness and affects my work."
Instead of following a linear approach, Stevens follows his intuition.
"I give more authority to my intuition than my intellectual process. I can be very analytical, and it's good to keep that tool sharp, but I try to keep tuned in to a more holistic way of seeing," he says. "Nothing is static. And I'm not interested in validating scientific theories with my art or trying to illustrate them, it's more a fueling of my imagination."
Stevens works in both oils and pastels.
"They are very different mediums but I use them basically the same," he says. "Pastels and oils both have a layering process but the materials are so different, yet the look and approach is quite similar. The way I work is to use a method that is open for drastic changes at any point in the process. I'm scraping the paint and I'm building it up continually."
Although Stevens does sketch first, he puts the sketch away as soon as he begins a painting.
"I try to keep it very open, so it's spontaneous and improvised, like a jazz musician," he says. "And I either put a canvas or a pastel up on the easel depending on what I want to convey. I might have the same idea for either one, then I have to decide on the medium to get there … like playing two instruments."
Stevens moved from Michigan to New Mexico five years ago and some of those rich green landscapes can still be seen in his work. New Mexico is still evident as well.
"I go out hiking a lot and I take my sketch book," he says. "But my imagery is not specifically about the landscape. It's more metaphorical, abstractly metaphorical. Such as looking at light filtering through trees and reflecting on water. It has a spiritual light, like a light from within."
He's also inspired by the sensuality of nature.
"The rough bark on a tree, moist, gritty earth, water and how it flows and reflects; I riff on those symbolic things and come up with my own deconstructed images," he says. "I like playing with illusions, reminding you of something that's only suggested — the illusion of space, atmospheric space or an overlapping depth."
Stevens is widely collected and is represented by Hunter Kirkland Contemporary in Santa Fe, New Mexico, and the Paul Scott Gallery in Scottsdale, Arizona, among others.