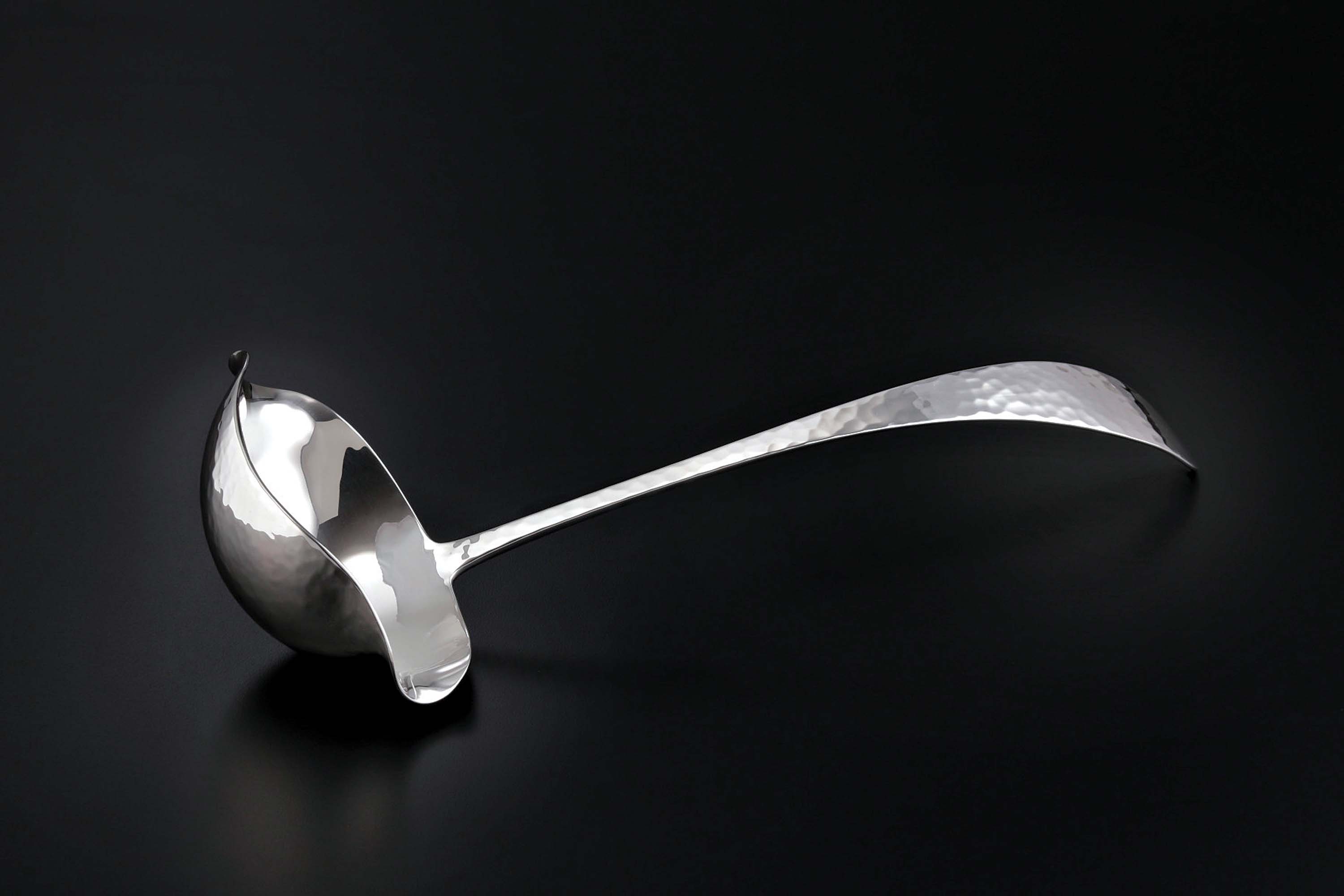 "Punch Ladle," Hand-Forged Sterling Silver, 15.5 x 5.75 inches
06 Mar

Ones to Watch: Randy Stromsoe

Twisted, stretched, bathed in fire, annealed and shaped with a cultivated balance, classically trained silversmith Randy Stromsoe bends the will of metal with an eye on fresh shapes and his mind on tradition. Taking a single piece of metal, he turns it into an exquisitely beautiful and viable object.

Bringing together sleek design with age-old techniques, Stromsoe creates stunning jewelry, hollowware, flatware and custom pieces.

"I've been doing this since I was 18 and I'm 62 now," Stromsoe says. "So much of my jewelry is done with the forging process, hammer and anvil."

With a contemporary grace, the pieces last forever because there are no weak links. Similar in sensibility to the Swedish designers of the 1940s and 1950s, Stromsoe's work embodies that same unfettered Scandinavian flair.

"My jewelry has the sort of simplicity that is difficult to achieve using those techniques [while] still keeping it all current and relevant," Stromsoe says. "When it comes to my jewelry, I like that hands-on process. Nothing is cast. It's constructed and made to be around for 500 years. I think of the longevity, the heritage and passing down of things in a family. I aim for that longtime appreciation — things that don't become outdated with time. The classic form."

While Stromsoe starts off with sketches, he doesn't refer back to them during the making process.

"It will be in my head as I make the piece but I don't go back to the sketch," he says. "Nuances and subtleties can change things a lot. I make things that are balanced, bracelets that can stand up when they're not being worn, like a sculpture, bracelets that fit people perfectly. I like to make things that feel like silk and butter when they're worn, with that clean feeling on the inside so that people hardly notice they have them on."

It's not only the way his pieces look and feel that sets his work apart, but even the way they sound. Stromsoe's Rainstick Bangle is filled with smooth undrilled carnelian beads and made to circle inside the bracelet with the movement of the wearer.

"I curve it over and insert the stone beads to go around in a circle kinetically," he says. "It takes craftsmanship. It's a tricky thing — it's the sound and the feeling of the stones going around in circles that people appreciate most."

It sounds like a soft rain on your wrist.

"One thing leads to another idea all the time," Stromsoe says. "And you can only fine-tune so many. This year I'm going to be teaching because our forging classes are so popular that it's shocking. There's a high demand for classical silversmithing instruction and I see that all some people need is a little bit of guidance to improve their skills."

Stromsoe's work is in the permanent collection of the Smithsonian Museum for American Art's Renwick Gallery; the permanent collection of The Oakland Museum; the permanent collection of the White House Collection of American Craft, among many others. His work has been presented as presidential gifts to heads of state including Jacques Chirac of France, King Hussein of Jordan and Pope John Paul II.

His Paso Robles, California, gallery is located in his private studio by appointment only.