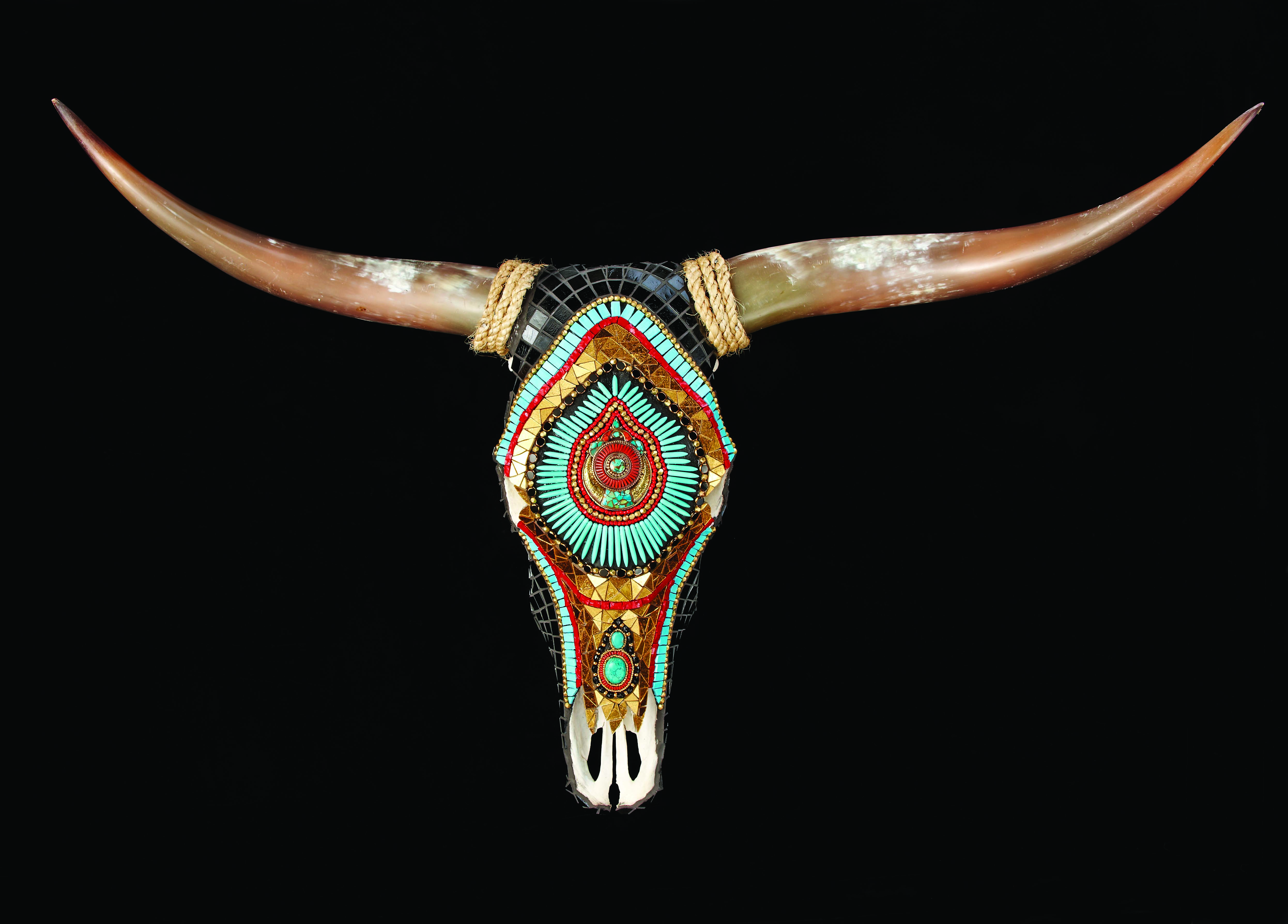 "Tibetan Longhorn" | Mixed Media | 27.5" x 14.75 inches
01 Dec

Ones to Watch: Rene Gibson

Bleached cow skulls, with their individuality and beauty as natural forms, have become emblematic of Western design. Artist Rene Gibson takes a new approach to this traditional cowboy aesthetic by transforming ordinary animal skulls into wall art with the addition of gemstones, tile, pendants and a variety of metal, stone or vintage beads.

Working from her home studio in West Palm Beach, Florida, Gibson creates skulls with detailed patterns and themes ranging from contemporary to cultural. Her work is partially inspired by her background in interior design, which began in high school at her parents' home-decorating business and evolved into a bachelor's degree from Indiana University of Pennsylvania. She said the idea for her first skull arose from the need to fill an empty wall space about two-and-a-half years ago.

In addition to design, Gibson said there's a spiritual element tied to her work and she seeks to honor the spirit of the animal in each piece.

"I'm a big energy person," she explained. "I think what people are attracted to is the energy of the piece and not necessarily a specific element that goes into it. Maybe this is cliché for an artist to say, but I don't feel like I come up with the idea. I feel like the spirit of the animal does; that I am just the vehicle that puts them together. As a result, the range of my work tends to be broad."

With Native American- and African-themed pieces, skulls that boldly wear the American or Texas flag, and a Sacred Heart series that echoes traditional sentiments of the Southwest, Gibson said her artistic goal is to connect "the energy of the animal spirit to the energy of another person" and to let the design fall into its own place.

"Why they need to be together is beyond me — maybe it's that they bring people joy, but for whatever reason I'm just one step in the process, and the process is complete when the skull matches with its owner."

Gibson is represented by the Painted Ox in West Palm Beach and the Grand Teton Gallery in Jackson Hole, Wyoming.