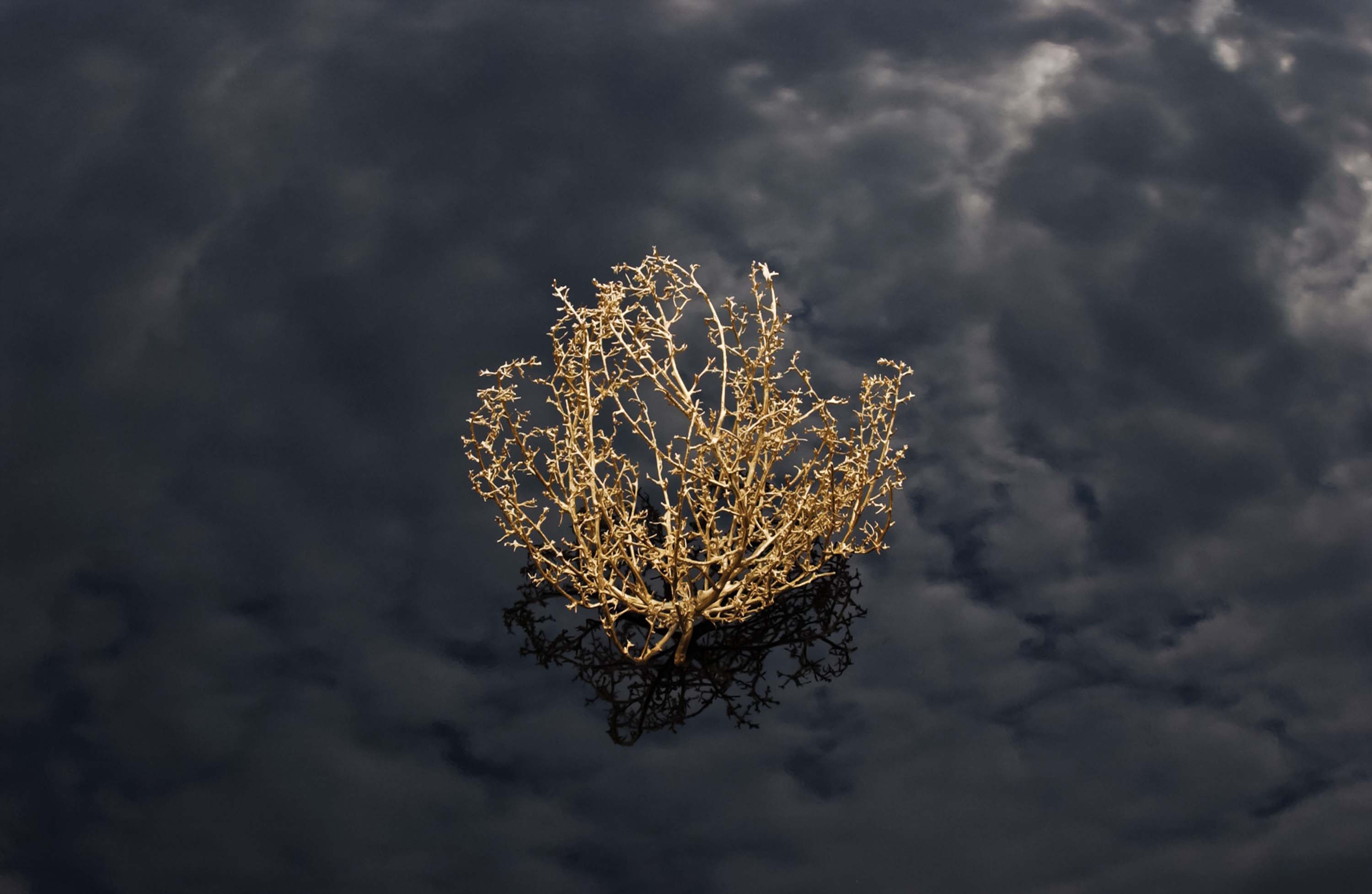 "West Texas Hood Ornament" 18-Karat Gold | 37 x 60 x 3 inches | 2004
09 Jun

Ones to Watch: Sculptor Bale Creek Allen
---
Sculptor Bale Creek Allen leaves us at the threshold of our first journey with an endless loop replaying the world from the backseat window. His work is like a flickering home movie played against the screen of the blacktop or like a collection of accidental souvenirs from the wayside. "When I was a kid we were always in a car," Allen says. "We'd go on I-40, Route 66, and all that driving had a huge impression on me. Roadside debris, Peterbilt engines and just how people got in their cars."
Twenty years later, after art school, Allen began reinventing the environments of his childhood.
"My work evolved from there," he says. "At one point, instead of being influenced by what art was supposed to look like, I stripped it down and went to the core of what drew me to art in the first place. The first things I did were objects of beauty."
Allen found himself attracted to certain objects with organic qualities, which he manipulated and recreated in foreign contexts, like his car parts with neon text series.
"I was tapping into all those years of what I'd seen as a kid," he says. "Then I took a road trip and a tumble-weed went across the front of my truck. I'd been doing some wood sculpture but I thought how hard it would be to cast a tumbleweed. Spray them with precious metals? That was impossible."
Then he wondered if he could dip them into molten metal, but they'd burn up immediately. That's when the idea of casting came to him.
"I finally found a guy who helped me do one," Allen says. "We basically deconstructed them."
Reducing the tumbleweeds into 3-to 5-inch sections, he cast them in little cans, using the lost wax process.
"Then we'd take them out and match them to each branch," he says. "We were totally replicating the natural tumbleweed. It was OCD. That was the first series I did. Now I cast them with a few more branches and weld them with a bronze weld, so they're a little more seamless." What Allen loves about the process is how revealing it is: To the naked eye you see a tumbleweed, but up close it's clearly metal.
"They vibrate," he says. "And they're dense. Now it's more a mood or a shape and I don't follow the tumbleweed precisely. I start with intact tumbleweeds. But I have backup tumbleweeds so I 'frankenstein' the pieces."
Some of them are finished with a traditional patina, but some are electroplated with 24-karat gold.
The tire tread came to Allen in the same way the tumble-weeds did — while driving. Each tread has its own identity. "I documented the treads with photographs while taking a three-day trip from Austin to Clovis, New Mexico, and back," Allen says. "I had 700 photos at 3 a.m. at the side of the road."
The photos are shown in conjunction with the castings. "So a beautiful black-and-white photo with a sculpture becomes a whole installation," he says. "And I always install my own shows; it's critical for me. I'm always there. I think it's important, how the work relates. It's like arranging a musical CD. The order dictates the flow."
The longest tire tread is 8 feet, unfurled, taken from an 18-wheeler. Others are fragments from a blowout, totaling 4 or 5 inches.
Bale Creek Allen is represented by the Gerald Peters Gallery in Santa Fe, New Mexico; and Visions West Gallery in Denver, Colorado.