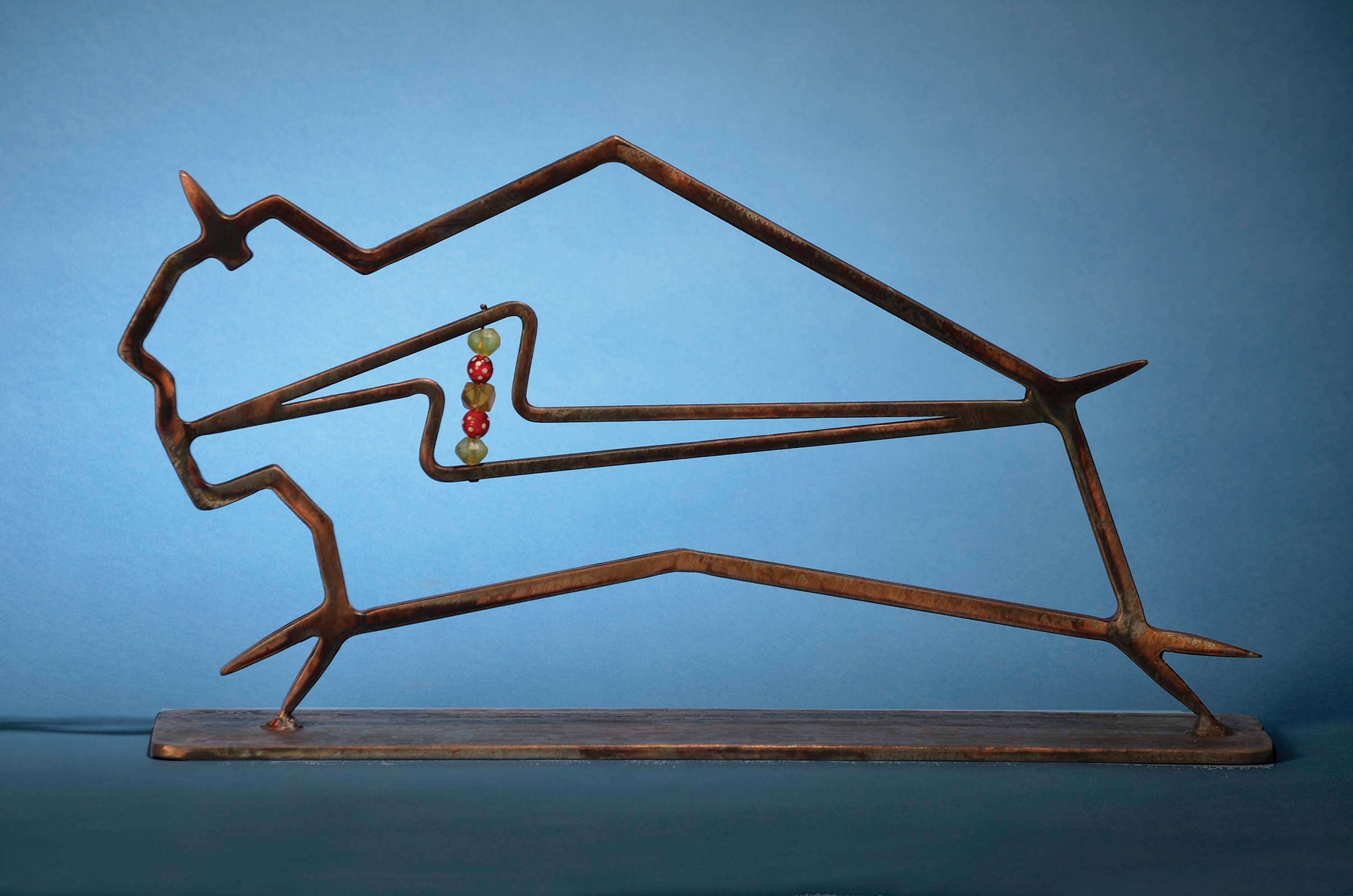 "Heart Line" | Steel and Old Trade Beads | 10 x 19 x 4 inches
01 Feb

Ones to Watch: Sculptor Charles Ringer
---
Charles Ringer's abstract metal sculptures made from found objects, scraps of copper, brass or stainless steel simply and honestly mesmerize. The elegant, contemporary shapes move and rock, living in the world and creating individual, animated dialogues. "Kinetic work evolved for me from when I was a kid fooling around with axles and rotators and I built a few cars," Ringer says. "I don't really sketch anything."
Instead he creates blueprints in his head, usually at night.
"Then I get up and fiddle around with the materials, thinking about it for a few days," he says. "Over the years I've gotten to know my materials and equipment quite well. When I have enough pieces cut, I shuffle them around and it starts to take shape from the blueprint in my head to the actual piece. Once the concept is solidified, I'll start welding some pieces together, adding smaller pieces. I've got sculptures with thousands of welds on them."
His designs usually have three main moving parts.
"It takes all of them to finish the design," Ringer says. "The movement of the work breaks up into individual pieces, and then they all come together."
To get his kinetics to work properly, every part must be within a thousandth of an inch.
"It has to be perfect or I have to take it all apart," he says. "When you have welding, you have warping, so I have to think backwards all the time, in order for them to work. Balancing is important, adding materials and taking out materials until it's all perfectly balanced."
Each piece rocks differently.
"The longest I've had a piece go is five hours, but most go for about an hour, working on a pendulum," Ringer says. "It's like a gravity machine. I like the idea that you have one design when it's still and you also have the option to make it move. These are pieces you have to touch, which is pretty rare in the art world."
With 5,000 pieces in collections around the world, work by Ringer can be moving at any given time.
Last year, the Buffalo Bill Center of the West in Cody, Wyoming, named Ringer their honored artist for 2013. He also won the William E. Weiss Purchase Award, which enables the museum to buy a piece for permanent display.
He is represented by Shidoni Gallery in Santa Fe, New Mexico; Big Horn Gallery in Cody, Wyoming; Main Street Gallery in Saint Jo, Texas; Catherine Louisa Gallery in Billings, Montana; Buffalo Trail Gallery in Jackson, Wyoming; and the Charles Ringer Gallery in Joliet, Montana