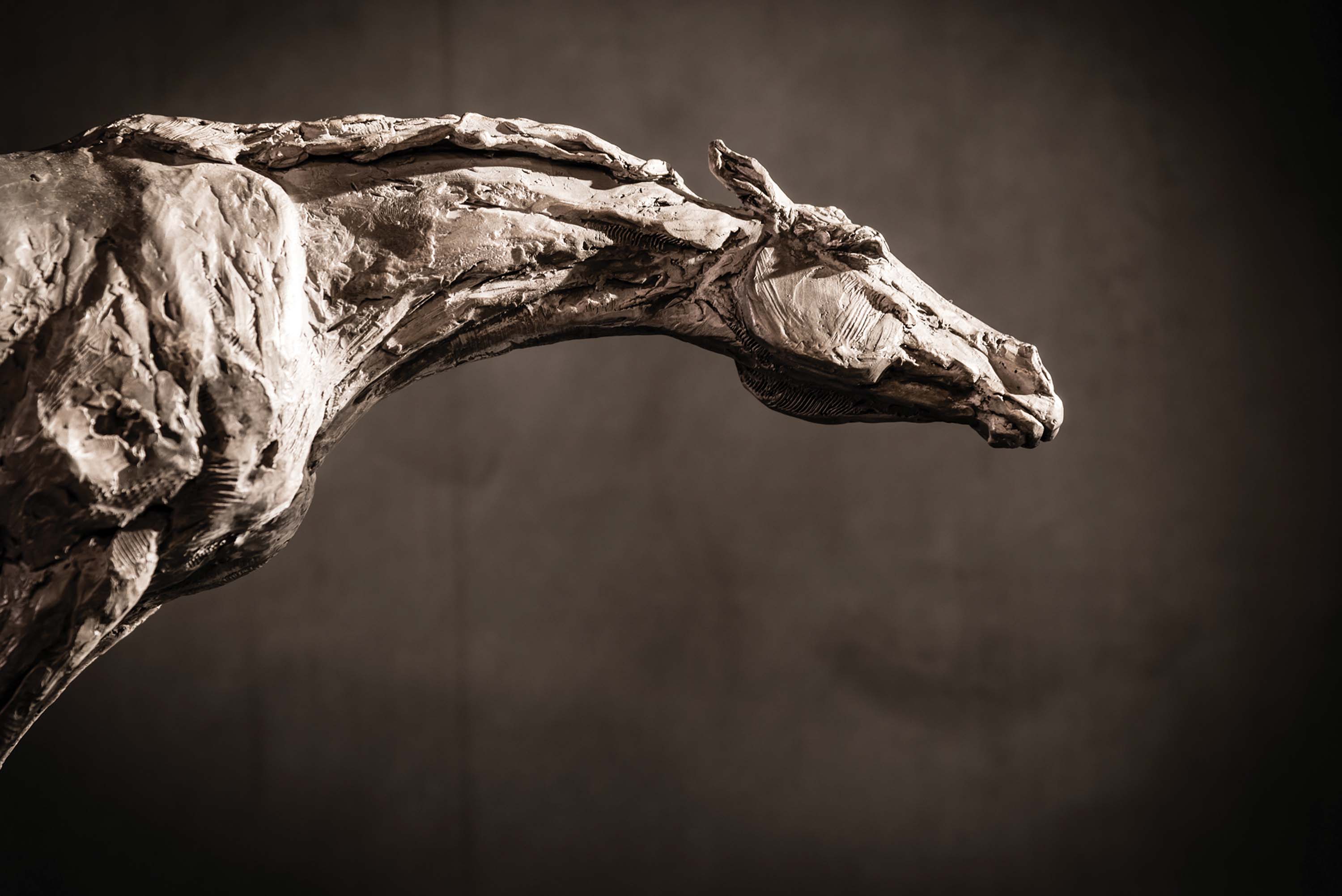 "Reach Recklessly" | Bronze | 18 x 12 x 5 inches
19 Oct

Ones to Watch: Sculptor Stephanie Revennaugh
---
Bronze sculptor Stephanie Revennaugh knew, the minute her hands dug into clay, that she needed to sculpt. And the subject that came to her was horses. Not working horses. Not cowboy horses. But the elegant dressage horses she loves.
"I was the girl drawing horses on my homework," she says. "I've spent a lifetime with horses."
Most of her work begins with a feeling or an idea. Then she tries to identify a gesture that will illustrate that.
"I'm fascinated by texture, the form of the horse and anatomy," she says. "I really geek out on the anatomy. But I'm starting to loosen that up a bit so I can suggest the idea or feeling with a stroke and not so much detail."
It's only been a few years since she switched from painting to bronze.
"I'm still learning so much about how the clay will translate into metal," she says. "The first five pieces I made, I fell in love with the clay sculptures and it was shocking when I got them back in bronze. The clay has a softness that you don't get in bronze. The light reflects on it differently. I'm trying to get that softness with different patinas, but there's a big learning curve on patinas."
Before becoming a full – time artist, Revennaugh managed a dressage barn in Evergreen, Colorado. It is clear looking at her work that she knows horses. Not just how the muscle
attaches to the bones or how the nostrils flare or ears point, but the deep way a poet knows the clarity of water or a painter knows the million shades of red.
"When I started working in clay it just came so easily to me," she says. "I didn't have to think about it and I know so much about horses; the leap wasn't hard. It just worked."
For Revennaugh, it's about the spiritual connection to horses. The way horses have always been there for her. Their ability to sense emotional situations and respond completely without regard for themselves.
"They're very sensitive to energy," she says. "There's always a conversation going on. Being around horses is important to me, to my well – being. But more than that, horses have this contrasting imagery about them that I find fascinating — they're strong but graceful, masculine and feminine, they're a symbol of freedom but they're hardly ever truly free."
Revennaugh's work will be featured at the Celebration of Fine Art in Scottsdale, Arizona, and she will be an invited artist to Cowgirl Up! held in Arizona during March. She is represented by Equis Art Gallery in Red Hook, New York; Vail Village Arts in Vail, Colorado; and the Vickers Collection in Aspen, Colorado.