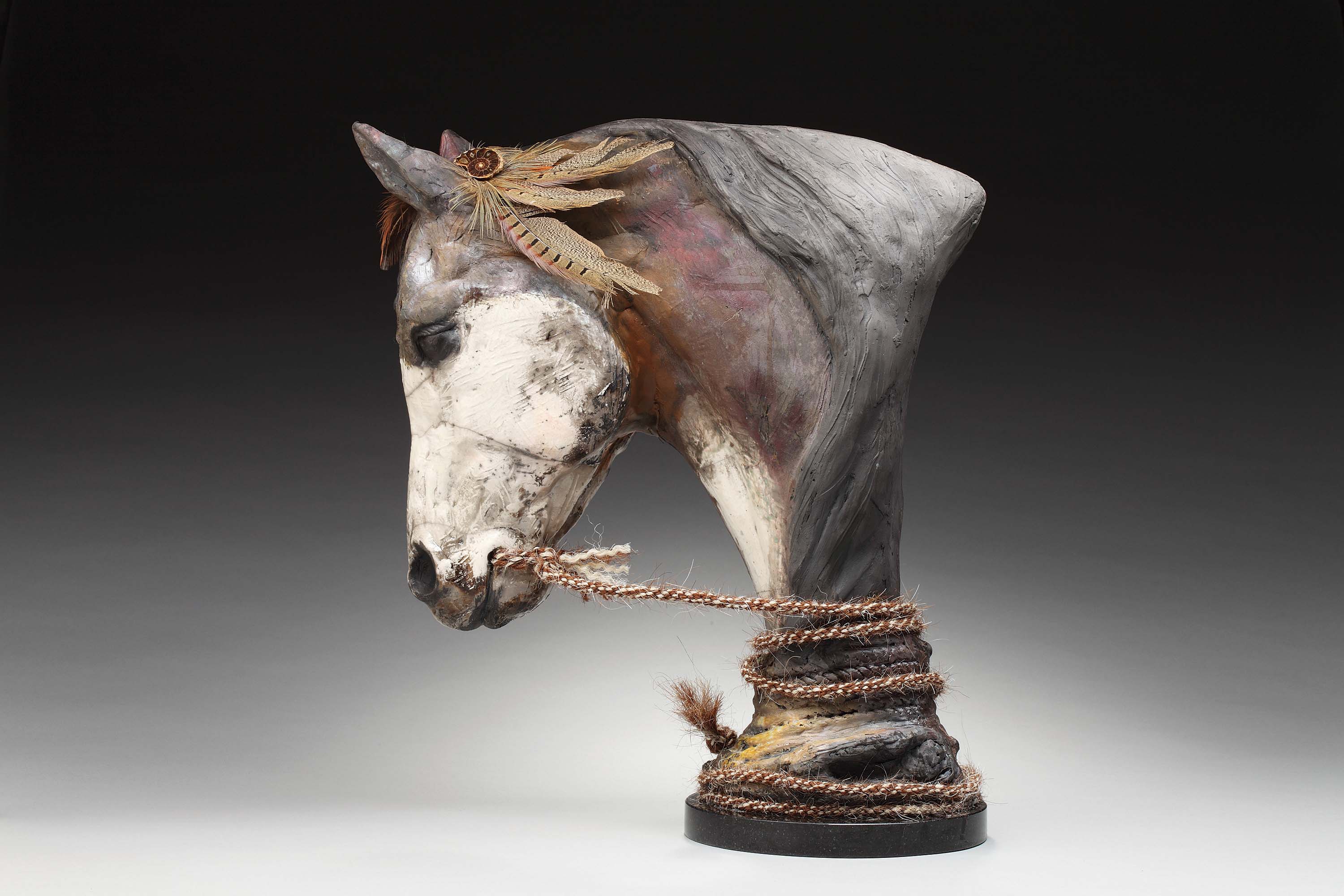 "Medicine Hat" | Raku | 19 x 15 inches
19 Oct

Ones to Watch: Sculptor Tammy Bality
---
Working in bronze, aluminum, crystal and clay, sculptor Tammy Bality exemplifies the essence of those animals she knows and loves. From a small kestrel she adopted, to her own horses, Bality not only reveres nature but strives to share the wildness within.
Through her work in raku, a hand-built clay sculpture that is fired in a traditional Japanese style, she is able to encapsulate the immediacy in a piece.
"I show a lot of raku work," Bality says. "I glaze them with copper oxide, titanium and other chemicals so it gives each one its own unique patina."
She heats each raku piece to 1,850 degrees and then pulls it from the kiln while it's still hot and puts the piece in a lidded metal trash can containing combustible material, which gives her the blackening, white and crackle. The low temperature of the fire paints the colors onto the sculpture. The whole process is very unpredictable, a trait Bality finds compelling.
"Raku is popular in pottery, but not usually done in sculpture," Bality says. "That's because the process adds thermal shock to the piece, which is risky. But I like the primitive look; it's very fragile and porous. And I can get a different feeling from the clay."
By embellishing the raku pieces with jasper, turquoise and other stones, she complements the glazes.
"I'll add fossils, shells, anything I see that is natural and works with the piece," she says. "The raku is more of a sketch for me. I work faster in a water-based clay. It also helps free me up after I've worked on a detailed piece for casting, it's good to do something where I have to move quicker and don't have total control."
When casting bronze, aluminum and crystal, Bality often combines the different mediums in her final pieces to bring out various aspects of the subjects in her work.
"I have horses and I'm a falconer. I observe them and try to capture a feeling I get from them, not their spirit, but how I feel," she says. "The cast crystal allows me to make work with an ethereal look. It's similar to bronze but more limited because of the fragility of glass. It's interesting to see the light coming through and watch it change throughout the day — from green to gold to a bright orange color — depending on the light. It's much more expensive than bronze and it's an unforgiving process."
Bality is represented by Xanadu Gallery in Scottsdale, Arizona; Steinway Piano Gallery in Tucson, Arizona; Vail Fine Art Gallery, Inc. in Vail, Colorado; Spirits in the Wind Gallery in Golden, Colorado; Mackinac's Little Gallery in Mackinac Island, Michigan; Beartooth Gallery in Red Lodge, Montana; Betsy Swartz Fine Art Consulting in Bozeman, Montana; S.R. Brennen Gallery in Santa Fe, New Mexico and Palm Desert, California; Primary Elements Gallery in Cannon Beach, Oregon; and Fredericksburg Art Gallery in Fredericksburg, Texas.