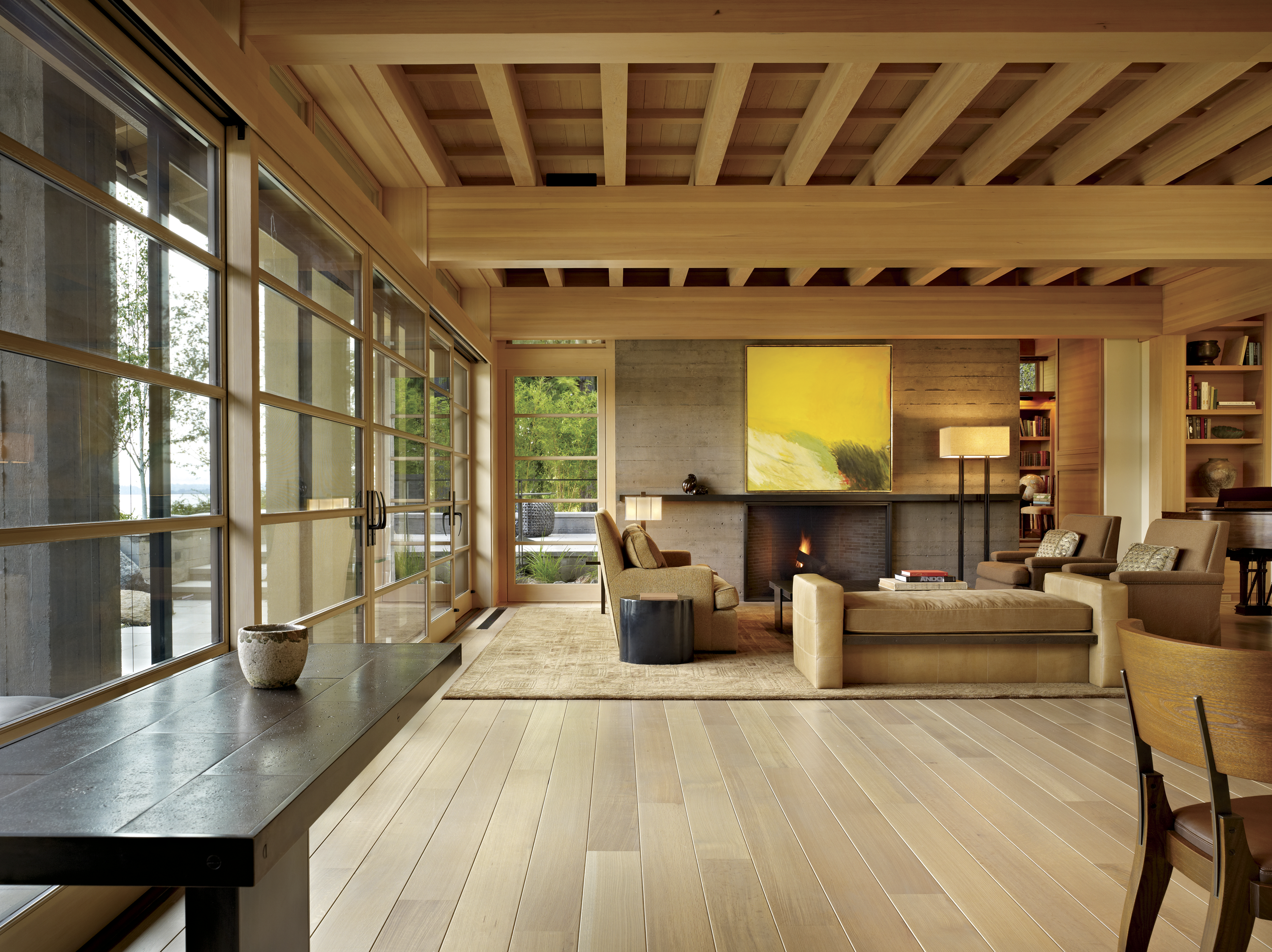 In the light-filled living room, which Sullivan refers to as the Light Core, the architect investigated the elements of abstraction by pairing open glass walls on the lake side with a solid concrete wall behind the fireplace and open timber framing in the ceiling which holds up the central and highest roof tier. Providing the formal circulation for the home both horizontally and vertically, the Light Core contains the owners' book collection and piano, making it the heart of the home in more ways than one. Photo: Ben Benschneider
30 May

Ones to Watch: Stephen Sullivan

Explaining his approach to architecture as a shifting balance between analytical problem solving and intuitive artistry, Stephen Sullivan — founding principal at Sullivan Conard in Seattle — makes that equilibrium visible, and even tangible, in his remarkably diverse and award-winning body of work. An architect for more than 30 years with a master's from Harvard, Sullivan is also an accomplished potter, something that reflects his passion for investigating form and his unwavering commitment to craftsmanship.

Among Sullivan's more recent projects is Engawa House, a visually stunning but spare residence on the shores of Lake Washington. Sullivan calls the project a definitive highlight of his career — the home recently won the Whole House Award in the Northwest Design Awards — and is quick to credit the homeowners with engaging fully in the two-year process of artistic investigation. The ongoing dialogue between architect and client spanned a collage of influences from Japanese architecture to Frank Lloyd Wright, Rudolph Schindler and the development of American Modernism. What resulted is an entirely unique expression of form that evokes history without copying it.

The home — whose Japanese name refers to the sunlit space that links home and garden — is structured around natural light; the walls literally create a vessel within which sunlight can be contained. Horizontal roof layers, with a clerestory at the summit, bring light into the central space, which Sullivan refers to as the Light Core. Even the two-story entrance is designed to utilize light like a lantern.

With spectacular craftsmanship in the various species of wood used throughout, and an intentionally spare approach to detailing meant to let the materials have a language of their own, Engawa House is a masterpiece of light and form … and an exquisitely peaceful place. Sullivan's ability to filter historic information through the lens of abstraction is indeed extraordinary.
Sullivan's spare design allows the home to celebrate the use of various species of wood, something that was important to the owners. The paper sculptures hanging here are by collaborative artist Kyoko Ibe. Photos: Benjamin Benschneider
The layered horizontal roof forms of Sullivan's award-winning Engawa House pay homage to traditional Japanese architecture and the timber framing is reminiscent of Japanese farm houses.