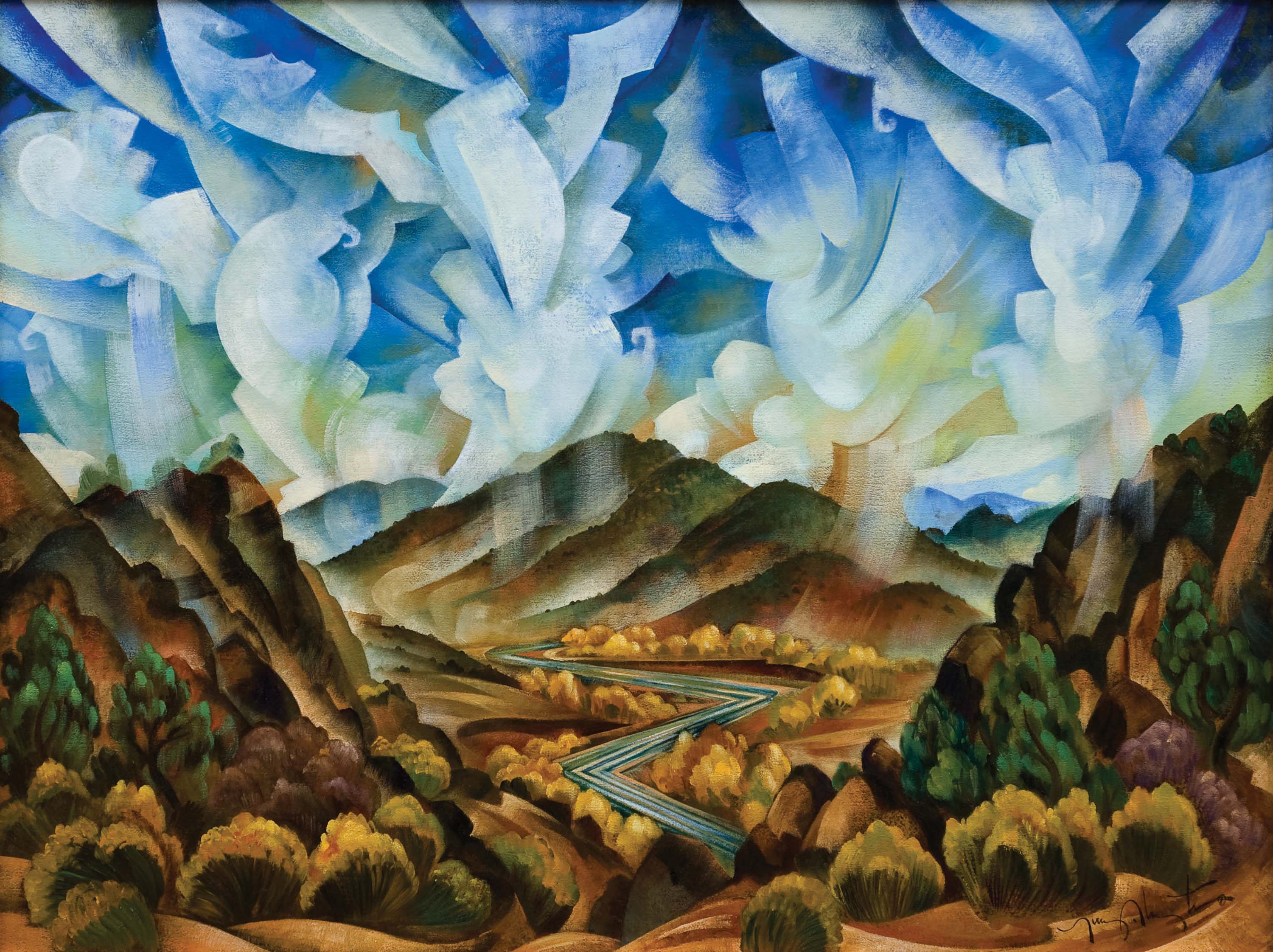 "Untitled" | Oil on Canvas | 42.5 x 54.5 inches
04 Aug

Ones to Watch: Tony Abeyta
---
Working from a traditional Navajo story palette, Tony Abeyta recasts those images, updating the narrative through a contemporary perspective. His pieces are potent and complicated. By using traditional themes hebrings a newness to the oldest of worldviews. Here we are enveloped in the worlds of the Navajo, fearing, hoping, running, rejoicing as we pass through the woods of the monsters, the watery fortress of a Neo-Modernist landscape.
"If we're looking at landscapes, they're direct responses to nature," Abeyta says. "They are an emotional response of sky meeting earth. Of how trees and plants respond to wind. Clouds in movement. It's not a static environment. I create an atmosphere where color takes an opportunity to describe an emotional place, tumultuous or serene. I'm not trying to make it look like a specific place. I'm more interested in how that place can make you feel. How a painting can become an emotional experience and a memory."
His black-and-white pieces come from another place, from ephemeral moments, and derive from music and rhythms.
"I refer to them as characters. The difficult thing — again it's spatial — what's in front of what, where are these thing moving," he says. "And I try to put in the reference to music, analogous forms and shapes, micro-organisms that alter nature or the organisms that become biomechanical, altered and changed as our world changes."
The majority of the large-scale black-and-white pieces have a direct tie to mythology, the subterranean worlds based on Navajo legends.
"They come from a labyrinth of which we've emerged: plants, spores, all these things from beneath the earth," Abeyta says. "And then they combine with the actual geologic reality of the earth. Everything I do is inspired by nature. Most of it deals with the world we live in, the obvious and the not-very obvious. Light, trees, rocks. With the black-and-white pieces, they come from a much more metaphorical place. They're describing nature from the unseen perspective."
Tony Abeyta's work is collected extensively and is included in the Heard Museum, Phoenix, Arizona; the Millicent Rogers Museum, Taos, New Mexico; the Harwood Museum, Taos, New Mexico; the National Museum of the American Indian, Smithsonian Institution, Washington, D.C.; Palm Springs Fine Art Center, California; and the Wheelwright Museum of the American Indian, Santa Fe, New Mexico. He is represented by Blue Rain Gallery, Santa Fe, New Mexico, and Scottsdale, Arizona, and Turquoise Tortoise Gallery, Sedona, Arizona.