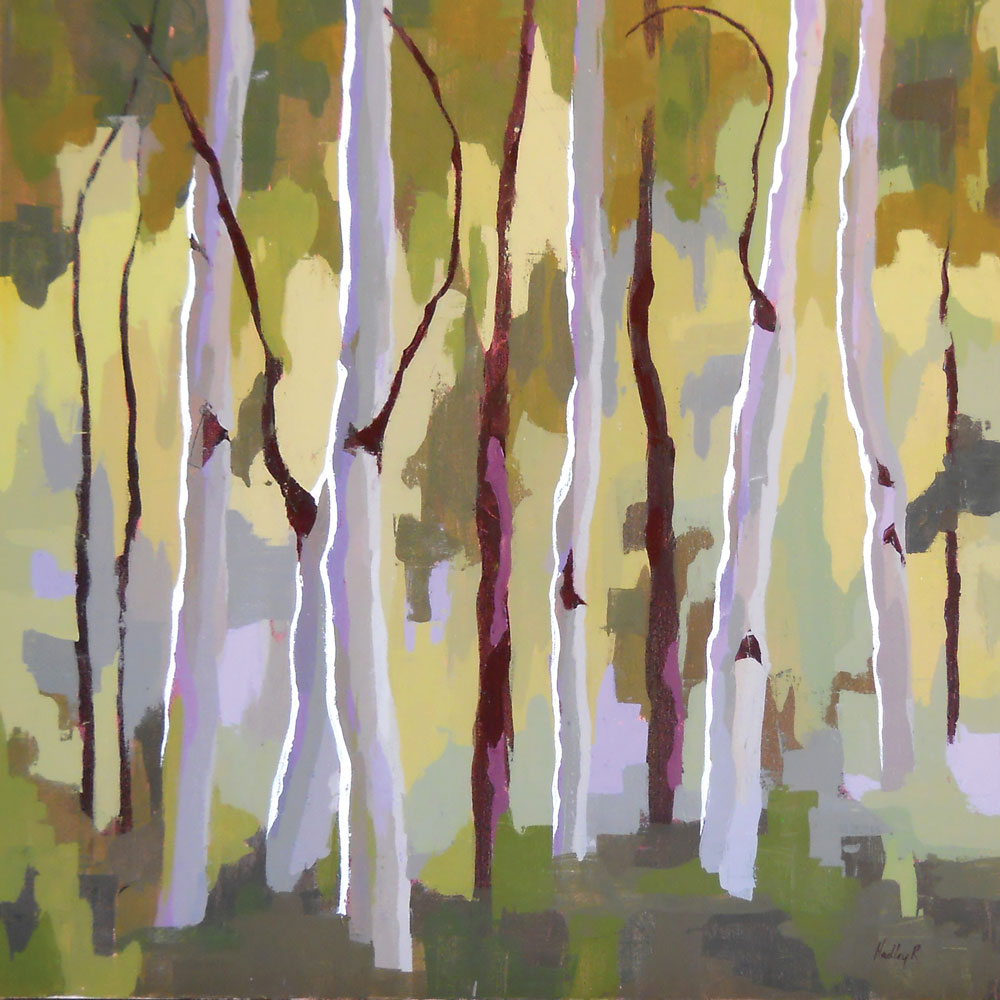 "Backlit" | Oil on Canvas | 36 x 36 inches
12 Nov

Ones to Watch: Hadley Rampton
---
Stark with promise, revealing in their bareness, Hadley Rampton's landscape oil paintings summon the vigor of painting outdoors as well as the discipline that comes with the confinement of paint on a canvas. Within each of her pieces there is an underlying freedom that comes through the synthesis of what she sees and how she feels at any given moment.
"I don't necessarily paint in the traditional plein air style, but for me it's the energy of painting outside and on site that gets me going," Rampton says. "I'm not so concerned about being realistic. I do start to think about formal elements and I consider them abstractly by thinking about paint application. Recently I've been keeping the integrity of my strokes so there's no blending."
She uses a palette knife, which allows her to think about the curve of the tree, in its essential form, rather than blending that transition from light to dark. She develops that transition with each application of color.
"It's a process of gradating each stroke and then throwing in colors one may not really see," she says. "That comes from the energy I'm feeling from being outside. Some days it's more subdued than others. In the summer, when the sun is really strong, my colors tend to get really vibrant."
It's clear to see in her work that her sense of being outside mixes with her thoughts and blends with her knowledge of formal color theory, paint application, as well as a feel for the abstract composition. Rather than thinking about painting a tree, Rampton thinks about the shape, the colors, the form and the paint itself.
"I've always been an outdoor enthusiast, and I've done art for a long time, so it's this melding for me," she says.
"When I'm outside, I'm inspired and I want to do something with that. It's my way of making use of what I'm feeling when I'm outside."
Rampton lives in Salt Lake City, Utah, and does most of her painting along the Wasatch front. But wherever she goes in the Rocky Mountain region, she'll take a canvas along.
"I'll stop and paint for several hours and get back in the car," she says. "It's my way of sharing with others who weren't there and didn't see what I saw and felt."
She'll be sharing a new experience this fall as Rampton is set to participate in the seventh annual Zion National Park Plein Air Invitational. A distinct honor, as each year only 24 artists are allowed to set up in the park. The work is later sold as part of a fundraiser for the park.
"This is the first year I'll be doing it," she says. "I feel very honored to be part of this group. One of the things that's fun about it — because there are painters spread throughout the park— is that visitors are encouraged to look at the canvases as the painters are there working. It's always flattering to have people take an interest in what you're doing."
Rampton's work is represented by the Abend Gallery Fine Art in Denver, Colorado; Phillips Gallery in Salt Lake City, Utah; Saatchi Online Gallery; and the Torrey Gallery in Torrey, Utah.