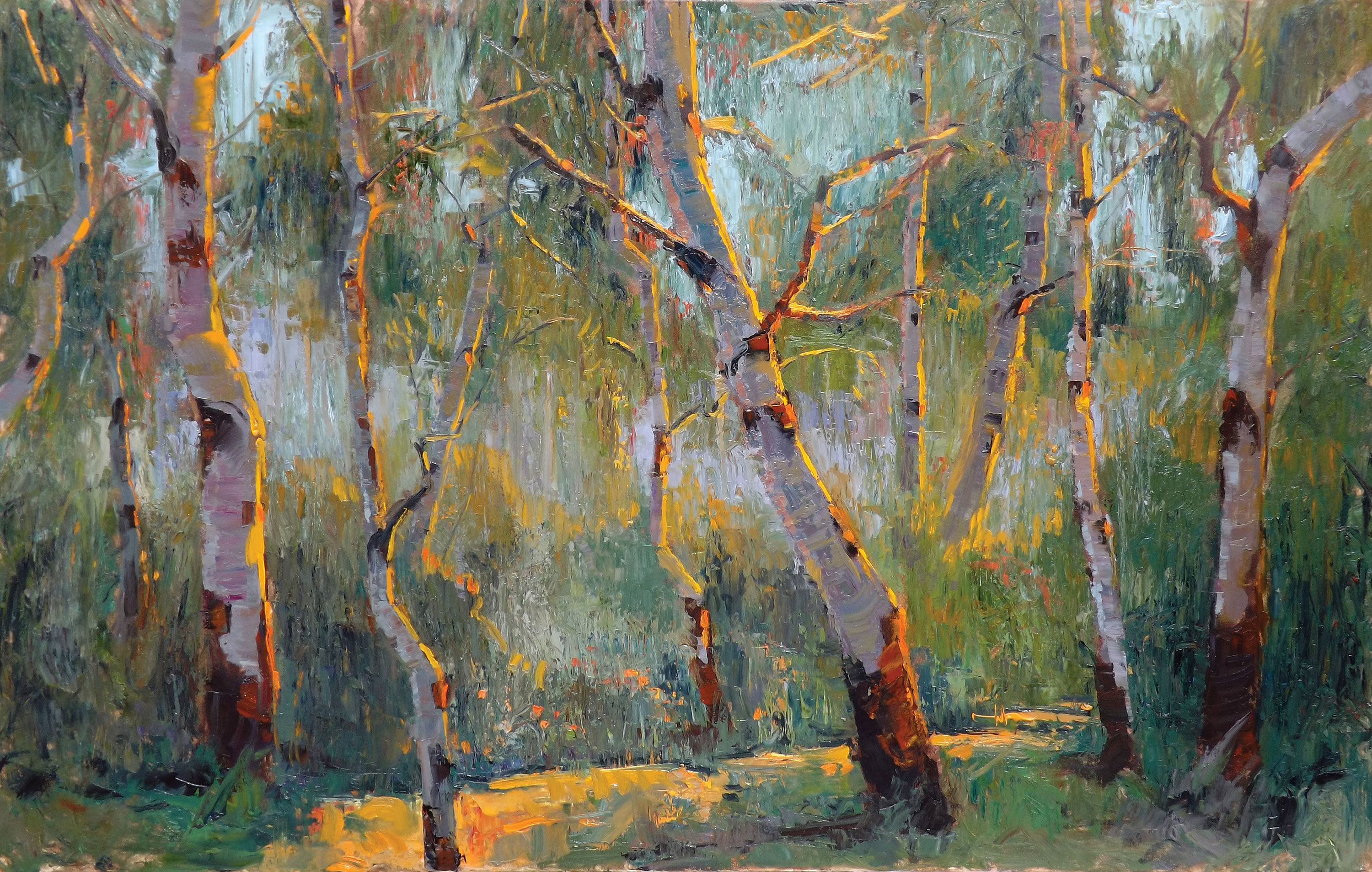 "At Last" | Oil on Canvas | 40 x 60 inches
04 Aug

Ones to Watch: Silas Thompson
---
Silas Thompson paintings convey the non-specific, but in doing so, his brushstrokes, sure and broad, heave with emotion and give rise to a single moment. "I do work on the Impressionist side of things," Thompson says. "It can vary from the more realistic to the more abstract depending on the mood I want to put into the painting."
What he loves most is painting en plein air, incorporating the outdoor elements in the underlying theme of the work. "Being out in the wind or the sunshine, trying to capture the atmosphere and mood," he says. "Some of what I love about painting is the ability to let the eye do some of the work for me, not to over-render or to work a painting to death, but to get it to the point where the eye finishes it. And it finishes it in different ways to different people, depending on how they relate to the painting."
If it starts raining, if his canvas blows on the ground or if it's just not working he'll bring it back to the studio. "But I love finishing it outside," he says. "There's something about being outside and being able to capture that feeling. I probably do about half of my paintings in the studio and half plein air."
Because the light is constantly changing, Thompson approaches his canvas quickly.
"There is generally a good rain storm coming in the distance," he says. "And there's a certain amount of emotion I can keep intact with the big brushstrokes. I can capture 60 percent of the sky in one brushstroke, as long as there's excitement in that one stroke; it's so much more alive than 600 small brushstrokes."
Not worrying about details in a piece lets Thompson release control over the viewer's reaction. "Impressionism is not like Abstract painting, I still want that communication," he says. "I like that one person will look at a painting because of the colors and the semi-looseness of the work and they will relate to a moment in their own lives just by looking at that painting."
In other words, he's evoking universal feelings.
"That's what I want to do. I don't want it be a canvas of facts and sheer information. I want to be able to pull out those emotions. To make the connection with the viewer. It's more like conversation than a lecture."
Although it may not seem like it, Thompson's methodology is based on the way the eye focuses on objects. "What I've been learning about how the eye works is that when we look at something we focus on one spot," he says. "If I look at the tree, I focus on one branch, and I can't see all the leaves. Some painters will change their focus to paint the whole tree. So they would end up in a tight focus over the whole painting. That's not how I see the eye working. Instead I will render certain parts of the painting and then use the broad strokes to communicate clear information but not get super tight."
Thompson's work is collected across the country and was included in the C.M. Russell Museum's 2015 auction. He is represented by the Dana Gallery in Missoula, Montana, and the Mountain House Gallery in McCall, Idaho.