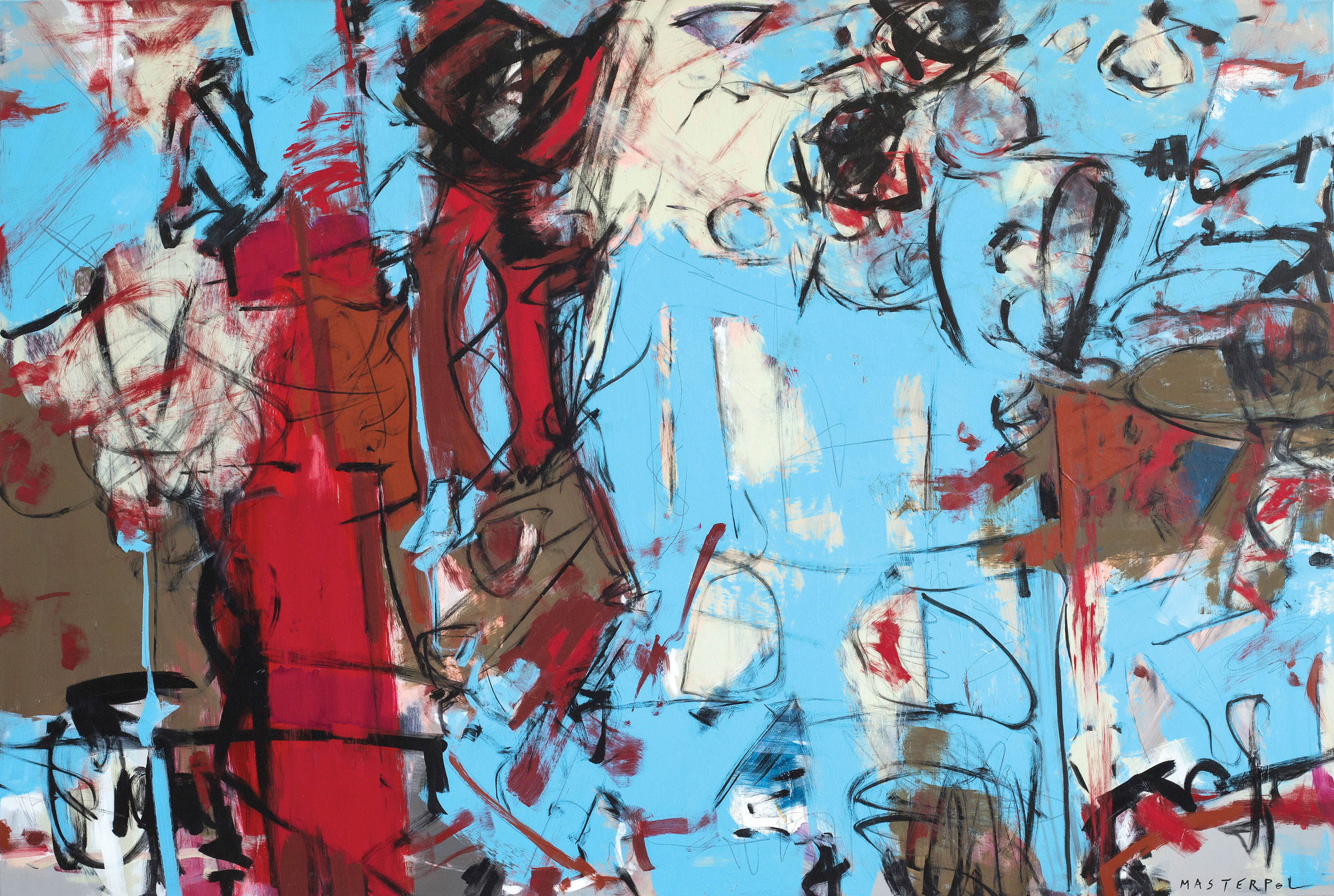 "Blue District" | Acrylic on Canvas | 48 x 72 inches | 2014 | Dogma Series
04 Aug

Ones to Watch: Rose Masterpol
---
For Abstract Expressionist Rose Masterpol, her work is the sum of moments melting, moving, morphing as moments do. They are dialogues, philosophical adhesives, parrying forth and back.
"I usually work with acrylics," Masterpol says. "I'm an action painter and I work as I go, so acrylics allow me to keep going. I work fast and I work for hours. The paint dries as I progress. I have urgency and it works with my pace." Her rhythm and flow allow the paint to speak. Quick like a flame, they ignite. Ticking like nervous fingers, they wait for an opening. Colors sweep across the surface, soothing like a quilt in the night. Masterpol's paintings are constant companions, unfolding to the viewer both immediately and again over time.
"Once I know the feeling, even though I don't know how it's going to come out, I can then move forward and I know what direction I'm going in," she says. "I'm surprised at the end, no matter what."
Masterpol works in series to guide herself. "When I start a new series I'm in nowhere land," she says. "I approach with zero and keep pushing and pushing until I have something I want to see or something that I love. It's a process. It's spiritual and it's physical. And it's emotional. There are layers of what's happening."
Making decisions moment by moment gives her work immediacy. "I wish I had a straightforward process, but it's not me. In the last few years I've been honest with myself and this is how I paint: intuitively, freeform and unlimited." It's also the beauty of how she lives her life. "I'm a risk taker," she says. "I'm also thankful that I push myself, to see what I end up with … my whole life has not been the easiest path."
But Masterpol's difficult childhood instilled a passion for art and keeps her in the present. "I still go to that place but I don't have to come from a bad place to get there," she says. "Art was my escape and that taught me how to get to a creative place without having to get hurt to go there. It makes my work what it is. If I didn't have all that, I wouldn't be the artist I am today. My work is in your face, powerful, bold, soulful."
All the energy, depth of emotion, all the flickers of pain and joy, the emptiness and completion fill each painting. Everything condenses inside her and pours like a rainstorm into the final piece.
In her newest series, Dogma, Masterpol painted without intent. "I called it Dogma because of the strength, conviction and the truth of the piece," she says. "I have to go with this feeling and the entanglement of lines. It gives the piece an energy. Then I kept on going. By the time I got to Brainchild, the 15th painting in the series, it changed … it became more refined. Less abstract and more impressionistic. I let the work unfold. I allow for the excitement to happen," she says.
Masterpol is represented by Artful Sol Gallery in Vail, Colorado; Kobalt Gallery in Provincetown, Massachusetts; Artamo Gallery in Santa Barbara, California; Glave Kocen Gallery in Richmond, Virginia; and Gallery Orange in New Orleans, Louisiana.