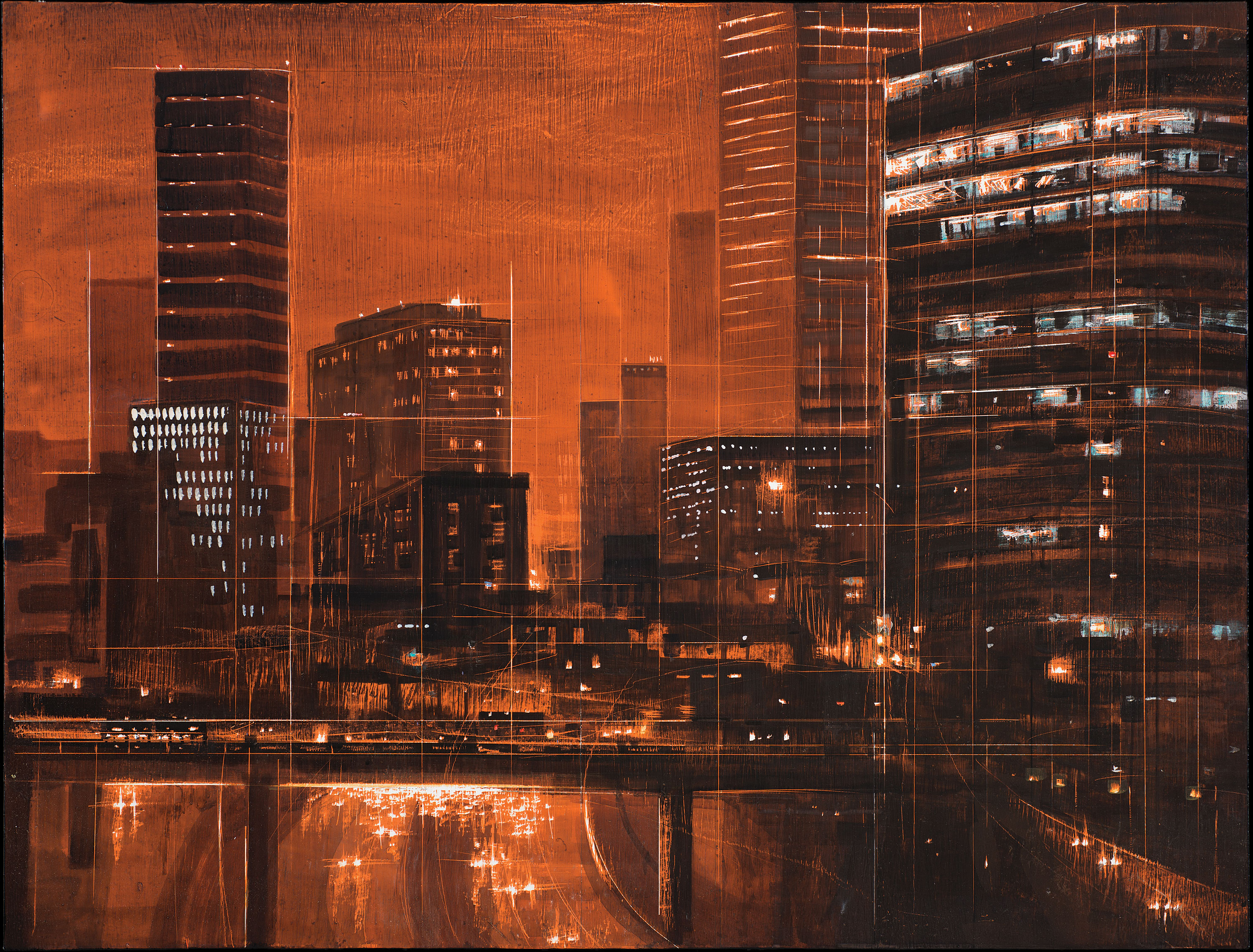 "City 3" | Acrylic on Panel | 36 x 27 inches | 2015
04 Aug

Ones to Watch: Katie Metz
---
Cities are where the action is and it's their vitality and sizzling energy that inspire painter Katie Metz. "Big cities pump us up, drive us to achieve," she says. Her visual narration of urban life's jump and jive, complexity and nonstop cacophony offers an innovative blend of Abstraction and Impressionism.
"I don't want to simply record the city's physical elements," Metz says. "I want to paint the feeling of being there — bombarded daily with noise, traffic, diverse cultures, homelessness, graffiti and crowds of people, simultaneously surrounded by great architecture, world-class art and theater, and the richness that universities bring to the mix. The challenge for me is to replicate that dynamism in my paintings."
Moving from a small Colorado town to Seattle in 2005, Metz sought a new direction for her art. Looking for something edgier, she began hitting the streets day and night, shooting photos, sketching and taking notes. Her field experiences led to fresh and original portrayals of what it is to live in the city. Each painting begins with flurries of brushstrokes applied in multiple thin layers followed by mark making and scraping. A blizzard of gestural incisions with a razor blade echo structural shapes and glinting lights, and evoke mood and atmosphere that instantly draws viewers into the scenes.
Katie Metz's paintings are represented by Abmeyer + Wood Fine Art Gallery in Seattle, Washington, and GF Contemporary in Santa Fe, New Mexico. Her one-woman show opens in Santa Fe on September 4, 2015.