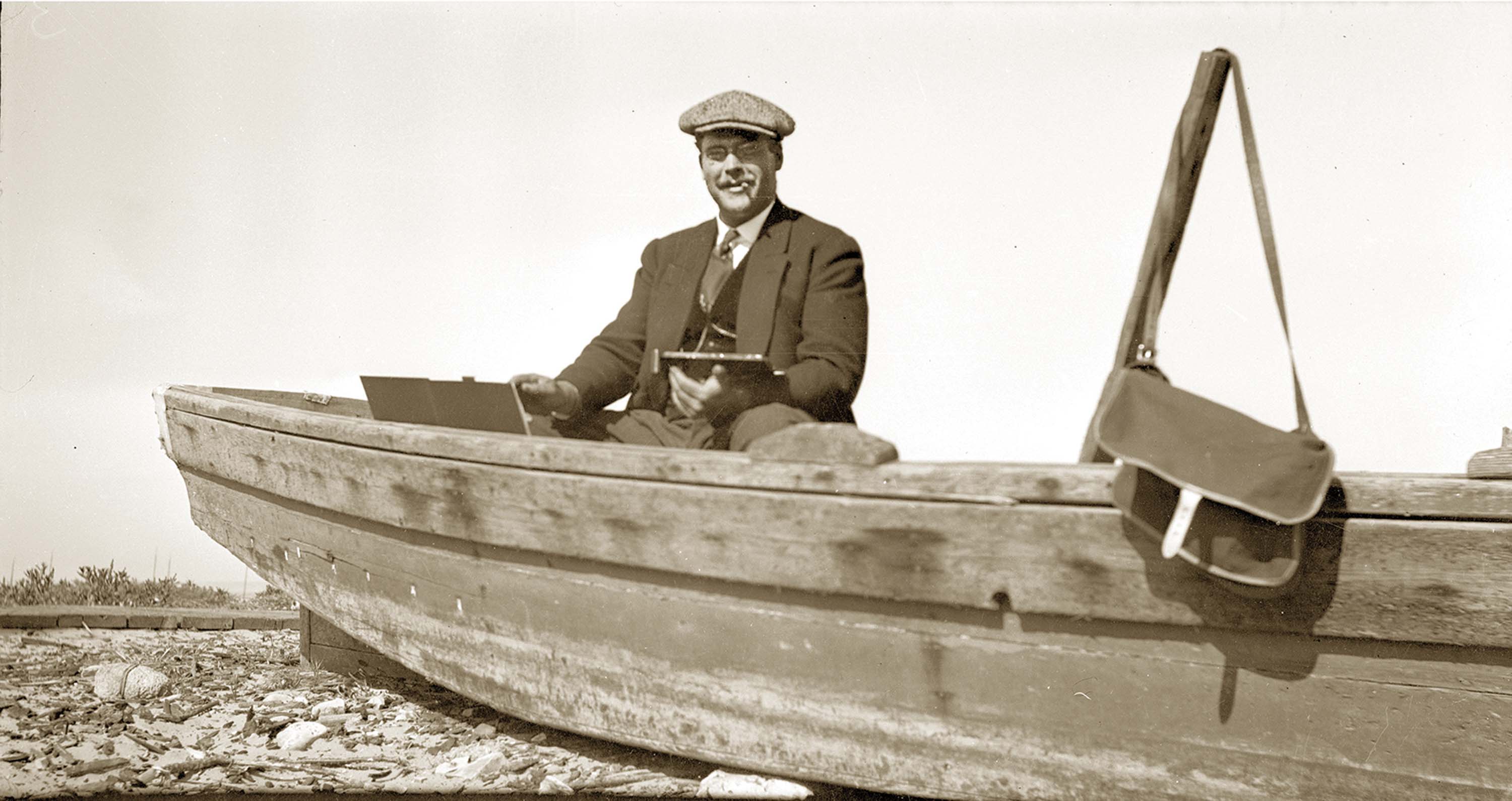 Armin Hansen on a Monterey beach
02 Mar

Perspective: Armin Hansen [1886–1957]
---
When Armin Hansen walked into a room, his friends said it was as if a gust of Pacific salt air blew in with him. He a big man, tall and sturdy, the kind of man who looked like he could hold his own in a wave-tossed fishing boat on a stormy sea. He looked that way because he could, and had, endured all kinds of weather while crewing on fishing vessels off the California coast and on North Sea trawlers. That experience — and the deep respect and love he had for both the ocean and the men who worked upon it — found its way into his brushstrokes and paint, transforming raw physicality and labor into something enduring and beautiful.
On the centennial of the 1915 Panama-Pacific International Exposition in San Francisco, which first gave California artists broad recognition and validation, an important traveling exhibition reveals why Hansen's work — ahead of the Modernist curve in his time — continues to have strong aesthetic and emotional appeal. Armin Hansen: The Artful Voyage is on view through May 31 at the Pasadena Museum of California Art. From June 28 to October 11, it will be at the Crocker Art Museum in Sacramento; and its final stop, October 29 to March 7, 2016, returns the exhibition to Hansen's longtime home of Monterey, at the Monterey Museum of Art.
Organized by the Pasadena Museum in collaboration with the Crocker, the exhibition was curated by Scott A. Shields, associate director and chief curator at the Crocker. As the largest and most comprehensive collection of Hansen's art thus far exhibited, Armin Hansen: The Artful Voyage features 50 oil paintings and an equal number of etchings, watercolors and pastels. The subject matter ranges from still lifes to landscapes and portraits to rodeo scenes, although most of the selections focus on the theme that was closest to the artist's life and heart: the universal struggle between man and nature — specifically, the intimate, almost mythic relationship between fisher folk and the sea.
Hansen's own relationship with the ocean began early. Born in San Francisco in 1886, he moved with his family to Alameda Island in San Francisco Bay at age 5. As a boy he often sailed the nearby estuaries, and on one such occasion when he was about 11, his small boat became mired in mud. As he sat waiting for the tide to return, he conceived his first marine drawing, creating it when he went home. Art instruction started early as well, first informally with his father, Herman Wendelborg Hansen, a noted painter of Western frontier life. In 1901 the younger Hansen began taking classes at San Francisco's Mark Institute of Art, where he pursued formal training with Northern California painters, including prominent Tonalist Arthur Frank Mathews, until the earthquake of April 1906.
But the vigorous, powerful style for which Hansen eventually became known, and which accorded well with the blustery nature of his chosen subject, developed after he traveled to Europe in 1906. For two years he studied in Stuttgart with Carlos Grethe, who painted scenes of fishermen. Both the subject and the broad, darkly intense swatches of paint in Grethe's canvases profoundly influenced Hansen, although the California painter later shifted to a much brighter palette. Hansen visited art museums in Paris and Amsterdam, and then traveled to the Belgian coast and signed on to the crew of a North Sea trawler.
For four years he immersed himself in maritime culture, drawing and painting that world during off-duty hours.
On his return to San Francisco in 1912, he brought with him almost 100 new canvases.
Soon Hansen fell in love with Monterey, whose growing salmon and sardine industry was quickly transitioning to more modern fishing and canning methods. Scores of immigrants were employed on the boats and in the canneries, and Hansen knew and portrayed many of them, especially those of Sicilian and Portuguese descent. Along with the piers, bustling harbor scenes and colorful fishing fleets, he painted them in a manner that reflected his intimate knowledge of the fisherman's rugged life. For a few years, he kept studios in both San Francisco and Monterey. In 1918 he established year-round residency in Monterey and settled there permanently after marrying in 1922.
It was a time of vibrant social and artistic activity for the genial painter, whose friendships spanned the socioeconomic spectrum. They ranged from immigrant fishermen such as Cosimo Aiello, whose portrait is in the exhibition, to writer John Steinbeck and poet Robinson Jeffers. Hansen was loved by his students, and well liked and admired by fellow artists in both the emerging Modernist movement and the more conservative art establishment, including the Carmel Art Association of which he was an early member. In 1920, friend and fellow painter Maynard Dixon sent him a congratulatory letter filled with superlatives. "Simplicity and Truth you have added — to all the color, strength, drawing and poetic feeling that you have," it reads in part. "Ye Gods! It is wonderful."
Indeed, before the economic crash of 1929, Hansen was almost overwhelmed by the demand for his work. "He could hardly paint fast enough," notes the Crocker's Scott Shields. "Paintings would go to shows still wet, and when he would run out of oils he would submit watercolors." As Hansen's paintings were gaining a strong West Coast following, his easier-to-ship etchings earned him recognition nationally and overseas. Works such as Men of the Sea, from 1920, became iconic images. The painting depicts two fishermen striding downhill toward a harbor, their brightly colored clothing symbolizing such universal human qualities as stamina, simplicity and strength.
Prior to Hansen, such figures and the stormy seas on which they worked did not draw the attention of California painters. Early California Impressionists were more inclined to paint the Carmel Mission or calm, blue seascapes and lovely, wind-bent cypress trees. But Hansen found himself at the intersection of historic, artistic and personal conditions that set him on a different trajectory. As Shields explains, "For his training, experience and interests, Hansen had arrived in Monterey at the perfect moment, when the fishing industry offered a new artistic frontier, and he pursued this fresh subject matter in earnest."
The painter was, of course, familiar with European and California Impressionism and sometimes, especially early on, he incorporated dappled applications of paint. Increasingly, however, he moved into the raw, expressive emotion and bold color that marked his later style and which was admired by artists of all genres. "Even the most Modern painters — into the 1940s, '50s and '60s — could look at his work and see the power and brushwork and color," Shields says, referring to the strong formal and compositional qualities in Hansen's work. At the same time, dramatic narrative and a connection with physical reality were too important to Hansen for pure abstraction to hold his interest. "He struck a balance between the two," Shields says.
Along with a widespread reputation as an exceptional and well-loved teacher, the artist's style had an important impact on a generation of West Coast artists, among them, his students C.S. Price and August Gay. "He's like a time machine," remarks Karen Hendon, chief curator at the Monterey Museum of Art. "He's one of the pivotal artists who could straddle both French Impressionism and German Expressionism, yet pushed the boundaries into a Modernist style with contemporary subject matter. He was a major influence on the Monterey Modernists who came to study with him, such as Jeanette Maxfield Lewis; Margaret, Helen and Esther Bruton; as well as the members of the colorist group, Society of Six. With Hansen, you see the mark moving forward and Modernism flourished with his imprint."
During the 1930s, economic conditions compelled Hansen to branch out in genres and subject matter to support his family. He also put his hands to woodworking, producing hand-carved furniture and model boats. A wooden dining table from 1931 was carved with fish, seahorses and boats, perhaps "to make up to his family for not having much food," muses Shields. A selection of the artist's woodwork, including the carved table, will be part of the traveling show, which Hendon describes as the first "360- degree view of his art." Hendon continues, "Armin Hansen is our guy, our main man who represents our region. His work tells a distinct story about Monterey, with its early industries as well as its social and artistic culture, that is still recognized and celebrated today."
Even with the return of relative prosperity in the 1940s, Hansen continued to paint a variety of subjects, but he always went back to the wharfs and the water, both literally and in his art. While no longer at the aesthetic forefront of California art, he remained highly respected by critics and peers. Early gold medals at exhibitions in Belgium and San Francisco were followed by museum shows of his prints (including at the Smithsonian in 1928 and the De Young in 1932) and by election into the National Academy of Design as an associate member in 1926 and a full member in 1948.
Almost 60 years after the painter's death in 1957, Hansen's art continues to be relevant. "He was able to bring poetry to something — the fishing industry — that often, in reality, looks bad, smells bad and is not pleasant to be around. He pulled that off," Shields says. "He really saw himself as one of the people he painted. That's why he did it so well, because he understood. He wanted life at sea but also wanted to be an artist, and he figured out how to combine those two desires."
As Hansen himself once wrote, "Every move I have made and everything that I have done has always been to go back to the water and to the men who gave it romance. I love them all."