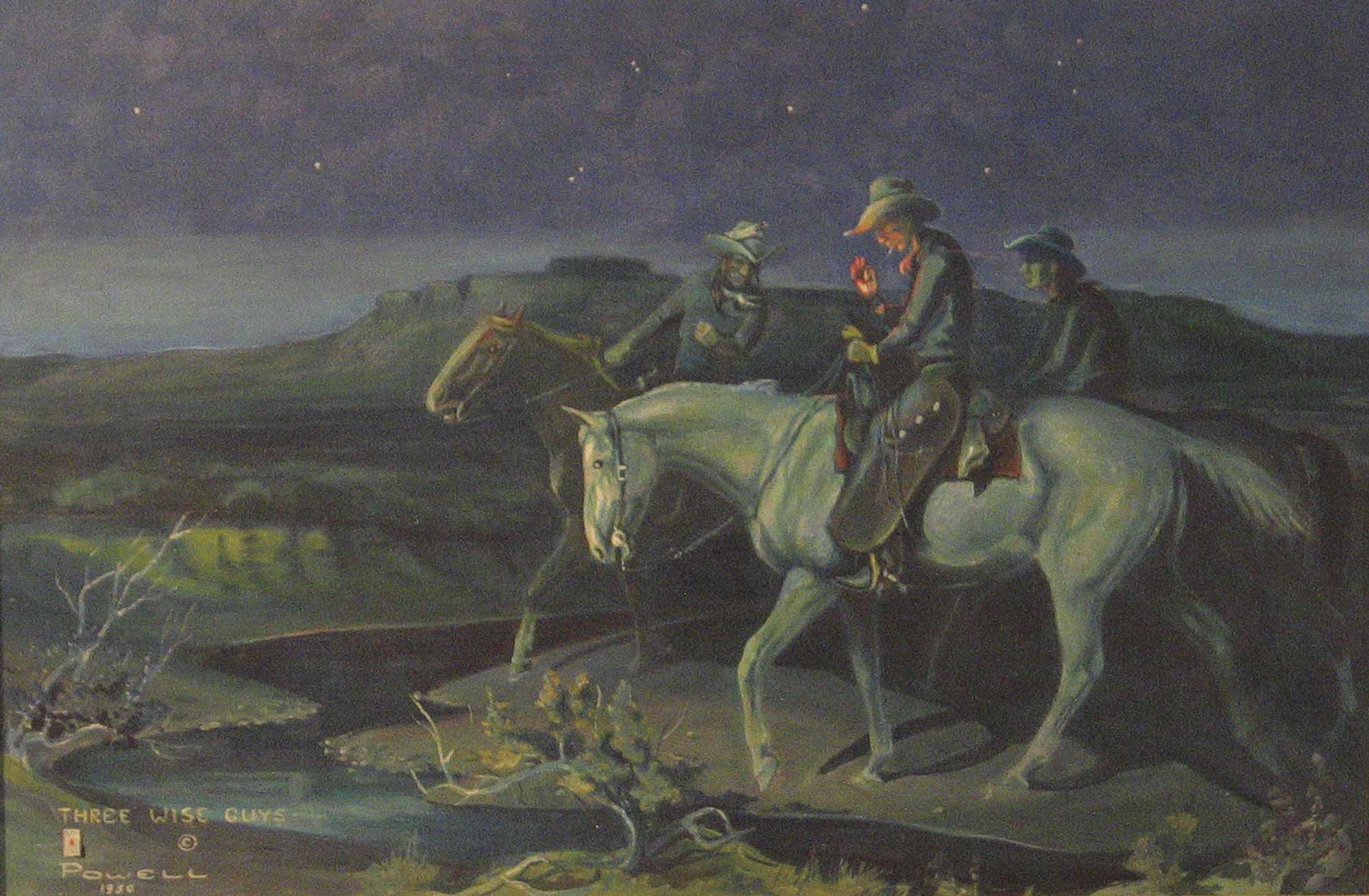 "Three Wise Guys" | Oil | 20 x 30 inches | c. 1950 | Courtesy Hockaday Art Museum, Kalispell, MT | Gift of Montana Historical Society
29 Dec

Perspective: Asa Lynn Powell
---
Like Charles M. Russell, his early friend and long-time mentor, Ace Powell dedicated his life to recording what he knew best: Native Americans, cowboys and other Western figures. "My whole life is wrapped up in my art," the artist once said. "Art is my work, my play, my friend — my everything. I throw all I can into a painting. I've painted some great ones and some bad ones and I think it will be that way all of my life." A passionate artist and lifelong Westerner, Ace Powell created work that is dynamic, authentic and perhaps under-appreciated.
Those who knew Powell recognized his diligence and steadfast work ethic which, alongside his inherent talent, placed Powell in the shadow of such heavy hitters as Charlie Russell, Frederic Remington, E.S. Paxson and O.C. Seltzer. Like these Western masters, Ace Powell devoted a lifetime to chronicling his West, even as it faded into history. "Ace never cared greatly about what he wore, what he ate or what he drank," said writer Helen Clark of her friend. "His mind carried singleness of purpose: to create the best art he was capable of producing and to share it with the world," she said.
Powell's family was among the early white settlers in Big Sky country. His grandfather, Austin Powell, came to the Montana Territory in 1872 after working out his passage from the East. By 1875 he had established a trading post near the Belknap Reservation; a venture he owned and managed for many years. Ace's father was a cowboy and ranch foreman and his mother was a schoolteacher. The couple met in Harlem, Montana, married and moved to New Mexico.
Asa Lynn Powell was born in Tularosa, New Mexico, on April 3, 1912. Soon after his birth, the family moved back to Montana where his father worked as a foreman on Ben Steven's horse ranch. He went on to work on several other ranches and then settled down to homesteading. After several challenging years, the elder Powell went to work for the National Park Service in Glacier National Park. Eventually he acquired a saddle horse outfit and guided tourists through the park.
Charlie Russell's Bull Head Lodge on the shores of Lake McDonald was not far from Powell's home and the families were fast friends. As a boy, Ace would accompany the cowboy artist on early morning rides, watching him sketch and draw. Ace often showed his early attempts at drawing to his friend Charlie, who did not hesitate to critique the work. Even the trademark brand he would use to sign his paintings was inspired by Russell when Ace was only 10 years old. He had copied one of Russell's paintings, complete with Russell's buffalo skull. Russell protégé Joe DeYong had accompanied the two and suggested that the young Powell acquire his own "brand" for his paintings. He settled on the ace of diamonds because, according to Powell, it was the easiest to draw. Clearly, Russell had a profound influence on the young Powell.
When he was 15, Ace's parents decided that he should leave home to attend high school. He was sent to the nearby reservation town of Browning, just outside the park, as a boarding student. Bob Scriver (who went on to fame as a sculptor) became a close friend of Powell's and helped Ace acclimate to life on the reservation. It was a critical period in Powell's development as a man and as an artist. He expressed profound admiration and love for his Blackfeet friends, many of whom would appear in his work even decades later. "Ace loved living among the Blackfeet. He attended their weddings, funerals and all social events that he could. He loved the people and the people loved him. He identified with them, respected them and never ridiculed them. The bond was mutual," recalled Ace's widow, Thelma Powell. He was honored with the Blackfeet name "Um-ag-ska-si," which translates to Big Nose.
In 1929 the Powell family home burned down and Ace had to return home to work before finishing high school. His interest in art continued, however haphazardly. He picked up pointers and critiques whenever possible. Little by little his work improved.
At 21, Powell went to work for the Bar X6, which at the time was the largest saddle horse company in the country. He worked there seasonally for six years. During his tenure with the Bar X6, and following in his father's footsteps, Powell began taking tourists into Glacier Park on horseback. Knowing of his interest in art, the park's guide service referred outdoor painters to him. Before long, Powell was escorting the majority of American and European artists visiting Glacier to the most remote and picturesque corners of the park. The journeys gave Powell not only an opportunity to paint in spectacular settings alongside well-known artists, but to develop a camaraderie with the artists that he used to refine his own artistic skills.
When winter came to Glacier, Powell was unemployed until spring, like most of the local cowboys. His friend, physician and art dealer Van Kirke Nelson, kept track of Ace when he was away from the Bar X6. "The winters were spent on the Blackfeet Reservation in Browning, Heart Butte, Babb or wherever he could throw his hat. On the reservation he lived as the Indian did: breaking horses, hunting and trading. It was during these six years that his decision was made to record what he saw happening in the Western landscape — the change from old ways to new ways." When he left the Bar X6 at 27, Powell committed himself full time to his art. From that point, his ace of diamonds brand appeared consistently on his work.
Though his career was focused entirely on art, Powell's personal life was not without drama. Married in 1938 to Helena "Betty" Sperry, Powell was widowed in 1941 and recalled, "Life gave me the first hard poke in the nose." In 1943 he married Audrey Scott and had a son, Eddy. In 1946 Audrey ran off with Powell's business partner (they owned an art studio) and all the money. She left Eddy with Ace. In 1952 Powell married a young artist and schoolteacher, Nancy McLaughlin. The couple had three children but clashed frequently due to their individual artistic temperaments and Powell's alcoholism. In 1964 their home and studio at Hungry Horse burned down and soon after the couple divorced.
Powell's last and by far most satisfying marriage commenced in 1965 to a Montana family friend, Thelma E. Conner. Powell and Thelma remained together until his death in 1978. Their marriage provided an environment in which Powell's painting thrived. Work from the last 10 years of his life includes the pieces that are most sought after by collectors and museums. Powell's art is held in the permanent collections of several museums including The Buffalo Bill Historical Center in Cody, Wyoming, The Great Plains Art Museum in Lincoln, Nebraska, the Hockaday Museum of Art in Kalispell, Montana and The C. M. Russell Museum in Great Falls, Montana.
In addition to being prolific, Powell was known as a help and inspiration to other artists. Over the years he mentored a number of beginning artists. He said of those experiences, "I've taught a lot of artists in my time. I have found that you shouldn't influence a person for too long a period. After a while they will start to paint like you. When that happens, it's time to throw them out."
In addition to helping artists with their own work, he gave them advice on marketing, framing, pricing, handling sales and customers, public relations and other information to help them in the field of art. He also loaned money to them and provided a place to stay when they needed one. Thelma Powell reminisces that during the time she and Ace were married, their home was often like a hostel, with artists coming and going. She frequently had no idea who was staying with them until the morning, when she would go through the house counting people to determine how many meals to make for breakfast.
Powell was a multimedia artist. He painted with oil, acrylic and watercolor. He sketched, worked in pastel, etched, sculpted and carved. On at least one occasion he worked with a chisel on stone. Art dealer John Geiger owns a bust of Napi, the Blackfeet God of creation. This may be the only sandstone sculpture Powell produced but it shows another dimension to his art and demonstrates that he was not afraid to experiment.
Lately Powell's art has been gaining in popularity and experts attribute the trend to a number of factors. With the surge of popularity within the Western art genre, pricing on much of the art from C.M. Russell's era has skyrocketed. Because he captured similar subject matter to Russell, Ace Powell's work has appreciated along the way, as well, though not as quickly. His oil paintings generally sell between $500 to $18,000. Powell bronzes sell anywhere from about $200 to $4,000.
Another factor accounting for the increased collectibility of Powell's art is the recognition of his authentic attention to realism. He painted from firsthand experience — from living the cowboy way, knowing the Blackfeet culture and watching the wildlife of the place where he grew up. As a cowboy, storyteller and artist, Powell believed that his paintings could accurately record the changes he witnessed in the American West during his time.
Retrospectively, Powell's most popular subjects include Indians, cowboys, teepees, cabins, horses and buffalo. It makes sense that he gravitated toward these images that were so much a part of the daily landscape of his life. Critics have summed up the future of Ace Powell's art in one apt statement, "His work was not universally admired by his art contemporaries but neither was the work of the great cowboy artist of another era, Charles M. Russell. But we suspect, with the passing of time, that Powell's work will come to be compared with Russell's."
Time will tell if Ace Powell will emerge from the shadow of the great Western artists of our time as an authentic voice of a bygone era.
---
Collecting: Ace Powell
Accessibility to art was a hallmark of the cowboy artist's philosophy
While Ace Powell produced between 12,000 to 15,000 works of art in his career, pieces from his early years as a young artist, those prior to 1960, are the most difficult to find. Like his childhood mentor, Charlie Russell, Powell was known to scratch out crude drawings on letters or sketches on various pieces of paper, which may continue to surface as his work grows in value.
As he developed, oil painting became his favorite medium. For that reason, oils produced in the last decade of his life are considered the "high period" of Powell's career. In 2006, a wonderfully detailed oil entitled His Wealth sold at the C.M. Russell Art Auction in Great Falls, Montana, for $18,000, a purchase that has kept works of similar quality by Powell at a value estimated between $12,000 to $18,000.
Yet, following the philosophy that art should be accessible to everyone, Powell produced many other works in different media. One of the most affordable examples may be the etchings he produced. Next to Edward Borein, Ace Powell was the most prolific Western artist who used the etching technique. Typically produced in editions of 50, Powell's etchings are signed and numbered. Their value is estimated to be between $150 and $300. The subjects of his works ranged from cowboy action to wildlife, and therefore represent a different perspective from life in the West as seen through the eyes of Ace Powell.