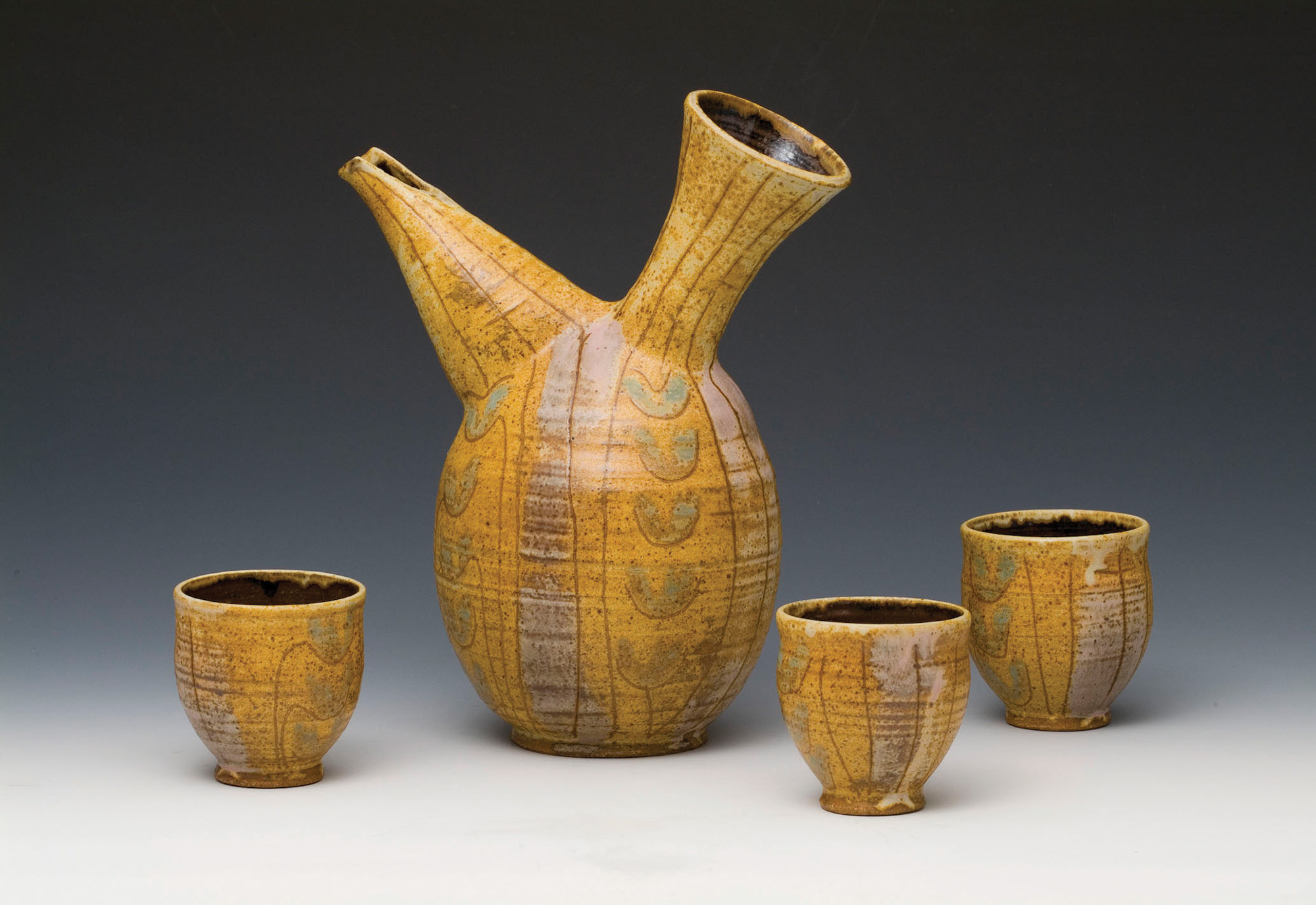 Frances Senska, "Wine Set," Stoneware, 1961, donated to the collection of the Holter Museum of Art by Miriam Sample. Photo: courtesy of the Holter Museum of Art
13 Mar

Perspective: Frances Senska [1914–2009]
---
Montana ceramic artist Frances Senska's African background, her Bauhaus ideals and her deep interest in local materials contributed to her role as a pioneering Modernist. Drawing from her childhood spent in Cameroon, Senska learned to value place and locality, which she applied in the creation of her gouged and painted pots, as well as the figures she formed from native Montana clay.
She passed her well-developed ideologies about art on to her students as a professor at Montana State University for almost 30 years, earning her the title, "the grandmother of ceramics in Montana."
"There's no denying that her teaching was really an important component for the broader picture of American ceramics," says Josh DeWeese, a renowned ceramic artist and associate professor of ceramics at Montana State University.
Senska is widely recognized as a pivotal figure in midcentury ceramics and as a mentor to Peter Voulkos and Rudy Autio, both groundbreaking ceramic artists who were her students at Montana State College (now Montana State University) where she began teaching in 1946. However, Senska's work stands alone, as she was one of the first Modernist ceramic artists in the Intermountain West.
Senska joined the Navy from 1942 to 1946, during World War II. While stationed in San Francisco, California, she took a night class in ceramics and discovered her medium, which was not available at the University of Iowa where she had earned her bachelor's and master's degrees specializing in lithography and sculpture. In 1946, she used her GI money to return to school and renewed her teaching certification. She took a job in the Department of Applied Art at Montana State College and taught ceramics, learning her craft along with her students, a practice that informed her teaching as well as her own work.
For Senska, the line between art and life was invisible, says DeWeese, who knew Senska for all of his life. "Everything she did was embraced in a thoughtful and artful way, but I don't think she thought about it that way. There was a purity — the idea of separating a utilitarian pot from art wasn't an issue. That line disappeared and it all flowed together."
This aesthetic of art and life was instilled by the Bauhaus artists Senska studied with: László Moholy-Nagy [1895–1946] and Marguerite Wildenhain [1896–1985].
In the summer of 1940, Senska attended the "Chicago Bauhaus" (now part of the Illinois Institute of Technology), founded by the Hungarian painter, photographer and professor at the Bauhaus school, Moholy-Nagy, several years earlier. Moholy-Nagy encouraged his students to try different materials and techniques, while teaching them that design is a problem-solving act. "An artist does not create art, rather, he or she finds the best solution for a problem and if it turns out to be art, it is a dividend," he stated in his book Vision in Motion.
Wildenhain, who left the Bauhaus school in 1926, instilled a different aspect of the ideology in her students. Her belief was that an artist had to know their material thoroughly before they could begin to create their own work. Senska spent a summer at Wildenhain's Pond Farm in 1950, throwing pots continuously. Throughout her career, Senska collected and processed her clay, and her glazes were made from natural materials, a common thread between African potters and Bauhaus beliefs.
Bauhaus design was so influential to all artists at the time, DeWeese explains. "You lived art," he says. "For Frances, it stemmed out of the Bauhaus as well as her upbringing in Africa. She was one of the conduits that brought the voice of Bauhaus to the States."
Rick Newby, art writer and executive director of the Drumlummon Institute, also believes Senska was a foundational artist in the Intermountain West. Of particular importance were her Ya Ba Bo pots. "Those are magnificent and stand alone with any piece of Modern art," Newby says. "They are very powerful."
Her stoneware Ya Ba Bo pots show her sgraffito technique, made by scratching through a surface to reveal a lower layer of contrasting color and the dark slip that creates the distinction. Laden with imagery of the things in nature Senska held dear, the pieces embody her art-life philosophy by being both functional and beautiful. They, too, reflect the African influence in Senska's art.
"The way I decorate the Ya Ba Bo pots [comes directly from the way pots are decorated in Africa]," Senska said in an interview conducted in 1998 by Newby and Chere Jiusto for the Archie Bray Foundation for the Ceramic Arts. As a child growing up in Batanga, Cameroon, Senska often saw people "just sitting out in the yard in front of their houses making things."
In advance of her 2004 retrospective at the Holter Museum of Art, Senska explained to Steve Jackson, curator of the Museum of the Rockies, that the name Ya Ba Bo comes from the Cameroonian saying, "It will be nine," which is a good luck chant in the Bassa and Bantu cultures. She stylistically divided the work into nine segments, each depicting part of her natural environment: a turtle, two people in a canoe, birds, etc.
Her use of the sgraffito technique relates to Cameroonian ceramics and her general approach to art in the studio. "I am a compulsive decorator," Senska said in a video taken in her studio in 1978. "I always draw on the pots — something specific, something mine."
This decoration was evident not only in her gouged designs, as in the Ya Ba Bo pots and her Ring-Neck Bottle, but also in her Chicken Wine Set, on which she drew with glazes.
In this set, the pitcher took on the guise of a chicken with its beak acting as the spout and simple feathers drawn on the body to portray the chicken's anatomy. Her referential drawings of birds and abstract foliage are a recurring motif throughout her work.
Senska likened her lifestyle to the dark slips she preferred by saying, "I prefer brown rice, brown sugar — all things not overly refined. I like elegance only in the sense the scientists use the term, meaning the most economically precise solution to a given problem."
Jackson, with his long association in Montana art, recognizes Senska's importance to the Modernist movement. "She was very humble. When asked for an artist statement she would merely say, 'I make pots.' She had a very simple and focused daily life. She got some of that from Bauhaus, and her home was styled that way," he says.
Everything from cooking breakfast to the table where she ate was incorporated into her art-life philosophy of living, Jackson explains. Whether it was the music she listened to or the friends she had, the community she built around art could be seen in every aspect of her life.
"Objects had the characteristic of being both functional and aesthetically pleasing," Jackson says, adding that her father was also an influence. "When they shipped their house to the States from Africa, he chose the wooden crates so he could make furniture with it later. Life and art were always entwined."
That connection between life and art didn't stop once she sold her work. The life of the object even after it left the studio was also important to her, he says. But of everything Senska accomplished, she would have been most proud of her students. "She gave them a foundation in clay," Jackson says.
Her infamous small clay partridges were the result of her teaching. Once she showed a student how to throw a bottle, she would squeeze the top and create conceptual partridges that became extremely collectable. "They became her own little calling card," Jackson says.
Newby notes that Senska never raised her prices because she wanted to make art available to everyone.
"There's such a beautiful modesty about her work and it is somewhat overlooked because, firstly, she was such an influential teacher, but also because the people who followed her were so flamboyant," Newby says. "But her work stands on its own as an important aspect of American ceramics."