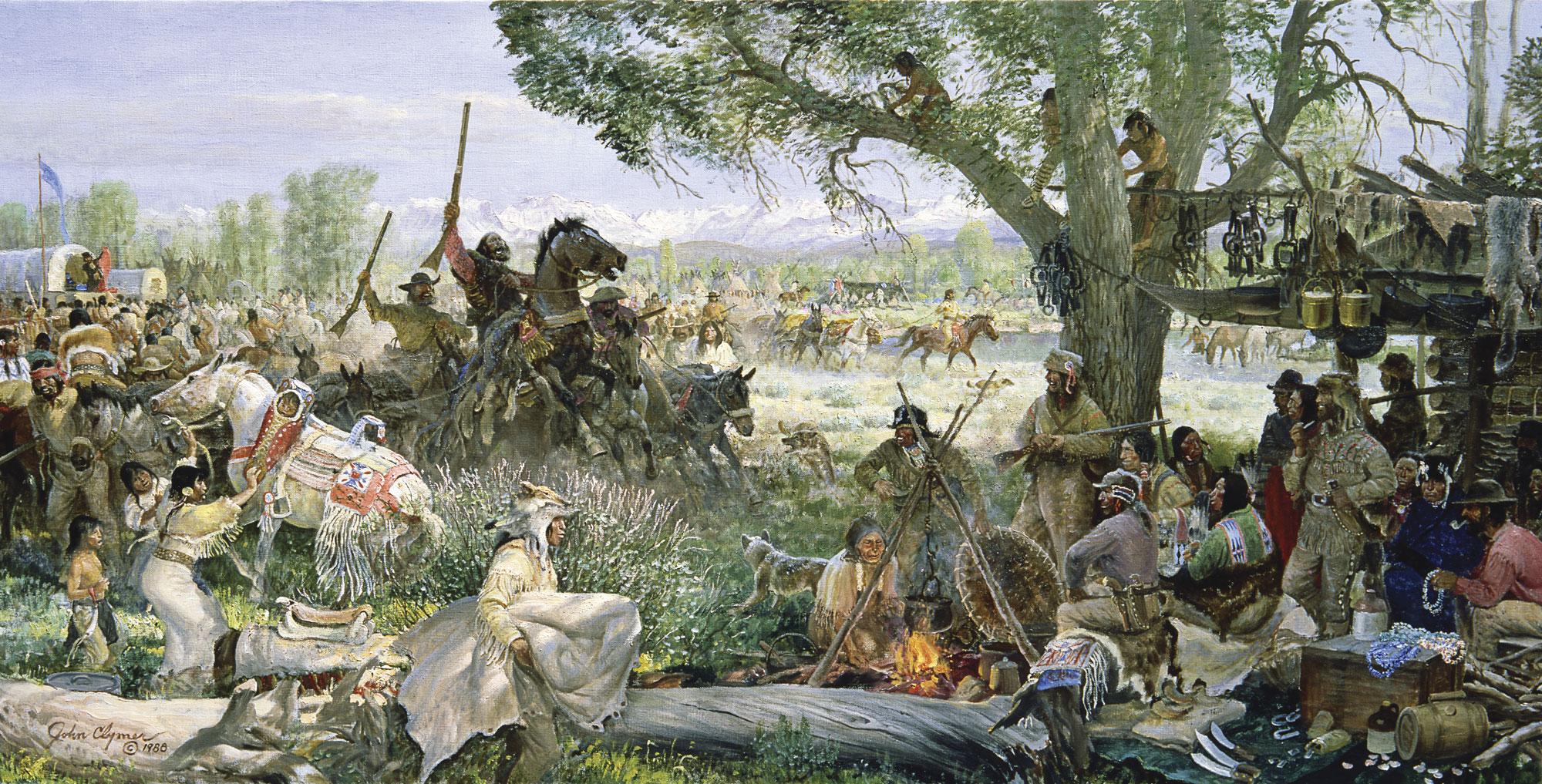 Late Arrivals | Oil | 24 x 28 inches | 1988
24 Jul

Perspective: John Ford Clymer [1907-1989]
---
John Ford Clymer is categorized as a Western artist. Whenever his work surfaces at auction, the tendency among younger collectors is to draw conclusions based solely on subject matter.
It's true that Clymer — a diminutive, unpretentious man with high-beam charm — hailed from Ellensburg, Washington, and always had a soft spot for his hometown along the eastern front of the Cascade Mountains.
But anyone visualizing Clymer only through a regional lens and not rightfully as an artisan of national significance is missing important facets of his six-decade career.
Consider these alternative reference points: Except for Norman Rockwell (whom he knew collegially), Clymer had more works than any other American painter appear on the cover of The Saturday Evening Post — more than 80 in all.
As a young man, he received hands-on tutelage from Harvey Dunn and N.C. Wyeth, protégées of the great Howard Pyle [1853 – 1911], who helped usher forth a renaissance of appreciation for historical narrative painting. In some ways, arguably, Clymer set the stage for the magic of Howard Terpning and others to be more fully appreciated today.
Although Clymer, as an octogenarian, delivered one of his most ambitious epics — a richly detailed mountain man scene effusing kaleidoscope color — he was, at heart, more impressionistic when it came to reinterpreting Realism.
Unlike so many of his distinguished brethren who originated on the other side of the Mississippi River, Clymer, the Western native son, ventured East in search of his destiny, established himself among some of the giants of easel painting and finally left his greatest mark upon returning home. It is this journey and the people influencing him along the way that provide a crucial context for sizing up his legacy.
In the months before he died in 1989, I paid a visit to Clymer in his home at Teton Village, Wyoming, and brought along a friend, the contemporary American landscape painter T. Allen Lawson. Ever gracious hosts, John and his wife, Doris Schnebly Clymer, led us into his studio sanctuary, much of which has been reassembled and resides today in the National Museum of Wildlife Art in Jackson.
Rustic tactile objects peppered the spacious room, reference material gathered across decades, taking the form of wildlife antlers, skulls and hides, Indian regalia, accoutrements of fur trappers and artifacts from wagon train pioneers that would have been present on the Oregon, Lander and Bozeman trails.
Under a vaulted ceiling, light drenching through, Clymer was working on the last major oil painting of his career, Late Arrivals — Green River Rendezvous. He was ill and knew he wasn't long for this world. The medicines he was taking made his hands dry and cracked. It was painful to grip a brush, plus his eyesight was fading. But he never complained. And Doris, ever protective, never held him back.
For an entire afternoon, one of several I enjoyed with him, he held forth, sharing stories about studying under Dunn and knowing Wyeth, Dean Cornwell and Frank Schoonover. He spoke of other mentors: Walt Louderback, Gayle Porter Hoskins, Stanley Arthurs and Douglas Duer, all of whom produced remarkable art found in every major art museum in America.
With a sonlike reverence for Dunn that hadn't faded, Clymer choked up recalling how his teacher had possessed the audacity to believe in him, nurturing an innate talent but more importantly bestowing him with self-confidence. He wondered what Dunn would have made of Clymer's last attempt at applying the insights given to him so many years before.
Dunn had once shared his personal philosophy: "All that I am really doing is carrying on the Howard Pyle idea … Howard Pyle did not teach art. Art cannot be taught, any more than life can be taught. His main purpose was to quicken our souls that might render service to the majesty of simple things."
That day, in Clymer's oration, one could connect the dots and piece together an artistic lineage that stretched back toward Winslow Homer and reached forward again across the 20th century to the late Bob Kuhn, Terpning, Ken Riley, Robert Abbett and dozens of others who today represent the last of the line for those descended from illustration's Golden Age.
Lawson (b. 1963), a product of Wyoming, did not know Clymer; he would come to know N.C. Wyeth's son, Andrew, in Maine, and grandson, Jamie. He wanted only to sit and absorb a little of Clymer's thought process, given the people he had rubbed up against. "It was one of my most memorable days as an artist," he says.
I had been given a gift, too, by being enlisted to write an updated chapter for Walt Reed's 1976 book, John Clymer: An Artist's Rendezvous With The Frontier West, that featured a foreword from Harold McCracken. It meant spending time with the Clymers in the Tetons.
Mr. McCracken had been instrumental, as director of Cody's Whitney Gallery of Western Art, in commissioning Clymer to paint several large panel depictions of Western history.
He wrote, some 35 years ago: "John Clymer has no peer among Western artists for the historical accuracy, as well as fine artistic quality, of the scenes he renders on canvas portraying the factual history of our Old West — incidents in the Lewis and Clark Expedition, the experiences of noted frontiersmen, fur traders, gold seekers, cattlemen, pioneers and the early day Plains Indians. These have provided classic subjects and added an extra dimension to the beauty of his work."
The words "historical accuracy" can mean a dull lack of originality in the eyes of an art critic. Clymer was well aware of the trap. He had no aspirations of being a literal visual stenographer.
"Some people write history books and all they've got is a bunch of facts," he explained to me. "In the historical painting, somebody who just puts down the facts isn't making a total contribution. You have to make it real, make it live. Your characters have to have interplay, like all living things do."
That interplay wasn't only between protagonists and surroundings — be they people, wildlife, natural phenomena or all three — artistry had to stoke a response from the viewer.
Slight of build and standing barely 5 foot 4 inches tall, Clymer was born less than a generation after historian Frederick Jackson Turner had epochally declared, in 1890, that the American frontier — at least the Lower 48 portion of it — was "closed," its character shifting to something else. Gone were many of its aboriginal elements: free native peoples, vast iconic buffalo herds and wildlife populations, huge untamed expanses of wilderness.
Turner cautioned that if its spirit vanished entirely, the nation would lose essential parts of its soul. The residue of Manifest Destiny and the heartbreaking lament of a conqueror's pause still in the air, Clymer entered an era that would be called upon to make sense of the earlier century.
Clymer could easily have become a lumberjack in Ellensburg or joined a ship crew on the coast or been engulfed into the anonymous shopkeeper class. He could have gone the direction of his granddad Clymer and father, becoming employed by the Northern Pacific Railroad.
But an irrepressible restlessness stirred. As Walt Reed noted, "his parents were aware very early that their son had an unusual talent for art. He was only 5 when he saw his first circus parade. Upon returning home he reproduced the whole Barnum and Bailey circus with scissors and brown wrapping paper by cutting out the silhouetted shapes of wagons, horses decked with plumes, elephants and other animals, together with the circus band and calliope, he placed it as a frieze around the baseboard of the living room, where it was the center of attention for as long as it lasted."
Clymer's visual choreography as a toddler provided momentous foreshadowing of the memorable career to come. At age 16, on the heels of taking a correspondence course in drawing, the precocious kid sold his first illustrations to the Colt Firearm Company. Before he got pulled, irretrievably, into the current of fine art, he spent time in coastal Canada and explored Alaska's interior around the foot of Mt. McKinley. His ability to draw and paint was widely recognized. He was hired to provide illustrations for media clients in Canada, drifting eastward from Vancouver to Winnipeg and then Toronto, taking art classes at night.
From there, knowing of Pyle's renown after having made Schoonover's acquaintance, he made his day to Wilmington, Delaware, not far from Chadds Ford, Pennsylvania, and Brandywine Creek where Wyeth, considered Pyle's most gifted student, was living.
"I went down the road of illustration and those people became my gods," Clymer said. Humbly, he asked Wyeth to give honest, no holds barred critiques; Wyeth always made time. Clymer noted that Wyeth would set aside every Saturday to paint a still life or landscape purely for himself. It was his way of remaining true to the artist he wanted to be, not being captive to a paycheck or an art director or having to read a patron's mind. Clymer never forgot the message — don't lose yourself in chasing someone else's vision.
The high-graded perspectives on art and life swallowing Clymer were extraordinary. Figurative artist Ned Jacob [b. 1938], who traded drawings with Clymer, explained, looking back with envy, that the talent pool concentrated between Wilmington and Boston at the time of Clymer's fine-art baptism might have been unprecedented in American art and may never be seen again. The reason: market demand for quality pictures from the most successful companies in the world.
Between those who passed through Wilmington or attended the Art Students League in New York and other bastions of classical training, then toiling as illustrators to make ends meet; and the fine artists who had crossed the Atlantic to study in the salons of Paris only to return to U.S. soil, they were constantly pushing each other in competition, raising the bar higher. Jacob said it would have been a heady time to be alive and only true talent ensured entry into the circle of Pyle's protégées.
While in his late 20s, Clymer demonstrated brilliance in his painting, much sparer and looser than his later works, which were marked by sophisticated design and composition. Four pieces worth noting, featured in the 1976 Clymer book, are The Old Canoe, The Story Teller, Where the Wildflowers Grow and Evening Song, all oils, each painted in 1935.
John and Doris spent a few years between Canada and New York, where Clymer pursued his tutelage with Harvey Dunn at the Grand Central School of Art. Interestingly, while still in Canada, Clymer submitted a painting to the National Academy and it was accepted, he believes, because the jurors were not yet aware of his work in illustration.
"While no longer true, in those days the academicians were very exclusive; illustrators were personae non grata," Walt Reed explained. "It was the same in Canada, with great personal jealousies and rivalry even among the members."
Eventually, the Clymers gravitated to Westport, Connecticut — the commuter bedroom community to Manhattan — near three of John's best lifelong artist-illustrator friends: Harold von Schmidt, Robert Lougheed and Tom Lovell.
"John found the attitudes of the illustrators refreshingly different [from what he encountered in the self-anointed fine-art establishment]," Reed observed. "They were all friends and helped each other. When someone did a good job, the phone would ring with congratulations."
In Connecticut, Clymer and his amigos represented a fraternity that, as Western artists later, was counted among the finest of its generation.
During World War II, Clymer and Lovell, spurred by patriotism, enlisted in the Marine Corps to serve their country and were stationed in Washington, D.C., as artists for the armed forces. They returned to Westport and thrived as magazine artists during the boom-boom 1950s.
The late Kuhn, whom Clymer affectionately called "the youngster," said that Clymer and Kuhn's idol, Paul Bransom, graciously brought him into their circle of friends around that time. Clymer gave Kuhn an important endorsement, in front of peers, by praising a cougar painting that Kuhn had done for True magazine. It was Clymer's way of paying forward the kindness he had received from those in Wilmington.
"John is always so open," Kuhn said in 1988. "Forgetting the fact he is a hell of an illustrator and storyteller, he is a nice man." No small gratitude to Clymer, coming from the artist generally considered the greatest big-game painter of his generation.
An anecdote worth mentioning is that Clymer and company used each other as models in their illustration work, posing in costumes when needed and providing endless levity. If Clymer needed a woman to wear an evening gown for a painting, and Doris declined, he would ask Lougheed, von Schmidt or Lovell to garb up. He squealed with his high-pitched laugh describing the antics.
Soon, though, the proliferation of television and color photography quickly brought a heartless end to demand for high-end painterly illustration, helping also to eviscerate the vogue of Realism in art schools.
By 1965, at age 58, Clymer had had enough of the grind. He was at the top of his game, revered, but daily, quick-turnaround deadlines had taken a toll on his nerves. "The day I decided to quit, the agony just stopped," he said. "The magazines couldn't believe I could just stop like that, but I did. It was like a big weight being lifted off my shoulders."
It was time to go home. Clymer, Lougheed, Lovell and von Schmidt would all pull up stakes. Within years of transplanting themselves in the West, they each would earn the most prestigious prizes in Western art, from Prix de West to gold medals of merit judged by their peers with the Cowboy Artists of America.
Clymer credited Doris with serving as a catalyst for his delving into historic scenes with which he is now most synonymous. Doris got her husband to become more interested in history after reading the journals of pioneers on the Oregon Trail. "I wanted to find things that John and I could do together," she told me, not mentioning that she had won critical national recognition for her original research in matching entries from the Lewis & Clark Expedition journals with places of terra firma.
Retracing history — and helping her husband assemble all of the critical visual elements in a scene, as if putting together a jigsaw puzzle — was their passionate point of convergence. Jackson Hole provided a base camp for their explorations.
They floated the White Cliffs of the Upper Missouri River graced by Lewis and Clark and painter Karl Bodmer; commemorated obscure Indian battles and life from the Native American point of view; investigated the path of George Catlin, Chief Joseph and Crazy Horse; and poured themselves into the nuances of trapper and mountain man lore, surveying the sites of those events firsthand.
Clymer, however, refused to paint clichés of history or landscapes that had been covered by others relentlessly. His way also marked a departure from the Romantic luminism of Albert Bierstadt and Thomas Moran.
"I don't paint the Battle of the Little Bighorn," he said. "I don't paint Custer. I wouldn't touch that one with a 10-foot pole because it's been chewed to pieces. When Doris and I make a discovery, we feel we're making a contribution to our Western heritage."
According to Mia Merendino, Clymer articulated his reasoning for documenting lesser-known events in history succinctly: "I wanted to do this because no one else had."
Merendino, director and senior curator at the Clymer Museum and Gallery in Ellensburg, puts the artist in perspective. "Everyone in America knows of Norman Rockwell. What few realize is that only two painters, respected enough by art directors coordinating covers for The Saturday Evening Post, were allowed to select their own subject matter. They were Rockwell and John Clymer. Rockwell did not veer much beyond the genre he was known for. Clymer had a much broader repertoire."
She notes that because Clymer was never a self-promoter, believing only that his work should speak for itself, he remains less heralded. And yet, millions around the world today are able to visualize the old West because of the exacting details present in every inch of his canvases. From the wild plant life in scenes to the look of leather and locations portrayed free of modern trappings, he transports viewers back in time. His portrayals serve as authentic and colorful snapshots of the West before there were photographs, she said. And venerable institutions like the Smithsonian seek out his paintings. It's value-added fine art.
"His whole approach to picture making is to have everything as accurate as it should be," Lovell told me. "When he paints an elk, you can bet the coat and antlers are right and they're right for the season, too. John has this common thread of dedication that goes through everything he does." Lovell reserved his greatest praise by referring to Clymer's technical skill in sketching from life and painting en plein air.
"John is a colorist who performs his magic with a brilliant understanding of value," added Jacob. Look deeply into Clymer's almost seamless brushwork and displays of movement, defining gesture, his zeal for isolating climactic moments in predicament scene narratives — a trademark of his earlier learning from Dunn — as well as his design, and there is always much more happening than appears.
Clymer's forays across the West, Alaska and Canada led to an expansion of wildlife, too, in his corpus. Bill and Joffa Kerr, whose private collection forms the central core of works featured at the National Museum of Wildlife Art, started buying Clymers at Grand Central Galleries in Manhattan in the late 1960s. "John Clymer is one of the original modern wildlife artists," Kerr said, noting that he identified with wildlife differently than, say, Carl Rungius, who saw big game animals as masculine totems.
Of Clymer's brand of Realism, Kerr observed presciently decades ago: "The camera today has become the dominant force in representational art, and those true artists who choose to look at their subjects through their own eyes rather than a viewfinder are going to become increasingly rare. This leads me to believe the masters like John are going to be even more revered by those who appreciate an artistic interpretation of a subject than a craftsman's rendering of a negative."
Clymer's post-illustration portfolio needs no written elaboration. At the 2011 Coeur d'Alene Art Auction, five Clymers are on the docket. Two with the highest pre-opening range ($150,000 – $250,000 each) are classic Clymer predicament scenes, portraying gripping interaction between humans and nature. Buffalo Crossing depicts a frontier explorer punting through a herd of bison fording a river, while Headed for Trouble features a mountain man bumbling into a mother grizzly bear and cub.
Stuart Johnson, owner of Settlers West Galleries in Tucson and co-organizer of the Coeur d'Alene Auction, says the collectors who purchased those works bought them at Grand Central Galleries decades ago when they arrived fresh off Clymer's easel. They chose them over posthumous works also available at the time by Charlie Russell and Frederic Remington.
Clymer had admirers around the world. The private collectors with the largest assemblage of his work are, in fact, the Erivan and Helga Haub family in Germany. Another major collector was Southwest grocery store entrepreneur Eddie Basha. The family has its collection on public display at the Basha Art Gallery in Chandler, Arizona.
"In assessing John's collectability, the market has been kind to him," Johnson says. "His paintings don't circulate that often and when they do, they garner favorable response at auction."
Being an artist for Clymer wasn't just about love of subjects, the artist told me, nor was it believing as he did that painting and sketching delivered solace that could fill an empty place inside as he thought about the post-frontier West. What brought satisfaction, he said, was seeing a colleague stop in front of a work and hold a gaze.
In the studio that day, eyes strained amid sunbeams, he could with clarity recall the face of Dunn and his voice. If one visits the National Museum of Wildlife Art and stands quietly, it is not difficult to imagine.
Clymer's paintings can be found at many museums. He evinced shy pride in the final year of his life when a group of prominent individuals in Ellensburg started a successful campaign to create a museum in his name and memory. His only desire was that it would celebrate his and Doris' love of history and help inspire young artists to dream large by allowing them to show their work near his.
The Clymer Museum has more than 50 of John's original oil paintings, sketches, and pen, ink and charcoal drawings, as well as some of his most memorable advertising work, and copies of every one of the covers that he completed for The Saturday Evening Post.
"I believe in luck and I particularly believe in being in the right place at the right time," Clymer said, convinced that he was the luckiest boy ever to come out of Ellensburg. "You can be given an opportunity and do nothing with it, or you can try and make the most of life."
John Clymer, Western artist? Yes, he was that, but so much more.