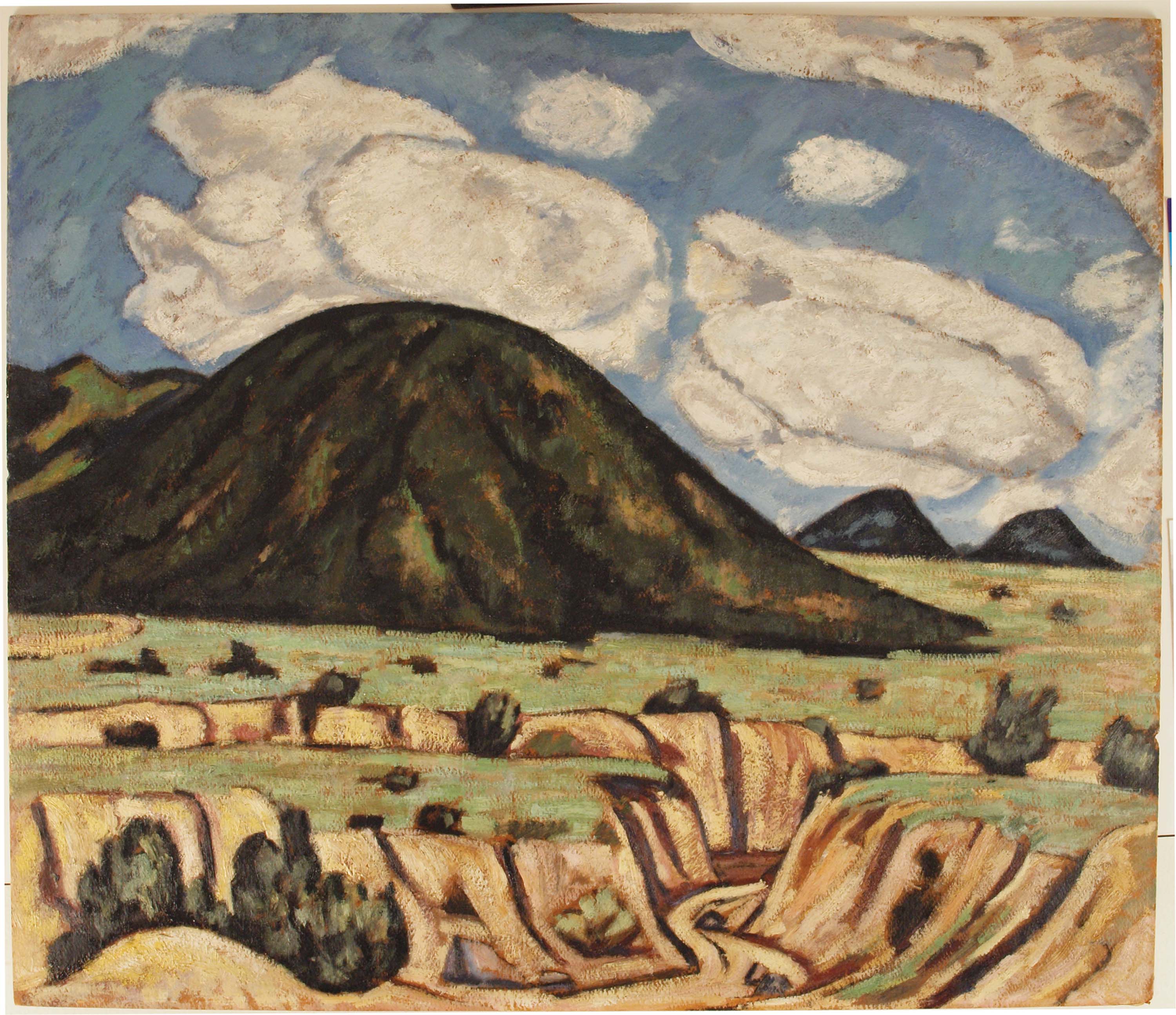 Landscape, "New Mexico" | Oil on Composition Board | 1920
09 Jun

Perspective: Marsden Hartley (1877-1943)
---
He came to be known as "the painter of Maine." But well before Marsden Hartley eventually settled back in his New England home state, the restless, ever-searching painter declared: "I am an American discovering America." And one essential yet often overlooked aspect of Hartley's discovery — which allowed him to sink artistic roots in the turf of his own continent — was a brief but impactful sojourn in the American West.
In New Mexico in 1918 and 1919, Hartley immersed himself in a landscape unlike any he had experienced in years of travel and painting in New England, New York, Paris or Berlin. Day after day that first summer he wandered the arroyos and foothills near Taos, making dozens of studies and pastel sketches. As he wrote in a letter back to New York, he realized his vision needed to be "soaked with the color and form of the place."
It wasn't simply that the effects of light, color, shape and monumental anonymous gift from a friend of southwest art, 1919 (523.23P) artists and poets were seeking after the scale in the Southwest required a new eye. It was not just his discovery of New Mexico as "essentially a sculptural country," a place whose "sense of form … is for me one of the profoundest, most original, and most beautiful I have personally experienced," as he observed in a 1918 essay, "Aesthetic Sincerity." In Hartley's powerful visceral and intellectual response to New Mexico's landscape and indigenous cultures, the painter shattering turmoil of the First World War: landscape as a source of originality and authenticity in the expression of a truly American art.
Born in 1877 to an English-immigrant working class couple in Lewiston, Maine, Hartley grew up with a sense of dislocation and rootlessness from a young age. As a gay man in early 20th-century America, he remained in some ways on the edge of mainstream society. His ever-shifting style and artistic approach echoed a lifelong theme of longing, search and separateness, believes Heather Hole, assistant professor of arts administration and art history at Simmons College in Boston and author of Marsden Hartley and the West: The Search for an American Modernism.
Hartley's art education began at the Cleveland School of Art and at 22 he moved to New York City, where he studied painting with William Merritt Chase and later at the National Academy of Design. In Boston and then Maine he painted landscapes and seascapes and was greatly influenced by the transcendental philosophy of Thoreau and Emerson, the poetry of Walt Whitman and by Eastern mystical traditions. In 1909 his New England paintings caught the attention of influential New York gallery owner Alfred Stieglitz, and soon Hartley was part of a circle of young Modernists exhibited and encouraged by Stieglitz, among them Arthur Dove, John Marin and Georgia O'Keeffe.
In the years just before World War I, the peripatetic painter lived in New York, Paris and twice in Berlin. In Paris he took part in the famed salons of Gertrude Stein, meeting artists and intellectuals propelling European Modernism at the time and finding inspiration, in particular, in the work of Cézanne, Picasso and Matisse. During his stays in Germany he met the painter Wassily Kandinsky, developed a fondness for the German culture and a close relationship with a Prussian lieutenant, Karl von Freyburg. Von Freyburg (who later died in the war) and Germany's military pageantry inspired the War Motifs, one of Hartley's most well-known series. Borrowing from Cubism and German Expressionism, these boldly colored abstractions use symbolic imagery to stand in for physical and psychological qualities of the German officers he portrayed.
But by 1915 the war was becoming all too real, and Hartley returned to New York. The "fetish of Paris," as he later described the city's pull on Modern artists, was being destroyed by the centrifugal force of the greatest chaos the world had known. "The war was hugely traumatic. There was despair over European culture and there was talk about home soil, about finding an American spirit in art," notes Hole.
It wasn't purely a desire to discover an American Modernist aesthetic that sent Hartley west in 1918. The lure of an inexpensive place to live and paint, an invitation from Mabel Dodge Luhan in Taos and a deep-seated rift with European-influenced academic artists led Hartley to Taos and then to Santa Fe. But in the New Mexico landscape, it turned out, he experienced a "solidity of sensation" that could not be conveyed through the various artistic "isms" of the time. The Southwest turned Hartley's attention, for a while, away from abstraction and back to a representational style. Yet this terrain required "a sturdier kind of realism, something that shall approach the solidity of the landscape itself … There must be a stouter connection established, a verity of emotion between subject and observer," he wrote in "America as Landscape," published in 1918 in El Palacio, the magazine of the Museum of New Mexico in Santa Fe.
"Hartley changed the way we think about art in New Mexico," observes Joseph Traugott, curator of 20th-century art at the New Mexico Museum of Art. Not only the powerful land itself, but Pueblo dances, songs, pottery and textiles made a profound impression on the artist. They instilled in him the belief that what was missing in American art was the element of authenticity, an art that emerged from a genuine, unfiltered experience of place. Hartley's ideal in this respect was the Native American, whom he saw as creating art from a pure need for self-expression and with a direct connection to the land.
Articulating these ideas in a series of essays in El Palacio during the winter of 1918-19, the painter helped open the eyes of Modernist artists in Santa Fe and elsewhere to the concept of Native art as art, rather than as anthropological artifacts to be preserved in an idealized 19th-century form. In this sense, Hartley's powerful intellect and prolific writing, which included poetry and memoir as well as essays, were at least as significant in their impact on American and European artists as were his paintings. New Mexico Modernist painters, including Andrew Dasburg and Raymond Jonson, were influenced by his ideas, Traugott notes. "It was not a literal connection; it was more about abstract ideas about art making and finding one's way beyond what is known."
Unlike many painters in the Southwest, while in New Mexico Hartley did not portray Native Americans themselves, but incorporated their pottery and blankets into his New Mexico still lifes, along with santos, or Spanish Colonial carving of saints. "This was not about tourist icons you could buy at the train station, or about studio props. He sees them as works of art from other cultures, so it was a form of art about art," Traugott explains. "I see Hartley as a sort of personification of the search for authenticity. He began to find authenticity in places, in communities of people dismissed by mainstream culture: Native and Hispanic cultures and, later, sailors and fishermen. He had a habit of addressing these kinds of subjects more than once — reinvestigating and seeing more deeply what he saw before."
Hartley's landscape paintings done in New Mexico were followed in New York and Berlin by two more phases of Southwestern imagery, these drawn from sketches and memory. The New Mexico Recollections paintings, created in the early to mid-1920s, are more darkly intense than his on-location works. They seem to be "a meditative, repetitive vision of the New Mexico landscape, a landscape of memory and imagination," as Hole puts it. She sees these works reflecting, in part, the artist's response to being in Germany after the war, faced with cultural and personal loss and questioning the possibility of a truly American art. In the Recollections series, the landscape is recalled with a visceral sense of undulating rhythms and sculptural forms, but these images also bear a similarity to Hartley's rolling seascapes. "He was clearly fascinated with vast expanses. Both subjects clearly express a desire for freedom, to be uncontrolled and not fenced in. It was part of his search for authentic experience," Traugott suggests.
In Maine near the end of his life, Hartley continued this quest through portraits of simple working people, expressing again the cultural honesty, genuineness and spiritual depth he perceived in New Mexico. These powerful works present "a sense of people being so certain of who they are," Traugott says. In Hartley's own words in "Aesthetic Sincerity": "The war has accomplished this for the painter, it has demanded originality of him. It has sent him back to his own soil to ponder and readjust himself to a conviction of his own and an aesthetics of his own."