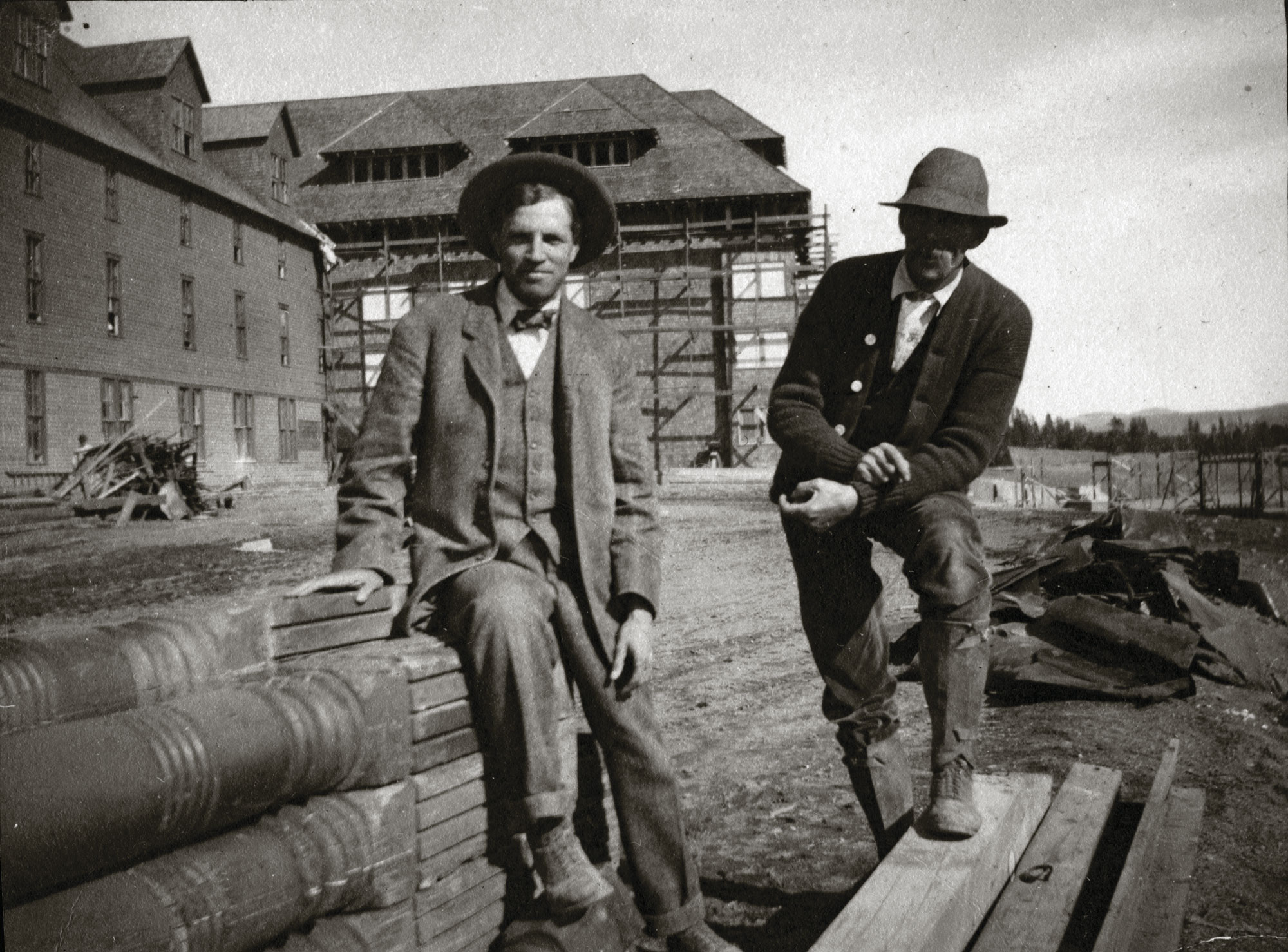 Robert Reamer (left) and his foreman, Mr. George, at the Canyon Hotel construction site, 1910. Photo: A. L. George.
30 May

Rendering: A Magnificent Enthusiasm
---
The rustic masterpiece that is Old Faithful Inn at Yellowstone National Park rises from a dreamscape of snow-touched peaks, mountain lakes and the eponymous geyser that draws millions to a remote corner of Wyoming. Stoked by fires at the earth's center, the geyser captured the imagination of a nation when survey parties reported their findings in the early 1870s.
In the lexicon of American architecture, Old Faithful Inn is an icon equivalent to the landscape that fostered the birth of the world's first national park; and it is a structural statement that at once announces man's presence in the wilds and underscores his subservience to nature. The seven-story, rough-cut log structure, which Yellowstone historian Lee Whittlesey describes as a "cultural mecca," does not face the ever-erupting geothermal feature that is its namesake; rather, the front of the hotel is perpendicular to the geyser.
Modesty in the face of magnificence is a fitting metaphor for Robert Chambers Reamer, the self-taught architect behind the early 20th-century building that Stephen Loos, senior director of the American Institute of Architects Western Mountain Region, argues exhibits a scale and power equal to its backdrop and speaks in the vernacular through the use of native stone and logs from its locale.
Unlike the landmark inn that continues to draw applause from the architectural elite and gain fame among the uninitiated, Reamer has largely languished in obscurity even as several of his contemporaries, such as Frank Lloyd Wright, were among the first American architects to achieve cultlike status. Reamer was a taciturn man whose buildings spoke volumes, a builder whose repertoire ranged from lodges to urban edifices and whose styles encompassed everything from the Prairie School to Art Deco. He was a designer whose creativity was as vast as the West in which he built the bulk of his celebrated buildings. Reamer was not limited to a single architectural idiom any more than the landscape in which he worked was limited by uniformity.
If Old Faithful Inn is, as Whittlesey contends, the crown jewel of lodges in the national park system, then it also is the standard against which subsequent park structures are measured. "What you get with someone like Reamer through the work he does at Yellowstone is a major influence that has come to shape national park architecture," says Jeffrey Ochsner, professor of architecture at the University of Washington.
Loos suggests the inn has come to symbolize more than an amenity. "What architecture with a capital 'A' brings to the world is that uplift from the norm, the ability to inspire," he says.
Seattle-based architectural historian Lawrence Kreisman paid early homage to Reamer with a 1977 study that describes the Oberlin, Ohio, native's brief formal education. Chronic headaches forced Reamer to leave school when he was 12. At 13, he departed for Detroit where a stay with relatives led to work with an architectural firm. It was the dawn of a career in architecture, gained by apprenticeship and earned by a man whose native abilities in design and whose respect for the marriage of beauty and utility — a hallmark of the Arts and Crafts movement — would open doors from San Diego to Seattle, from Clinton, Massachusetts, to Gardiner, Montana, and produce an array of buildings, from train stations to movie palaces.
Reamer was a man whose personal demons — alcoholism, the death of a young wife, the amputation of a leg in his last years, according to author Ruth Quinn — were kept in abeyance by work that lent both form and substance to his dreams of beauty. In her definitive work on the architect, Weaver of Dreams: The Life and Architecture of Robert C. Reamer, Quinn writes that Reamer was a man possessed in 1903 during the seminal design and construction phases for Old Faithful Inn. Quinn notes that a visitor to the site during the period observed that the 30-year-old Reamer's single-minded devotion to the project superseded his personal comfort, causing him to neglect undressing at night or breakfasting in the morning.
He had his reasons. Working in an era framed by a fresh distinction between the professions of architecture and structural engineering, and poised on the threshold of a shift in the aesthetic that would usher in modernism — with design to mimic the sleek lines of the machine at the expense of ornamentation — Reamer at Yellowstone was the right architect at the right time for the right building.
It need not have been so. Quinn's research shows that turn-of-the-century proposals for the lodging near Old Faithful veered wildly from a proposed Queen Anne-style hotel to nine rustic cottages. It was at this critical juncture that fate favored Reamer in the form of financier Harry W. Child, head of the company that held the hotel concession at the national park. Child became acquainted with Reamer's work in San Diego and plucked him from that burgeoning resort community to the outpost that was Yellowstone.
Old Faithful Inn, which opened in 1904, is a structure that builds on itself like a living organism, the same principle behind the towering fireplace, which former Montana State University professor of architecture David Leavengood notes is in fact four outsize fireplaces backed into one another with fireplaces in each of the four corners. The inn is a structure of paradoxes, says Denver architect Loos, at once grand and cozy, achieving drama through the use of humble materials.
It is doubtful the inn could be reproduced today in an era of rock-star architects, says Seattle architect Leavengood. The sensitivity Reamer exhibited in his design points to a deep understanding of the site and of the West, and that is not the spirit many builders of log mansions bring to their work today. "There is a marketing of timbered buildings now that attempts to give them legitimacy by saying they are following a historical tradition endemic to the West," Leavengood adds. "But some of these log buildings are bastardizations of Reamer's work; they are big monsters, lumbering on the landscape instead of working with it."
Preeminent Victorian art critic John Ruskin said great architecture was infused with a magnificent enthusiasm, describing builders capable of producing works that expressed the "restlessness of the dreaming mind"; builders who, through their work, gestured toward great truths of benefit to all society. Elevated above the crowd, those builders sought refuge below it, with humility their lodestar. Reamer scholars note that he shunned the limelight and even in the 1920s, at the pinnacle of his career in Seattle, he was characterized as enigmatic, if not self-effacing. In a thumbnail newspaper sketch of Reamer uncovered by Kreisman, he is portrayed as "a poet, an artist in design" who "appears to be looking down, while he builds looking up."
Reamer's affiliation with Child was fruitful personally, professionally and financially, and before he would depart for what would become a highly successful career in Washington State, Reamer built a residence for the Child family at Mammoth Hot Springs in 1908 — the Executive House — whose strong horizontal lines evoke the Prairie School. In Weaver of Dreams, Quinn notes that commentary by architectural experts suggests the Executive House is likely the single extant example of that style in the Rockies.
Reamer's association with the Metropolitan Building Company in Seattle would cement his reputation for versatility, with a series of Art Deco-style office-cum-storefront structures in the growing city contributing to its transformation from a cultural backwater to an urban area of distinction, says Kreisman. "He left a legacy of modern, handsome, innovative buildings," he says.
Those include the Skinner Building, completed in 1926, one of a host of Reamer buildings listed on the National Register of Historic Places. The Skinner is a dignified structure with a sandstone façade that stands in stark contrast to the ornate movie house it contains, with the 5th Avenue Theatre " … the most authentic example in that era of traditional Chinese architecture and decoration outside of Asia," according to Kreisman. The Edmond Meany Hotel, completed in 1931 but since extensively altered and renamed, was the first continuously poured slip-form concrete building in the Northwest, Leavengood says. The boldly vertical hotel is a striking example of the modernist principle, espoused by Wright mentor Louis Sullivan, that form follows function.
The hotel was one of two major works Reamer completed before his death. The Fox Theater in Spokane, Washington, opened in September, 1931, at the peak of the city's Golden Jubilee. The poured concrete structure is a model of restraint, with solidity and simplicity — those characteristics that designer William Morris said were central to architecture — among its abiding charms. Elizabeth Godlewski acted as development director for the Fox during a seven-year restoration that began in 2000, the same year it faced demolition had it not been for Spokane residents who rallied around the building once hailed as "phantasmagoric." Ornamentation is at a minimum in the theater, an austerity that Godlewski says heightens its allure.
Reamer died of a heart attack in 1938 at the age of 64, outliving a small but select band of stalwart supporters: his second wife, lifelong patron Child and a brother close in age and sentiment. This man who designed in simplicity is remembered in simplicity: Quinn notes that a modest-size stone in a Washington cemetery is inscribed only with Reamer's name and the dates of his birth and death. It is a spare statement for a man whose legacy is as timeless as the park that bears his magnum opus. "Though much is taken, much abides," muses Tennyson's Ulysses as he prepares for his final voyage. The words act as an appropriate epitaph for an architect long dead, but whose buildings sail on.
---
Laura Zuckerman lives and writes in Salmon, Idaho. Her freelance work has appeared in such publications as the Washington Post and Wildlife Art Magazine, and posted on such sites as ScientificAmerican.com and MSNBC.com.