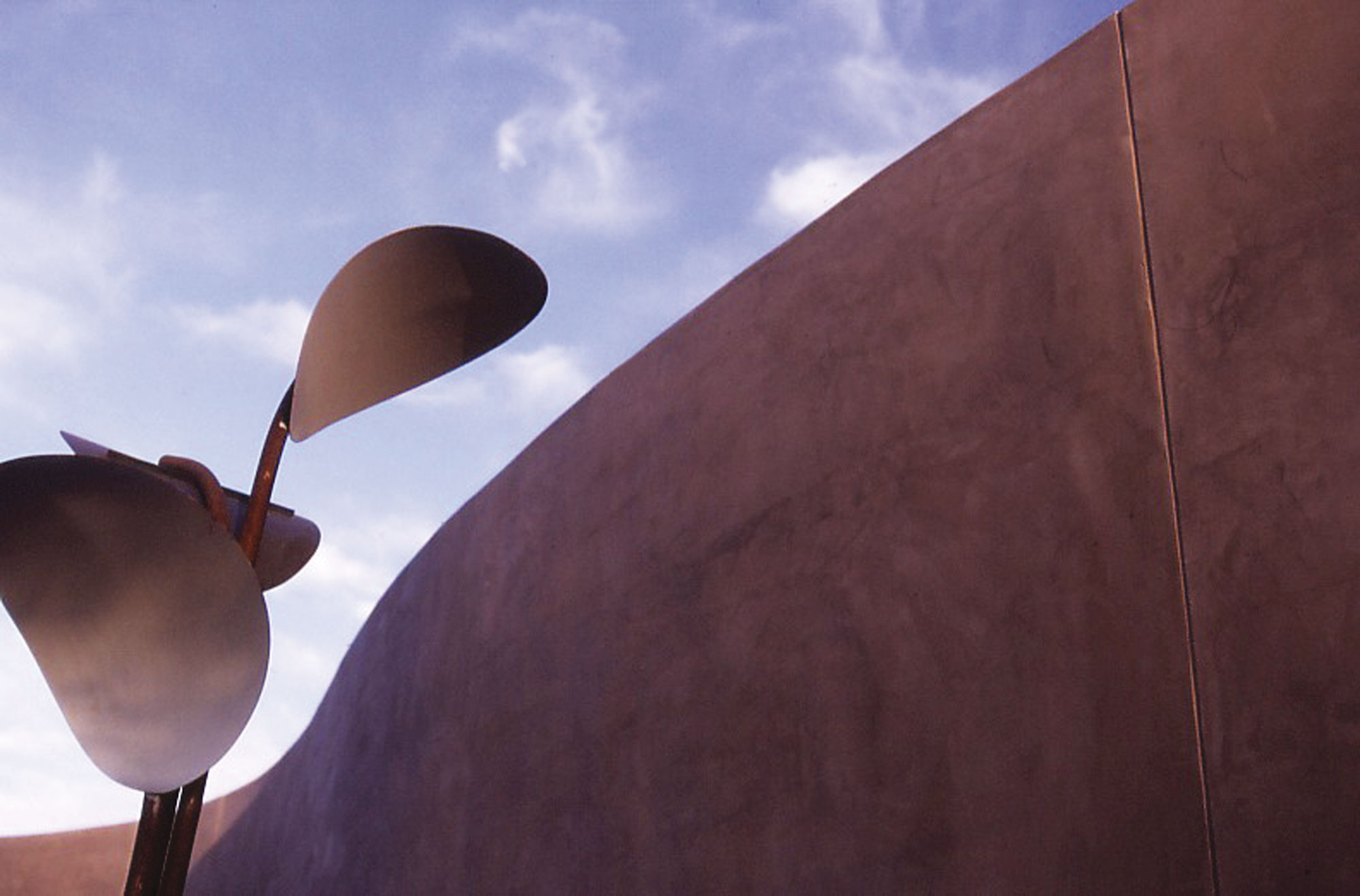 This portion of the Entry Pavilion at Desert Botanical Garden was conceived as a garden wall, gently curving around existing native trees. A fanciful fixture bounces light from hidden sources creating a gentle moonlight effect on the building. Photograph: Bill Timmerman
29 Dec

Rendering: An Architect's Life
---
When John Douglas accepts a project, he must feel right about it. "I'm very discriminating," said the architect of his commitment to accepting only one residential project each year. "I won't take a commission in the suburbs. I have to be attracted, to see potential for character," he explained.
The 56-year-old is known for his organic approach to design, and for following his instincts, always. Both an architect and a landscape architect, Douglas is dedicated to bringing the desert back to Phoenix.
Raised by nature-loving parents on a cotton farm south of Chandler, Arizona, Douglas remembers poking around in rock and scrub, elated to find shards of Native American pottery. "I loved their shapes and colors," he said. "The desert is full of color — not barren, like some think."
Douglas believes his career compass was set by the time he was four, and the desert color that he loved then is, today, one of his specialties. Known for a "natural" look that evocatively blends woods and desert shades in contemporary lines, he is praised for innovation, environmental sensitivity and respect for history, skills sharpened while pursuing his architecture degree at Arizona State University.
"We slept on the sites we studied," he said. When he graduated in 1973, "People weren't thinking about renovation or restoration, or integrating architecture with the environment. That was rare."
But integrate Douglas does, in residences, parks, campuses, newspaper offices, studios, museums, theaters, even a favorite public bathroom. His projects seem nestled in natural settings. He transformed a school into the nature-friendly New Times newspaper building. The Heard Museum echoes the Spanish Colonial style of the original buildings while housing a world-class Indian collection. His buildings are cultural artifacts, which unify, focus and lend interest to what's inside them.
Bucking the tide to tear down, Douglas and college roommate Steve Martino survived "stressful times" where there was little, if any, work to be found. At 30, Douglas started his own firm, Douglas Architecture and Planning. Since then, he has garnered more than 70 design awards and sometimes collaborates with Martino, another respected architect. Douglas also earned the Arizona Architects Medal, a Congressional Commendation and, coming full circle, earned a commission to renovate Old Main, the oldest building on his alma mater's campus.
As his career burgeoned, so did his chosen home. The population of Phoenix grew from 350,000 to 5 million, making it the nation's fifth-largest city and drastically altering the city's desert landscape. Douglas saw a way to magnify the diminishing natural environment.
From his novel niche, Douglas is passionate about bringing the outdoors inside, and incrementally adding to the city's livability.
He is particularly proud of the Desert Botanical Garden, which cemented his reputation as an architect who understands what Arizona architecture should be. Involved in the project from 1991 to 2001, Douglas helped make the low-key garden into an internationally respected attraction boasting a conference center, library, galleries, concert and concession areas, and obviously the "main event" — plants.
Bounding up to the busy entrance on a recent Saturday morning, Douglas surveyed the inviting 160-acre expanse. "The first thing we did was move the parking lot — it was right in the heart of the garden," he said. "It had to go. My goal was to have people not be aware of the buildings." His belief is simple: Correctly designed buildings become part of the landscape. To him, they are "artifacts from which we learn."
Today's garden visitors view a tranquil patch of Sonoran desert as soon as they park their cars beneath trees and stroll along the nature trail to the ticket booth. What looks like an attractive garden wall is actually a series of buildings — restrooms and public areas surrounded by trees, emphasizing the landscape and utilizing its slope.
"John's goal is to complement the natural environment with buildings," said Carolyn O'Malley, executive director of the garden during the project. "He beautifully blended diverse ideas, incorporating the artificial and natural worlds. His architectural statement is never at the expense of the plants."
Celebrated for both his imagination and efficiency, Douglas pursues the unusual. His Marshall Way Bridge in Scottsdale is his "urban-guy" nod. Built for $2 million, the walkway connects two parts of town and entices other projects to the Arizona Canal waterfront.
In a nearby plaza stands an imposing Ed Mell sculpture. Mell is an old friend — illustrator, sculptor and painter. Cowboy and bronco tower above pedestrians, suggesting the city's Western roots. Douglas designed the sculpture's base and framework, in addition to Mell's own studio.
"John has great respect for Arizona history, and an acute understanding of contemporary design," said Mell. "His regard for landscape brought a little desert back to central Phoenix. My studio is a great place to spend time."
For one Douglas residence "redo," he persuaded the owners to demolish a fence. "Yards tend to be fenced in. You can't see anything," Douglas said. Now the eye-catching midtown yard boasts a 60-foot rich brown water trough, lined with durable black slate. It grounds a storybook view of a Phoenix landmark, Camelback Mountain.
Another project is his $14 million renovation of the Scottsdale Center for the Performing Arts. Before a projected 2009 gala opening, the building will close to transform the atrium, improve acoustics, create a second entrance and coffee-wine bar, and renovate offices, studios and classrooms.
"John is sensitive not to destroy the original feel of the building," said the Center's director and vice-president, Kathy Hotchner. "He wants the original architecture to be respected, its colors and themes not radically changed."
For a guy who once couldn't find work, life is good. Douglas' five-person staff includes four other architects and a full-time business manager whose dealings are with docents, volunteers, board members, directors, technical advisers, sub-contractors, city officials and many Phoenix movers and shakers.
Several Douglas commissions have developed through associations with boards. "The job you take leads to the next job," he said. "You set sail in a direction and follow the course."
Another of Douglas' frequent collaborators is artist Larry Kornegay. Douglas did a major redesign and addition to the home Kornegay shares with his art historian wife, Paula. The couple interviewed extensively before choosing Douglas.
"John did a seamless integration of the original 1955 house," Paula said.
"It really hugs the earth," said Larry. "His sense of color brings the outside in. He is a master of picking up subtle shades from outside. And it's completely livable."
During construction, the Kornegays recall Douglas tramping around the back yard. "He found a particular rock, felt it spoke to him," said Larry. "He incorporated it into a bathroom ledge, with a glass block near the shower. It's a wonderful piece. The guy actually references nature to find color. As a designer I have ultimate respect for that."
---
Christene Cosgriffe Meyers' roots are in the West and the arts, as a fourth generation Montanan and longtime critic. In addition to writing, she is a painter and a pianist and is working on a collection of poems, dividing her time between Montana's Beartooths and the Arizona desert.