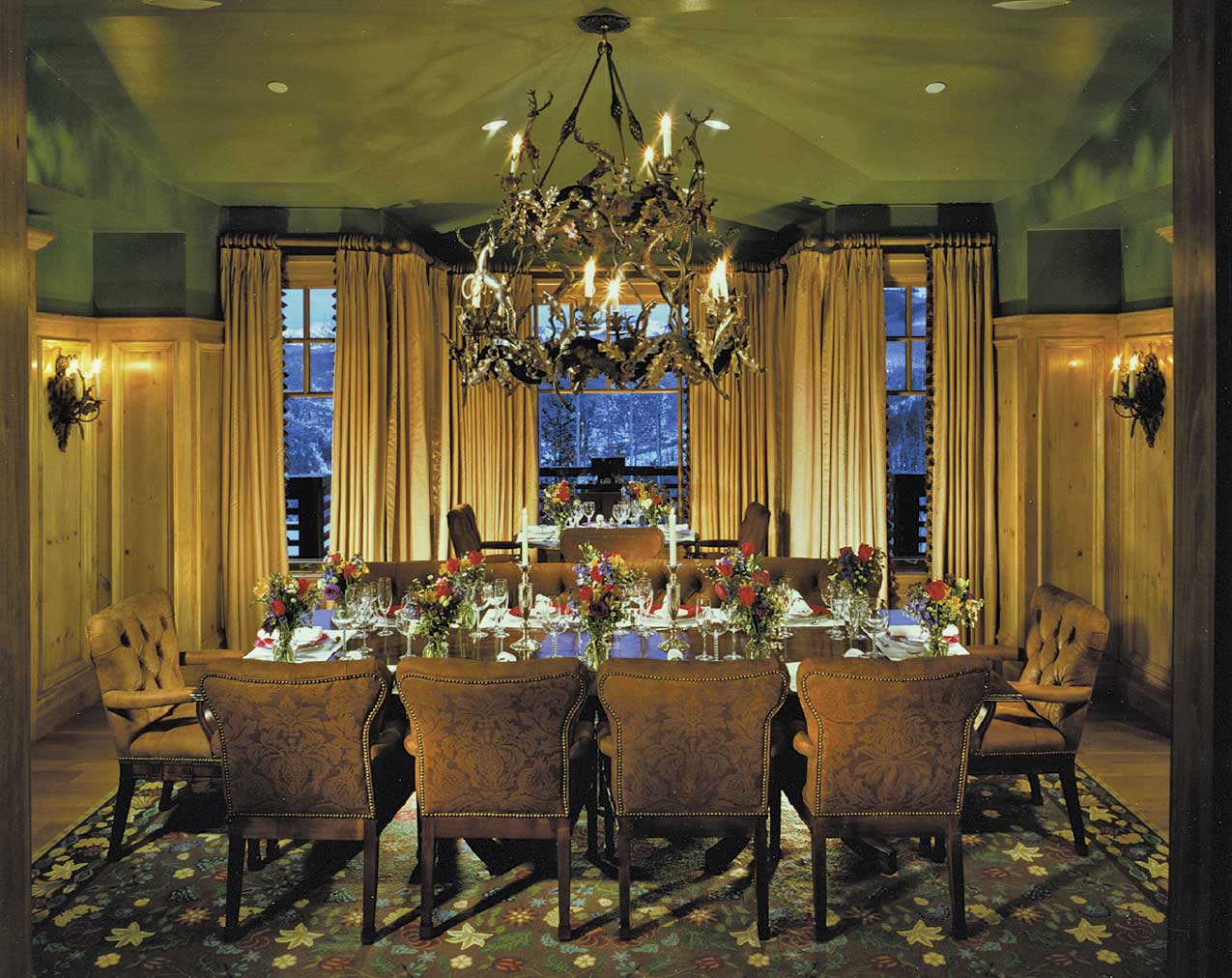 The dining room features a dramatic ceiling treatment, a large metalwork chandelier and custom windows framing stunning views.
29 Dec

Rendering: Architecture From the Ground Up
---
Architects Harvey Robertson and Paul Miller are never too far from the source of their inspiration. Their firm, RMT Architects, is located high in the Rocky Mountains, in the town of Avon, near Vail. "Often the first face-to-face meeting we have with a prospective client is right there on the land, walking the building site," Robertson says. "We recognize first and foremost that the land is the place from where all architecture springs."
Partners since 1996, Robertson and Miller followed circuitous paths that eventually led them both to the Vail Valley. Miller first discovered his aptitude for technical drafting in high school, but his passion ignited in his junior year when he entered an Arizona State University-sponsored design competition — and won. "From that point forward, architectural design was my path," he says. "There was never another option for me."
After getting his undergraduate degree at ASU, Miller studied and worked in London while getting his masters' degree. Upon his return to the States he was offered the opportunity to work in the Vail Valley designing Two Elk Lodge. "I discovered I had a great interest in designing in the mountain environment, which was every bit as rewarding as designing in urban environments," Miller says. "The quality of life suited me and my lifestyle, and I decided to stay."
Robertson hails from a long line of creative family members; many of his ancestors were master craftsmen, musicians and artists. "My family weathered the Great Depression, and consequently I was exposed to an environment where everything was created or fixed; if you needed to expand the house for more children, for instance, the family did it," he says.
Robertson studied architecture at the University of Buffalo, and also learned the trades of carpentry, masonry, ornamental plasterwork and metallurgy. "My beliefs as an architect came out of the thought processes of the Modernists," he says. "Modernism grew out of necessity and practicality, wherein if you have to create a room or a building, you do it in a way that is expressive of functionality and necessity. You utilize good taste to make something human-friendly without using a contrived design."
Robertson and Miller met while working at another architectural firm and eventually decided to form their own company. "We realized we shared similar attitudes, and that architecture was going to play a certain role in both our lives," Miller says. While the company has done numerous commercial projects ranging from resort developments and mixed-use buildings to the Glenwood Springs fire station and Vail's Golden Bear retail store, 60 percent of its work is currently residential in scope.
The partners use a hands-on approach during the initial consultation with prospective clients to flesh out their wants and needs. "We're a broad-based group and we provide a lot of services, because not every client needs the same services," says Robertson. "Initially we try to create an understanding of the nature of the project, its complexities and our clients' personal interests and goals. Sometimes we don't get into the stylistic exploration during the first meeting, but that's the juicy part of what we do and we're always eager to get into that."
"We haven't set out to create a unique 'style,'" says Miller. "Instead, we like to design in multiple genres. After we talk about how the clients might use the home, what their lifestyle needs are and how their home might help accomplish their goals, we walk the land. That's when we begin thinking about how those needs and preferences will be integrated sensitively into the land so the context isn't diminished by the building."
One of the firm's recent residential projects is 4 Lazy J Ranch, a 10,700-square-foot second home within a working horse ranch in Shadow Mountain, Colorado. The homeowners are heavily involved in the equestrian lifestyle, and the property includes a customized horse barn. "The home was designed as a retreat, and the floor plan embodies the old notion of a pure great room with the kitchen, living, dining in one large space so everyone can gather," says Miller, who describes the timber frame home's aesthetic as "Western settlement."
Hat Trick Ranch, another residential project in Grand County, Colorado, features large fluted cedar logs in the construction — a stylized characteristic that adds drama to both the home's exterior and interior spaces. "We first became acquainted with RMT's work through one of their advertisements, and we loved the rustic elegance that they seemed to evoke in their architecture," says the homeowner. "We felt like they 'got' what we were trying to do. The home is very comfortable to live in, and we love how the outdoors comes indoors because of the way the house was sited and built. The design of the private living areas makes it easy to have guests here, and we are often reminded of the thought and care that was put into the floor plan and layout of the spaces."
The Strawberry Park residence in Beaver Creek has a decidedly masculine expression in terms of both the visual and physical weight of the house, which is reminiscent of an early American lodge retreat. RMT specified a hybrid of both stacked log and log post-and-beam frame construction to take advantage of each building method's advantages. "The stacked logs evoke the stylistic character of an old log cabin, while the post-and-beam construction allowed us to take advantage of the light and views," says Robertson.
Miller and Robertson say that even more than the buildings they design, it's the people that make their work worthwhile. "The thing that really stands out is the interaction with great clients," Miller says. "We've enjoyed many friendships that have grown from these collaborative efforts. That's why we always say that you should choose an architect that you like, someone you don't mind spending time with."
"Our clients continually push us and pull us into different places," Robertson says. RMT Architects' client philosophy, collaborative approach and sensitive integration of architecture into the landscape could very well be compared to their designs — well grounded and down-to-earth.