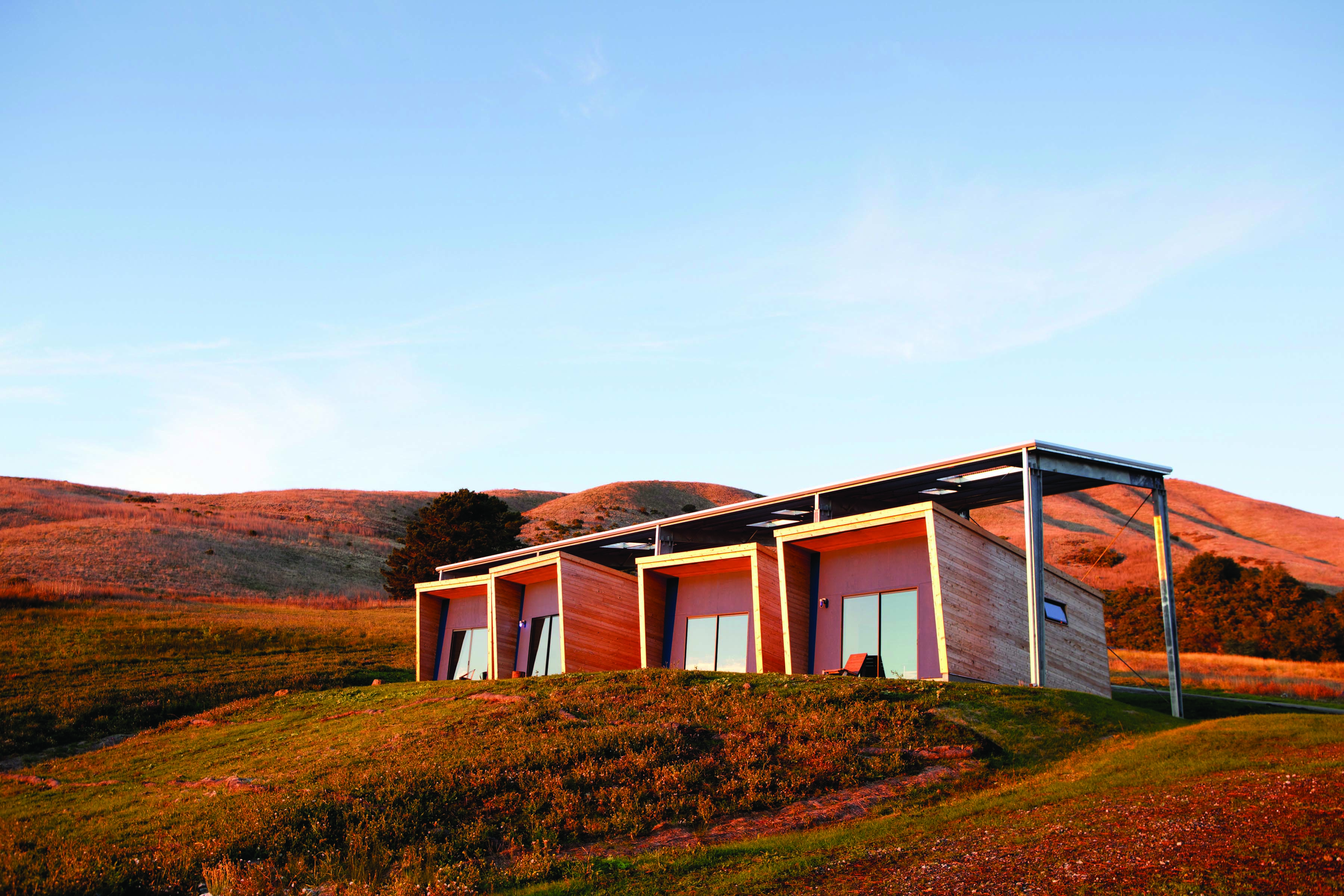 The Diane Middlebrook Cabins at the Djerassi Resident Artists Program in Woodside, California, are named after the late writer and wife of program co-founder Carl Djerassi. The studios on the expansive property of grasslands, redwoods and mountain and ocean views feature a unifying roof but are positioned for privacy.
19 Oct

Rendering: Balancing Intuition
---
The Modernist buildings by acclaimed architect Cass Calder Smith take nothing for granted. From spare, earth-friendly studios at an artists' retreat in the coastal Santa Cruz Mountains to a stylish eatery in San Francisco's South of Market district, Smith has loaned classical elements to contemporary designs that are sure to weather the test of time.
If the challenge of architects is to create structures that make statements that resonate beyond the immediate audience, then Smith and his team of 20 at CCS Architecture have achieved the mark by pairing unbridled creativity with stern discipline.
That contradiction of characteristics springs from an architect who splits his time between offices in San Francisco and New York and who spent a childhood immersed in the practical application of ingenious design tied to leftover lumber at a sawmill-turned-commune in Northern California.
Smith, now 51, is never far from a past shared with parents on separate coasts: his artist mother at the commune and his writer-filmmaker father in Manhattan's Greenwich Village.
That mix of cultures finds form in a 5,800-square-foot residence in downtown Palo Alto, California, that the award-winning architect designed in 2010 for a family of five. Incorporating sustainable features such as rammed earth walls and roof-mounted solar panels, the structure blends second-story, street-side public spaces with ground-floor private places.
The U-shaped lower story encloses the heart of the house, with kitchen, dining area, family room and office aligning a stone-paved area that evokes the courtyard of an ancient Roman townhouse.
The upper floor — a long, linear piece that gains flight through skylights reaching to the roof — presents a repeating hall in which apertures constitute what Smith has termed a "gallery of light." At nightfall, interior lights glow through the second story's bank of windows like a lantern piercing the darkness.
In the retelling of the story of contemporary design by CCS Architecture, there are thoughtful distinctions among a building's internal and external expressions, its nightlife and its day uses, its form as structure and its function as residence, restaurant or retreat. Smith is ever balancing his instinct — and ability — to amaze with a client's sensibilities. "Most architects would live in a glass box with white-painted floors. But there must be a compromise between what we like as designers and what people will accept," said Smith.
His transformation of a smokehouse and meat-processing facility in San Francisco's self-conscious South of Market district into the 265-seat destination restaurant, 25 Lusk, ignited an explosion of design awards this year and in 2011.
The $3.5-million overhaul pairs the no-fear attitude of New York with the casual chic of the Bay Area to produce an atmosphere of activity where seating areas are defined by dropped stainless-steel orbs encasing flames that convey the coziness of a campfire.
Although it is an aim as well as an art to create a building centered in commerce, Smith is a spy in the house of cuisine. "With a restaurant, I like to push it, I like to make it sassy for nighttime," he said.
At 25 Lusk, an exterior of brick and timber was shot with chrome and glass. Inside, what was static became animated by cutting on an angle and what was exhausted by an excess of tradition was reinvigorated by innovation.
The makeover gained momentum as CCS Architecture questioned each interior element: "Is it Gucci or not Gucci?" said Smith. Gucci made the grade, from sleek leather seating to cantilevered tables crafted from striped ebony.
The remodeled restaurant appears playful, but it is also precise. Smith pointed to Le Corbusier as the giant of 20th-century design who married an appreciation for the machine with an admiration for classical architecture.
Unlike the ages that revolutionized building through advancements in engineering and materials, contemporary architecture cannot tie its signal achievements to technology. But computers do allow architects to think through buildings in a fashion that fosters greater complexity and allows for structures that are more adventurous in size, said Smith.
He added, "But architecture is like everything: it's always got to change, it's on an historical trajectory."
Where Smith's urban dwellings have flair, his retreats in California's backcountry quietly cooperate with nature in an approach that adds to stunning landscapes in the fashion of Frank Lloyd Wright's Fallingwater.
"I do believe architecture can make a setting more beau- tiful," he said. "I try to tread lightly, but I believe merging a building into nature can be a win-win."
He has instilled that principle in a 20-acre residential retreat with ocean and mountain views near the Silicon Valley community of Aptos, California. The residence, designed for an active family of eight, illustrates Smith's penchant for carving out diverse spaces within a single structure.
The 2,800-square-foot main house at the Aptos retreat features a "live" building and a "sleep" building linked by overlapping roofs. The house, nestled among redwoods, is sheathed in reclaimed barnwood in a structure that celebrates its rural setting.
Smith is too restless to relax on his laurels. When he was asked by the Djerassi Resident Artists Program in Woodside, California, to design a building in memory of writer Diane Middlebrook, the late wife of program co-founder Carl Djerassi, Smith knew he had to stretch the envelope to adorn a site on a 582-acre property of grasslands, redwood stands and mountain and ocean views.
"I knew I couldn't create another barn or another house," he said. "It had to be something not just unique but something that resonated with the property, something that would provide inspiration to the writers or artists who would stay there."
The four studios named after Middlebrook and dedicated last October are linked by a unifying roof to achieve what Smith described as a collective strategy for self-contained cabins. The units, which utilize Forest Stewardship Council-certified lumber, are positioned to ensure privacy amid windows that open onto an ever-shifting landscape.
Margot Knight, executive director of the Djerassi Resident Artists Program, said the buildings capture the essence of the retreat.
"What happens here is not a competition; it's an integration," she said. "Those spaces are a little microclimate for artistic creativity."