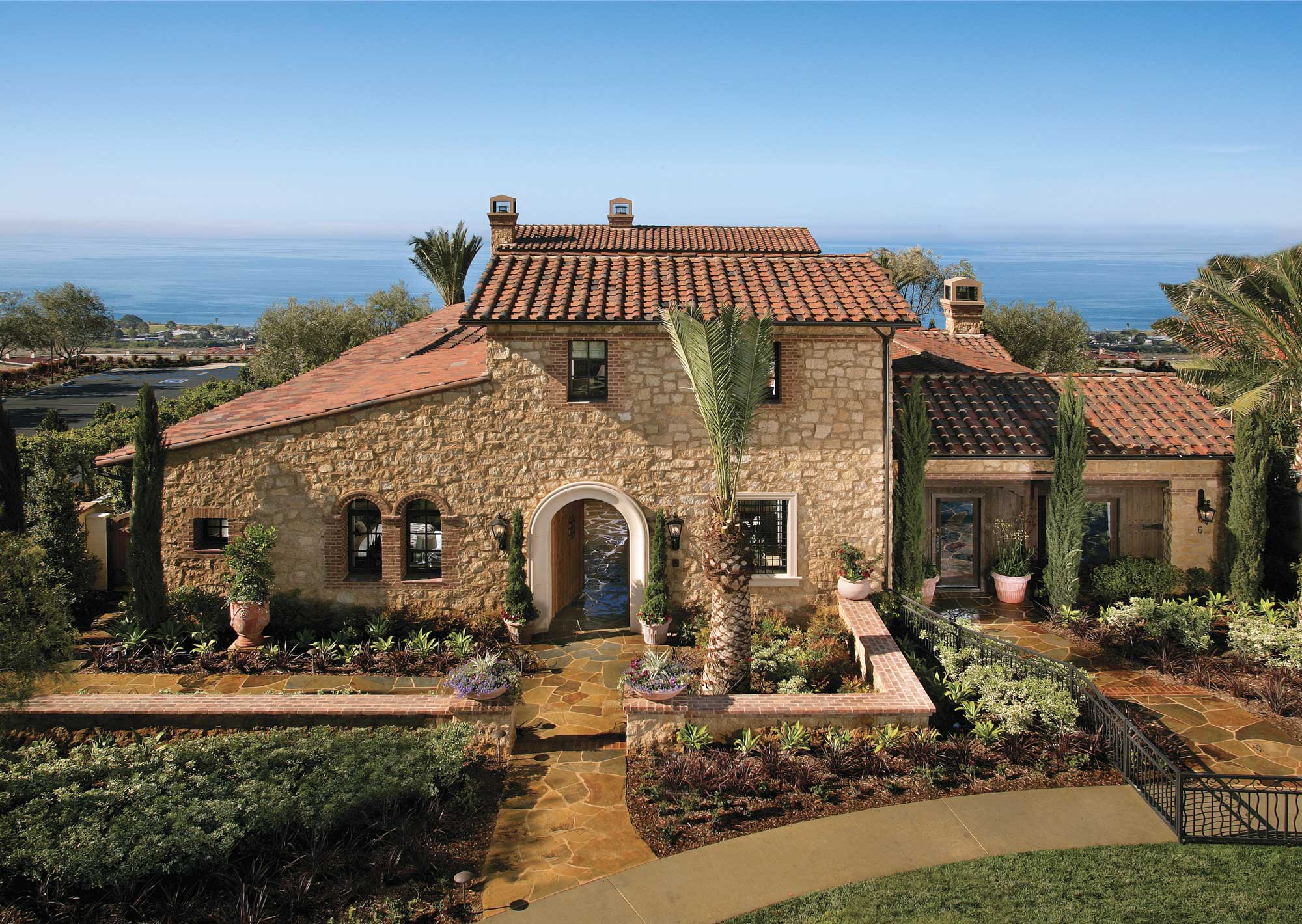 At the Tides, successive courtyards and terraces reinvent traditonal Tuscan stone farmhouse design as bright, casually elegant New Californian architecture that melds with its spectacular Newport Coast setting.
01 Sep

Rendering: Bassenian Lagoni Architects
---
High on a hill with sweeping views over the Newport coast and Pacific Ocean, is The Tides, an elite custom development crowning the already rarified atmosphere of the gated community it lies within, Crystal Cove. The Tuscan and Andalusian homes are going for $7 million, a price that seems almost counter-intuitive for a development in today's market. But they're selling. For all their solid, traditional exteriors, the interiors are an expression of years of steady innovation by one of California's most respected residential architectural firms, Newport-based Bassenian Lagoni.
From the street, the Tuscan villa appears elegantly designed but oddly unprepossessing. But then, it's typical Bassenian Lagoni; it reveals itself in stages. A walk through the two-story home's front entry passes a bedroom and a self-sustaining guest unit and opens onto an airy fountain courtyard. Next is a horizontal foyer with windows looking onto a sunken central courtyard. This courtyard descends into what would have been dark, airless basement rooms. Instead they're saturated with light through French doors, and the sunny tile patio is buffered from the sometimes strong winds that sweep the hilltop site in winter. The courtyard also illuminates the upper two floors, and the foyer windows open across the courtyard to a massive arched window framing the spectacular views. It's a house that revels in its interior, but takes full advantage of its site. The master bedroom and living room on the main floor and two studios on the top floor meld into the sky, the hilltop and the sea below.
It might seem peculiar to talk about tradition and innovation in the same breath, but that's what Aram Bassenian and Carl Lagoni, who were recently both inducted into the Best in American Living Hall of Fame (an award from the NAHB, the National Association of Home Builders), are about. They never wanted to be the kind of rock stars of architecture for whom clients' desires would always be secondary to the designer's vision. Instead, they've worked to create livable spaces that reflect and incorporate their environment, taking traditional architectural styles and reworking them for contemporary life. It's quintessential Southern California style, at once traditional — California has always leaned toward Spanish and Mediterranean architecture — elegant and important, but equally casual, with constant contact with the outdoors. Bassenian Lagoni has also designed communities in traditional New England cottage style (which they call California Coastal), incorporating courtyards into these as well.
"We're not married to any style and it's been our intent not to be type-cast," says Aram Bassenian, the chairman and CEO. "First and foremost as architects we're responsive to the site and the needs of the client, today's lifestyle and climate. What's unique about the West is that it allows for innovation — in fact, it's the key to survival — because everyone came here to reinvent themselves."
The firm works in teams, designing the range from individual homes to small infill to master-plans for communities, and they've been involved in a growing number of international community design projects, in countries from Saudi Arabia to Dubai, India, and China. "Planning is a good chunk of what we do," Bassenian says. "One of the skills we as Americans kind of excel at is community development, and Southern California has been the hotbed of development over the last years."
One of their most photographed individual homes is the Wine Country Residence, built for a close friend of Bassenian on 100 acres of rolling vineyard in Paso Robles in central California wine country. The owner picked the dramatic hilltop site, which the architects first saw via helicopter.
"It's not close to anything," says Stevan Dewan, the firm principal who headed the project. "You come up over the valley, then crest over the rise and see the plateau." He pauses, still overwhelmed by the sight. "The question was, how would it settle on the sloping plateau? The solution was a common curved axis, a cluster of geometric forms that are like a hilltop village." The individual buildings, a whimsical mix of what looks at a glance like building blocks — rectangles with unexpected curved elements around a central cylinder — are tied together by both open and enclosed courtyards, and anchored by a long central gallery. The organic use of earthy colors from tan to garnet ties the home organically into the landscape, which is more often parched a deep gold.
The sprawling home was consciously influenced by the work of Mexican architect Ricardo Legorreta. The owners are avid art collectors, and the design responds to the need to exhibit the art collection — which continues to grow as the owners have begun commissioning sculpture for the grounds. Alone on the plateau, surrounded by art, the home is magnificent.
"It's an awkward situation to be doing this kind of residential design in a country where there's homelessness," Bassenian says of the firm's long cooperation with HomeAid, a nonprofit that has gone from its Orange County origins to nationwide, providing transitional shelter for victims of abuse, natural catastrophes and HIV/AIDS. The firm's chief financial officer sits on HomeAid's Board of Directors, and the firm has done pro bono designs for housing. "It's very inspirational for the families," Bassenian says of the handsome designs.
The recession has of course hit Bassenian Lagoni. The firm, which once was 140 strong is now down to 55 core partners and employees. The firm weathered the recession of the late '80s by designing smaller houses, then rode the crest of ever-larger, ever-grander homes that began in the '90s. But they see the future in incorporating the innovations of the last years into smaller designs, something they've already pioneered in urban parcels.
"The last two years we have been spending a considerable amount of our time doing research and coming up with new ideas for housing," Bassenian explains. "We've had a series of some 60 seminars in which we take home-builder clients through new ideas, new ways to reinvent ourselves. We say, design sells — in both good and bad economies. And good design isn't constrained by space or price."
Bassenian believes that Generation X and Y — especially the ultra-tech-savvy Yers who are now in their mid to late 20s, and 80 million strong — will lean more toward contemporary than traditional architecture. The natural pattern, he says, creates ever-higher land values, and the high cost will require greater density. The home of the future will break the old patterns, becoming smaller and more efficient.
Bassenian Lagoni's now-trademark design elements, like the courtyards, can just as easily be incorporated into small spaces, and will in fact, be crucial in providing light in denser, smaller spaces. "Courtyards enable light to penetrate deeper into houses, which requires less electricity, and they allow in more ventilation," explains Dewan.
"Our approach is to focus on the foundation of good community design," says Bassenian. "From there, you'll begin to see patterns developing. Diversity in form, color, texture and scale are elements that have to represent the human element, dealing with issues of privacy and individualism. People need an identifiable place to come home to."
For the time being, Bassenian Lagoni has left its mark in many communities. Drive through The Sycamores in Shady Canyon, and you'll find airy courtyard houses built with such care they look as though they've been around for decades, if not a century.
"The most rewarding thing for me," Bassenian says, "is to drive through a community that we've designed some years ago, and you can very easily sense the pride of ownership. In a dynamic, changing country such as ours, there will always be room for fresh new thinking."
---
Laurel Delp is a freelance writer living in Los Angeles.